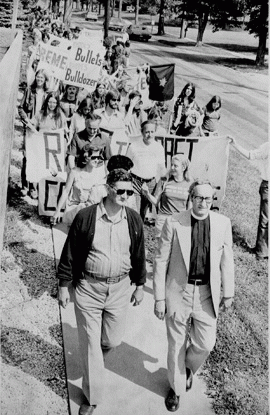 Arthur Krause marching with Reverend John Adams in 1977

(

Image

by

Laurel Krause

)

Details DMCA

HERE WALKS my dad, Arthur Krause with Reverend John Adams and other protesters on his last trip back to Kent State. His daughter, Allison Krause, was slain at Kent State in the student protest against the Vietnam war on May 4, 1970, a day that forever changed our family and civil rights in America.

Approaching the anniversary of Allison's killing, the energy from that time calls out for our attention now. Current events demand we re-examine what went down in the sixties, ending at Kent State.

A remarkable cosmic signpost arrived on March 11, 2011 when a 9.0 earthquake struck Japan, creating a tsunami and the emerging Fukushima nuclear disaster. Very early that morning I awakened to a reverse-911 telephone call suggesting I move to higher ground for safety from the approaching tsunami due at 7:23am, read my account here ~ http://bit.ly/gOovLw Here's an article about the tsunami and the damage in our community ~ http://bit.ly/gWy090


As I waited at higher ground, I realized how this world event was transforming humanity and the way we live together globally. Hours after that massive shake, we were shown on every level that what happens there, happens here as we are all connected on this third planet from the sun.

Most importantly, the nuclear event at Fukushima showed us the deeply polluting, over-reach of corporations, echoing George Orwell's 1984 and Cat's Cradle by Kurt Vonnegut. Fiction from the sixties now becomes commonplace current events in 2011.

General Electric, the developer of the nuclear technology used at Fukushima also conceived the overall design, organized the construction and manufacture of Fukushima's parts and literally put together the 'gears' of the Fukushima nuclear reactor.

Yet following this tsunami in Japan and the nuclear alert created at Fukushima, GE's first step was to protect their corporate interests and distance the General Electric, GE brands, claiming TEPCO's majority ownership. Corporate-owned media machines backed them by never referring to General Electric as a player in this nuclear horror, following the same playbook as the BP Deepwater Horizon disaster and the BP brand from last year.

GE continues to disassociate itself from Fukushima and in these actions, GE takes no responsibility for the nuclear plant they designed and built years ago, pointing the finger instead at their customer and partner TEPCO, another corporation.

We also see that Corporatists eat their own, shown last week with BP bringing lawsuits against Transocean and the blow-out protector manufacturer. Each of these players, along with BP, are clearly responsible for the world's worst oil disaster and how it continues to evolve ~ polluting, degrading and jeopardizing the eco-health of a large portion of planet Earth.

When will these offending corporations take responsibility and engage in the required significant remedial clean-up (as in making whole again) as well as thorough research or analysis of the eco-damaging event? To date that is nothing beyond a handful of lawsuits, pay-outs, fines and, yes, bonuses and awards in 2010 to Transocean for safety, of all things.

Lest we not forget newly-awarded energy contracts just signed by the US government and BP. Or the two TEPCO-directed nuclear plants to be built in Texas with $4B of tax payer-derived funds. All's going great in eco-disasterville for Corporatists in America.

Back to Fukushima, the US nuclear energy lobby and US reactor manufacturers (top players, GE & Westinghouse-now Hitachi) without pause, continue skipping down the same development path, lacking proven safety procedures and offering not one innovative effort to safely begin bioremediating the nuclear disaster as it unfolds in Japan.

Just days after Fukushima began it's radiation spew and without missing a beat, President Obama announced US commitment to continue to fund and develop new nuclear reactors as a key energy technology for our country. As their response to Fukushima, China, Germany and many other countries have placed moratoriums on new development in nuclear energy with Germany going a step further to begin de-commissioning every nuclear reactor there.

At my local supermarket a colleague whispered that the GE engineers, the guys that originally conceived of these water boiling nuclear reactors for GE, left the corporation quickly thereafter, quitting to become anti-nuke advocates. They realized the power unleashed in the technology they created, along with humanity's inability to control or harness nuclear fission in a disaster scenario ... like a tsunami.

Going back more than 40 years ago and related to nuclear energy, I remember heated arguments around my family's dining room table circa 1967-69. Allison, my sister, was 16-18 and I was 12-14. Dad was pro-Vietnam war, voted for President Johnson and worked in management at Westinghouse Electric Corporation. Because of this Dad was de facto pro-nukes. Allison was against the Vietnam war her friends were being drafted into and against the dangers of nuclear weapons as well as nuclear reactor manufacturers. I stood with Allison, Mom with Dad, as the nightly battles ensued.

Before Allison and I were born, Dad came home from WWII and he married my mom Doris. They moved to Chicago where he studied at Illinois Institute of Technology. His first job was at Westinghouse and it became his lifelong employer, common back then.

His employment at Westinghouse Electric Corporation was a big part of our family life. My folks first settled in Cleveland, Ohio. Then in 1963 we moved to Westinghouse headquarters in Pittsburgh, PA. From there we moved to Wheaton, Maryland with dinner arguments as Allison found her voice, progressing through high school.

(Note: You can view every article as one long page if you sign up as an Advocate Member, or higher).