Articles Listed By Date List By Popularity
Page 1 of 3 First Back Next 2 3 View All
Sunday, September 25, 2016 (1 comments)









India alarmed at Pakistan-Russia joint military exercise India is alarmed at the first Pakistan-Russia two-week joint military exercise which began Saturday, September 24. Around 70 Russian soldiers and officers along with some 130 Pakistani counterparts are taking part in the war games called Friendship 2016. The Russian Television (RT) said the name is a symbolical reference to the old Cold War tensions between Moscow and Islamabad.
Saturday, September 24, 2016









Indian army denies cross-border raid on Pakistan controlled Kashmir Indian Army sources have denied reports in a web magazine that Indian forces had crossed over the Line of Control near Uri to avenge the killing of 18 of its soldiers killed in Uri last week. The Times of India quoted the Indian Army sources as saying that no such action had been undertaken and the account was incorrect.
Monday, September 19, 2016









Balochistan: The Indian Connection: India offers political asylum to Baloch secessionist leaders Indian government of Narinder Modi has offered political asylum to secessionist Baloch leaders, CNN-News18 reported the top Indian sources as saying. The sources said they wanted the Baloch leaders to formally apply for asylum and that this would be granted in a matter of a few weeks.
Sunday, September 11, 2016 (3 comments)









American Muslims 15 years after 9/11/2001 In the immediate aftermath of the Sept. 11, 2001 terror attacks, U.S. Muslims were targeted by a slew of hate crimes, some tragically resulting in loss of life. But 15 years after the attacks, religious tolerance and assimilation into the fabric of the country continues to largely elude Muslims in America, whether they are from Middle Eastern or Asian countries, American-born and bred, white or black.
Friday, August 26, 2016 (2 comments)









Joe Biden visits Istanbul for solving pressing Turco-US issues U.S. Vice President Joe Biden sought to reassure Turkish President Recep Tayyip Erdogan of American support during his visit to Ankara on Wednesday. Biden is the highest-ranking U.S. official to visit Turkey since the July 15 failed coup.
Thursday, August 18, 2016 (2 comments)









The real reasons behind Dilma Rousseff's impeachment Brazil's Senate voted on August 10, 2016 to hold an impeachment trial for the nation's suspended president Dilma Rousseff, a process that could see her permanently removed from office. The vote in favor of trying Rousseff, who was suspended from the presidency in May, was 59 in favor, 21 against.
Tuesday, August 16, 2016 (3 comments)









Will Muslim Turkey ever become Christian EU member? Austrian Chancellor Christian Kern has said that he would start a discussion among European heads of government to quit talks with Turkey about joining the European Union because of the country's democratic and economic deficits.European leaders have voiced concern over Turkish President Tayyip Erdogan's crackdown on dissidents after a failed coup attempt month his idea of reintroducing the death penalty in Turkey.
Friday, August 12, 2016









Pakistan's dirty war in Balochistan The deafening blast that ripped through scores of mourners in a Quetta hospital on Monday (August 8) has killed at least 93 people, mainly lawyers, in this year's bloodiest terror attack in Pakistan. The massive explosion occurred when nearly 100 lawyers and some journalists reached the Civil Hospital with the body of Bilal Anwar Kasi, president of the Balochistan Bar Association, who was killed earlier.
Tuesday, August 9, 2016 (3 comments)









Turkish President Erdogan resets relations with Russia On Tuesday, August 9, 2016, the Turkish President Recep Tayyip Erdogan arrived in St. Petersburg to hold talks with the Russian President Vladimir Putin. This was Erdogan's first foreign visit since the July 15 abortive coup against his elected government. St. Petersburg is Putin's hometown.
Saturday, July 30, 2016









Why did the Yemen peace talks collapse? Riyadh-based Yemen government in exile Thursday quitted peace talks underway in after Houthi militants and their allies formed a 10-member "supreme council" to run the war-torn nation." The negotiations have completely ended," said Abdallah al-Olaimi, a member of the exile government team to the talks.
Thursday, July 28, 2016









Turkey: Two weeks after the abortive coup Erdoganism is a new terminology introduced by the opinion writers against President Tayyib Erdogan who has launched a cleansing operation in the civil and military bureaucracy in the aftermath of July 15 abortive coup blamed on the US-based pro-Israel cleric, Fatehullah Gulen who is described by Pape Escobar as a CIA asset.
Wednesday, July 20, 2016 (3 comments)









The Post-Abortive-Coup On Wednesday, July 20, President Recep Tayyip Erdogan declared a three-month state of emergency in Turkey in order to hunt down all those deemed to be behind an attempted coup. The state of emergency was needed "in order to remove swiftly all the elements of the terrorist organization involved in the coup attempt," he told a press conference.
Friday, July 15, 2016 (2 comments)









American Muslims shocked at Newt Gingrich call to test and deport Muslims The seven million strong American Muslim community was shocked at the impractical, inhuman and unconstitutional suggestion of former House Speaker Newt Gingrich calling for Inquisition-style religious "testing" and possible deportation of "every person here who is of a Muslim background."
Thursday, July 14, 2016 (2 comments)









Keeping alive the ghost of Osama Bin Laden A dubious website, the SITE Intelligence Group, has quoted Hamza bin Laden, a son of Osama Bin Laden, as threatening revenge against the U.S. for assassinating his father.The SITE Intelligence Group referred to an audio message of Hamza posted online.
Monday, July 11, 2016









The legacy of Pakistan's 'Father Teresa' Abdul Sattar Edhi Abdul Sattar Edhi, a celebrated famed philanthropist who achieved a saintly status in Pakistan has passed away at the age of 88 on July 8 in Karachi.Motivated by a spiritual quest for justice, over the years Edhi and his team created maternity wards, morgues, orphanages, shelters and homes for the elderly -- all aimed at helping those who cannot help themselves.
Monday, July 4, 2016 (2 comments)









Blanket surveillance of Muslims in Japan Japan's Supreme Court has rejected a second appeal by the country's Muslim community against nationwide surveillance of Muslim groups, mosques and even halal restaurants.
Friday, April 8, 2016 (1 comments)









Global tax havens or havens for dirty money The International Consortium of Investigative Journalists, leaked massive documents known as "Panama Papers" which reveal the shadowy world of hidden offshore finances of presidents and prime ministers. The biggest leak of financial data in history exposes offshore holdings of 12 current and former world leaders and provides details of the hidden financial dealings of 128 more politicians and public officials around the world.
Saturday, April 2, 2016 (1 comments)









Pakistan abandons Plans to reform controversial blasphemy law Pakistan government has abandoned plans to amend the country's blasphemy law following protests in its capital Islamabad that left the city paralyzed for almost four days.
Sunday, March 13, 2016









Donald Trump's rhetoric horrifies American Muslims Seven-million strong American Muslim community is alarmed at the mounting anti-Islam and anti-Muslim rhetoric by Republican Presidential hopefuls, particularly leading GOP candidate Donald Trump. An unprecedented wave of Islamophobia is now sweeping the United States as the Republican Party has become the epicenter of Islamophobia this election season.
Wednesday, February 10, 2016









American Muslim Community one year after the murder of three NC Muslim students The Muslim American community observed Wednesday (February 10) the first death anniversary of three North Carolina University Muslim students amid rising anti-Muslim bigotry and hate crimes.
Monday, February 8, 2016









How the American Muslims vote in 2016 election? The seven-million strong American Muslim community has voted overwhelmingly voted for Democrat s since 2004 and a recent poll released by the Council on American-Islamic Relations (CAIR) indicates that the American Muslims will follow this trend.
Sunday, February 7, 2016 (2 comments)









President Obama's visit to Mosque and Presidential Race The seven million strong American Muslim community has welcomed the visit of President Barrack Obama to Maryland mosque where the President called on Americans to embrace their common humanity and reject the inexcusable political rhetoric emanating from the presidential campaign trail.
Saturday, January 23, 2016 (2 comments)









Pakistan has around 130 nuclear warheads to deter an Indian military attack: US report Pakistan's nuclear warheads which are estimated to be between 110-130 are aimed at dissuading India from taking military action against it, a US Congressional report says.
Thursday, January 21, 2016









Students in the line of fire again in Pakistan At least 25 people including students, teachers and security guards lost their lives Wenesday when armed militants broke into Bacha Khan University in Pakistan's northwestern province known as Khyber-Pakhtunkhwah where Pakistan's mercenary army is conducting a brutal operation against militants.
Thursday, December 31, 2015 (2 comments)









2015: The deadliest year on record for American Muslims The year 2015 was perhaps the deadliest year on record for the seven-million strong American Muslim community, with 63 recorded attacks on mosques till the first week of December. Tellingly, 17 of those attacks took place in November after the Paris terrorist attacks. At least six attacks and vandalism against the mosques were reported after the San Bernardino, CA terrorist attack on Dec 2nd.
Wednesday, December 9, 2015 (1 comments)









Anti-Muslim fever goes viral after Paris and San Bernardino attacks Anti-Muslim fever goes viral after Paris and San Bernardino attacks. To borrow Andrew O'hehir of Salon, Muslim fever has spread through our national bloodstream and replaced all thought. Many U.S. leaders have unleashed discriminatory rhetoric in the name of counterterrorism.
Friday, December 4, 2015 (6 comments)









American Muslims fear demonization of Islam after San Bernardino mass shooting American Muslim groups have expressed fear that San Bernardino mass shooting on Wednesday would add fuel to the rising anti-Islamic feeling. The FBI announced on Friday (Dec. 4) that the mass killing is probed as an act of terrorism. Syed Rizwan Farook and his wife Tashfeen Malik opened fire on attendees at a holiday party for county workers, killing 14 and injuring 21.
Thursday, November 26, 2015









Paris attacks foment anti-Muslim sentiments globally Paris terrorist attacks, which killed 130 people, have fomented anti-Islam and anti-Muslim sentiments (Islamophobia) in Australia, Europe and the United States.The Organization of Islamic Cooperation (OIC), an organization of 57 Muslim majority states, says that in the wake of attacks in Paris, hatred and Islamophobia had reached "alarming levels."
Thursday, November 19, 2015 (4 comments)









American Muslims alarmed at anti-Muslim response to Paris attacks The seven-million-strong American Muslim community was alarmed at the Islamophobic anti-Muslim response to Paris, France terrorist attacks which claimed 129 innocent lives and left around 300 people injured. American Muslims were deeply troubled that many American politicians have used the tragic terror attacks in Paris as a justification to promote xenophobia against Syrian refugees.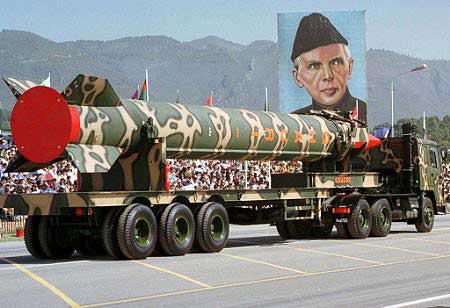 Wednesday, October 28, 2015









India planned a covert military attack on a Pakistani nuclear reactor Indian Express reported on Monday (Oct 26) that the United States warned Pakistan in 1984 about an Indian military attack on the Pakistani nuclear reactor at Kahuta. The paper said that the US warning came in US President Ronald Reagan's letter to General Zia-ul Haq, President of Pakistan.
Tuesday, October 20, 2015 (1 comments)









Pakistan develops low-yield nuclear weapons to counter India's limited war doctrine Foreign secretary of Pakistan, Aizaz Chaudhry, has confirmed that his country has made low-yield nuclear weapons to deal with India's so-called cold-start doctrine that envisages limited war against Pakistan.
Monday, October 12, 2015 (1 comments)









Anti-Islam, anti-Muslim rallies 'Fizzle' nationwide "Sorry, Islamophobes: Your Anti-Muslim rallies ended up inspiring acts of love and service": This headline of the Huffington Post best describes the fizzle of the nationwide anti-Islam and anti-Muslim rallies organized by what Carol Kuruvilla calls a loosely affiliated group of armed protesters.
Monday, October 5, 2015 (2 comments)









Anti-Muslim protests scheduled nationwide for Oct 9th & 10th Amid increasing anti-Islam and anti-Muslim rhetoric, anti-Muslim groups have planned at least 20 rallies this month at mosques and Islamic centers across the Unites States on October 9th and 10th.
Thursday, October 1, 2015









40 percent Republicans want to outlaw Islam in America The New York Times Tuesday published the result of a poll in North Carolina by Public Policy Polling, or PPP indicating that 40 percent Republican voters answered yes when asked: "Do you think the religion of Islam should be legal or illegal in the United States?
Thursday, September 17, 2015 (10 comments)









Don't take your innovative science project to school if you are Muslim! A 14-year old Muslim student takes his science project to school. Instead of appreciating his talent the school teachers call police. The teen ager is interrogated for one and a half hour. Taken to juvenile prison, fingerprinted and photographed like a criminal. During this ordeal he was not allowed to contact his parents.
Wednesday, September 9, 2015 (3 comments)









American Muslims 14 years after 9/11 * Three American-Muslim were shot to death near the University of North Carolina. * Glendon Crawford is convicted for constructing a "death X-ray machine" to kill Muslims in New York. * Robert R. Doggart, an ordained Christian minister planned an attack on Islamberg in the NY state. These episodes best reflect the dilemma of American Muslims who remain the target of bigotry, hate crimes, discrimination and profiling.
Sunday, August 9, 2015 (9 comments)









Monitoring mosques on the pretext of keeping America safe The seven-million strong American Muslim community was alarmed at the suggestion of Republican presidential candidates to putting mosques under surveillance on the pretext of keeping American safe.
Wednesday, July 29, 2015









Terrorist attack in India heightens tension with Pakistan The terror attack in Indian Punjab on Monday, July 27, 2015, has heightened tensions between India and Pakistan. Media reports indicated that ten people, including three civilians and a police superintendent, were killed when gunmen wearing army uniforms stormed a police station in northern Indian town of Gurdaspur near the border with Pakistan, sparking a shootout lasting almost 12 hours.
Friday, July 24, 2015 (3 comments)









American Muslims alarmed at Anti-Muslim rhetoric by Rand Paul, Wesley Clark, Franklin Graham The seven-million-strong American Muslim community was alarmed by the recent anti-Muslim proposals by Senator Rand Paul, former NATO Commander General Wesley Clark and Christian evangelist Franklin Graham. Their anti-Muslim proposals came in reaction to the deadly shootings that took the lives of five service members and injured one law enforcement officer in Chattanooga, Tenn.
Friday, July 17, 2015









Iran nuclear deal: The devil may be in interpretation Russia Wednesday submitted a draft resolution to the United Nations Security Council on the outcome of nuclear talks between Iran and the P5+1 group of countries - the United States, Britain, France, China, Russia and Germany.
Saturday, June 27, 2015 (2 comments)









American Muslim groups condemn series of terror attacks American Muslim groups have condemned a series of deadly terror attacks on a US-owned French gas factory, a Tunisian tourist resort and a mosque in Kuwait
Thursday, June 25, 2015









UN report details massive Israeli war crimes in Gaza in 2014 The UN Commission appointed to investigate the Israeli attack on Gaza in July-August 2014, has published its report which strongly condemns the Israeli attacks on civilian targets which may have been war crimes. However, in a bid to 'balance' the findings of the Israeli atrocities, the report also holds Hamas committing war crimes during Israel's aggression on Gaza last summer.
Saturday, June 20, 2015 (2 comments)









Shooters of color are called 'terrorists' and 'thugs.' Why are white shooters called 'mentally ill'? Anthea Butler, an associate professor of religion and Africana studies at the University of Pennsylvania, commenting on the massacre at the Emanuel AME Church in Charleston, South Carolina, asks why white shooters called 'mentally ill' while African American or Muslim shooters are called terrorists.
Friday, June 19, 2015









Pakistan Briefly Bans Save the Children: The politics of NGOs The government's U-turn in the case of Save the Children has not only embarrassed the government it has humiliated the whole nation as this incident proved that Pakistan is not independent even to take a decision against an NGO which it said has been involved in anti-Pakistan activities. The foreign-funded and dollar-driven NGOs are more powerful than the government of Pakistan and its institutions.,
Monday, June 1, 2015 (13 comments)









Freedom of Speech V. Freedom of Religion: Anti-Islam armed rally outside Phoenix mosque Amid rthe ecent rise in Islamophobia, an anti-Islam rally was held on Friday (May 29, 2015) outside the Phoenix mosque. This was the second anti-Islam rally outside this mosque within two weeks. The first one, held on May 17, garnered far less public and social media attention. Last Friday's anti-Islam rally gained attention around the country on social media.
Sunday, April 19, 2015 (14 comments)









Pakistan's first Prime Minister Liaquat Ali Khan was assassinated by America Nawabzada Liaquat Ali Khan, Pakistan's first Prime Minister, was assassinated on October 16, 1951 while addressing a public meeting in the garrison city of Rawalpindi. His assassin, later identified as Saad Akbar Babrak was shot dead on the spot. Saad Akbar Babrak was an Afghan national and a professional assassin.
Sunday, April 12, 2015 (1 comments)









Why Pakistan declines Saudi request to join Arab coalition fighting in Yemen Pakistan has virtually declined Saudi Arabia's request to join the Arab coalition fighting to restore the deposed Yemeni President Abd Rabbuh Mansur Hadi. After days of discussion in media and parliament, a joint session of parliament passed a resolution on Friday saying that Pakistan "should maintain neutrality in the conflict so as to be able to play a proactive diplomatic role to end the crisis".
Thursday, April 9, 2015 (7 comments)









US Geostrategic Objectives Behind War in Yemen While Saudia has long considered Yemen a virtual subordinate province and as a part of Riyadh's sphere of influence, the US wants to make sure that it controls the Bab Al-Mandeb, the Gulf of Aden, and the Socotra archipelago .The Bab Al-Mandeb is an important strategic chokepoint for international maritime trade that connects the Persian Gulf via the Indian Ocean with the Medit Sea via the Red Sea. Read More
Saturday, February 28, 2015









The Federal CVE program remains cause of concern for civil advocacy groups Civil advocacy organizations and Muslim groups have expressed grave concern about the Federal Countering Violent Extremism (CVE) program that was a focus of Feb 17-19 White House summit on terrorism. Many groups are concerned that countering extremism programs that only focus on Muslim communities ignore the real threat of extremists in other communities while increasing negative public sentiment toward American Muslims.
Friday, February 20, 2015 (1 comments)









White House hosts anti-terrorism summit The White House held a three-day anti-terrorism summit dubbed as "Countering Violent Extremism Summit," from Tuesday to Thursday (Feb. 17-19). Addressing the summit on Wednesday, President Barack Obama said the United States is not at war with Islam. He told the summit that he wants to discredit the belief that Americans and Westerners in general are at odds with Muslims.
Friday, February 13, 2015 (5 comments)









When terrorism is not terrorism The seven-million strong American Muslim community was shocked and terrified by the execution-style murder of three Muslim students at the University of North Carolina in Chapel Hill on Tuesday.
Monday, February 9, 2015 (5 comments)









Obama's provocative remarks at the National Prayer Breakfast President Obama personally added a reference to the Crusades in his speech this week at the National Prayer Breakfast, hoping to add context and nuance to his condemnation of Islamic terrorists by noting that people also committed terrible deeds in the name of Christ, the New York Times quoted presidential aides as saying on Friday.
Sunday, February 8, 2015









President Obama meets American Muslim leaders President Barack Obama met on Wednesday (Feb 4, 2015) at the White House with 14 Muslim Americans for an hour-long discussion about civil rights, anti-Muslim bias and extremism.
Friday, January 23, 2015









'Bring the stranded Pakistanis in Bangladesh home' The government of Nawaz Sharif is again under pressure to bring home the stranded Pakistanis living in miserable conditions in refugee camps in Bangladesh. The Supreme Court of Pakistan on Tuesday asked the government to submit a reply by February 18 regarding the repatriation of 300,000 Pakistanis stranded in some 70 camps in Bangladesh.
Saturday, January 10, 2015 (2 comments)









American Muslims fear backlash over Paris massacre American Muslim organizations have strongly condemned the terrorist attack on the French satirical magazine Charlie Hebdo that killed 12 people but expressed fear of possible backlash and retribution against Muslims in America and Europe.
Friday, January 9, 2015









Soft Martial Law is being imposed in Pakistan Perhaps following the example of Egypt, the US-client government of Mian Nawaz Sharif, the Prime Minister of Pakistan, has extended military courts jurisdiction all over Pakistan.
Friday, January 2, 2015









2014: Another hard & difficult year for American Muslims Discrimination and hate crimes against the Muslims in America increased after the beheading of American journalists by the so-called " ISIS or Islamic State" terrorists whose sudden meteorite rise remains questionable.
Sunday, December 21, 2014









Crucifying children at the altar of Great Power Game The stunned and shaken people of Pakistan mourned the Peshawar Army Public School massacre of 149 people including 132 children, and the government announced new measures to combat terrorism. Prime Minister Nawaz Sharif announced the removal of the ban on the death penalty for terrorist offences which had been in force since 2008.
Wednesday, December 17, 2014 (1 comments)









Pakistan Taliban attack on school kills 132 students in Peshawar At least 132 students and nine staff were killed in an eight-hour onslaught at the army-run school in the city of Peshawar Tuesday (December 16). The 141 death toll makes it the country's deadliest ever terror attack. Another 124 people were injured.
Sunday, October 12, 2014 (1 comments)









The politics of Nobel Peace Prize On Friday (Oct 10) the Norwegian Nobel Committee awarded the Nobel Prize for Peace to a Pakistani teenager, Malala Yousafzai and an Indian child rights campaigner, Kailash Satyarthi. At the age of just 17, Malala is the youngest ever recipient of the prize. The teenager was shot in the head by militants in October 2012 when she was on her way home from school. She now lives in Birmingham in the UK.