Articles Listed By Date List By Popularity
Thursday, February 13, 2014








The Dangerous Seduction of Drones
By fueling anti-U.S. sentiment, drones also act as a recruiting tool for extremists. In Yemen, when the Obama administration started drone attacks in 2009, there were perhaps 200 people who were identified as members of extremist groups. Today, there are over 1,000.
Wednesday, May 30, 2012








Obama and Drone Warfare: Will Americans Speak Out?
(5 comments) On May 29, The New York Times published an extraordinarily in-depth look at the intimate role President Obama has played in authorizing US drone attacks overseas, particularly in Pakistan, Yemen and Somalia. While purporting to represent the world's greatest democracy, US leaders are putting people on a hit list who are as young as 17, people who are given no chance to surrender or be tried in a court of law.
Monday, February 13, 2012








The US-Bahraini Exchange: Tear gas from us, kindness in return
(1 comments) Tomorrow, millions of Americans back home will be celebrating Valentines day with flowers and chocolates, perhaps even breakfast in bed. In Bahrain thousands upon thousands of peaceful freedom fighters will celebrate by getting out into the streets, showing their devotion to the country they love so dearly that they are willing to put their lives at risk to help set it free.
Friday, January 6, 2012








Obama's Pentagon Strategy: A Leaner, More Efficient Empire
(2 comments) President Dwight D. Eisenhower once noted that every dollar going to the military is a dollar that can't be used to provide food and shelter for those in need. Today's obscene amount of military spending isn't necessary if the administration wished to pursue the quaint goal of simply defending the country from invasion.
Monday, November 21, 2011








Obama Must Condemn Egyptian Military
(1 comments) President Obama should coordinate with other Western allies and supporters of the Egyptian government to develop a clear and strong policy in support of a rapid transition to democracy and apply the full weight of international diplomatic, economic and legal pressure on the military junta towards that end. Anything less will be a stain on the United States that will haunt this administration.
Friday, September 30, 2011








Iraq: 100 Days of Solidarity
On October 6, anti-war activists from around the nation will be gathering in Freedom Plaza in Washington, DC, to call for an end to both the wars in Afghanistan and Iraq. The protest will not be just for one day, but an on-going "people's occupation" of the plaza to call for an end to U.S. military occupations.
Friday, September 16, 2011








Congress Sees Middle East Through AIPAC-Colored Glasses
(16 comments) The democratic movements sweeping the Arab world are clamoring for Palestinian rights. Unconditional U.S. support for Israel keeps the region in turmoil, pits us against world opinion and jeopardizes our national security. It's time for Congress to take off the AIPAC blinders.
Monday, August 29, 2011








Ten Reasons to Move Cheney's Book to the Crime Section
(20 comments) Here are ten of Cheney's many offenses to inspire you to move Cheney's book, and to insert these bookmarks explaining why the author of In My Time should be "doin' time."
Friday, August 26, 2011








No Way to Honor Dr. King
(2 comments) But don't ask the King family how they feel about their fathers' opening tribute being sold off to the highest bidder. The family demands royalties for use of the King name--even from the Memorial--and so far have received about a million dollars. Historian David Garrow, who won a Pulitzer Prize for his biography of King, said King would have been "absolutely scandalized by the profiteering behavior of his children."
Tuesday, August 16, 2011








Iraq Withdrawal? Don't Take it to the Bank
(1 comments) Obama has no plans for a full withdrawal, though, as his hand-picked appointees make clear. You can almost hear him thinking: What are liberals going to do, vote Republican?
Tuesday, August 9, 2011








Stop Sacrificing US Soldiers for Afghan Debacle
(4 comments) The deaths of these 31 Americans, and the more than 2,600 U.S. soldiers who have died in this quagmire, should raise a renewed debate about our presence in Afghanistan. Let's tell President Obama that the best way to pay tribute to the soldiers who have died -- and to address our financial crisis -- is to bring the rest of the troops home.
Tuesday, August 9, 2011








Does Your Congressperson Represent You -- Or Israel?
(3 comments) With the disapproval rate for Congress at a record 82%, now is not the time for our representatives to pander to AIPAC. Now is not the time for "free" junkets to Israel -- with an implicit promise of $3 billion of our tax dollars in return. Now is the time to stop the free-fall of the American economy.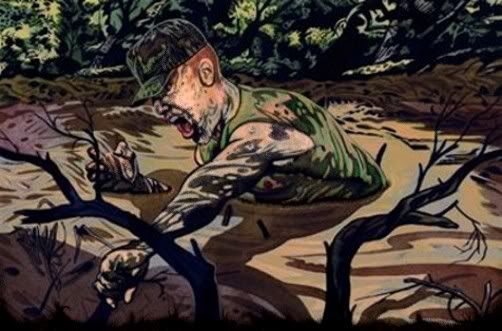 Saturday, August 6, 2011








Stop Sacrificing US Soldiers for Afghan Debacle
(1 comments) The 38 deaths in Saturday's helicopter crash in Afghanistan include 31 Americans, making this the deadliest day for U.S. forces since the war began. The tragic loss of American lives might be worth the sacrifice if it was making America safer, or if our presence was significantly improving the well-being of the Afghan people. But neither of these is true.
Thursday, August 4, 2011








Enormous Defense Cuts?
(1 comments) ...don't expect the Pentagon to start holding bake sales, despite what you may have heard about reductions to its obscenely bloated funding.
Wednesday, July 20, 2011








Advice Hillary Clinton Should, But Won't, Give to Economically-Strapped Greece
(1 comments) The very nations in the European Union and the United States that have been pushing the Greek government to squeeze Greek workers are the same ones that have been, for the last decade, pushing Greece to purchase massive amounts of worthless weapons.
Tuesday, July 12, 2011








By Torpedoing the Gaza Flotilla, Israel Sunk its Own Ship
Instead of high-fiving each other for their success in thwarting the Gaza Freedom Flotilla, Israeli officials should be throwing overboard the propaganda hacks who catapulted the flotilla into headline news for weeks and left Israel smelling like rotten fish.
Tuesday, June 21, 2011








Setting Sail for Gaza, Armed with Love Letters and a Missive from Dr. King
(3 comments) This bullying, however, only strengthens our resolve. We may be fewer boats, we may have fewer passengers, we may be threatened with violence, but we will sail. And if the Israelis intercept our boats, we call on people around the world to gather at Israeli embassies and consulates to express their outrage.
Wednesday, April 13, 2011








Endless War and Empire: Your Tax Dollars at Work
(1 comments) While our fiscal woes have led Congress to slash food aid this year to the world's poor -- rest assured, fellow Americans -- the U.S. government will keep using your tax dollars to kill them. For while John Boehner and Barack Obama might disagree on some things, there's one area they can agree on: War. And the need for more of it.
Thursday, March 31, 2011








Obama on Libya: George W. Bush 2.0
His lines may be better delivered, but Barack Obama is sounding -- and acting -- more like the heir to George W. Bush than the change-maker sold to the public in his award-winning ad campaign.
Wednesday, March 23, 2011








Instead of Bombing Dictators, Stop Selling Them Bombs
(6 comments) When all you have is bombs, everything starts to look like a target. And so after years of providing Libya's dictator with the weapons he's been using against the people, all the international community -- France, Britain and the United States -- has to offer the people of Libya is more bombs, this time dropped from the sky rather than delivered in a box to Muammar Gaddafi's palace.
Tuesday, March 15, 2011








Activists Stand Up for Bradley Manning -- and PJ Crowley
(2 comments) When we heard on Sunday that P.J. Crowley had resigned as spokesman for the State Department after criticizing the Pentagon's treatment of suspected whistleblower Army private Bradley Manning, my CODEPINK colleagues and I knew we had to respond. How outrageous that yet another person gets punished for simply telling the truth--Crowley called Manning's treatment "ridiculous, counterproductive and stupid."
Sunday, February 6, 2011








The Egyptian General and the Gladiola
(4 comments) Dateline: Cairo: Medea Benjamin shares her on-the-ground experience and participation in Egypt's liberation revolution.
Friday, February 4, 2011








Mubarak Mobs and Street Vendors: Welcome to Egypt
(2 comments) reporting from Egypt's Tahir square and surrounds, Medea makes a quick getaway when the thugs show up
Tuesday, December 28, 2010








Ten Good Things (and more) To Celebrate In A Bad Year
(1 comments) This year was marked by turmoil at home and abroad, including a deepening financial crisis that continues to leave millions jobless and homeless, as well as ongoing and expanding wars. But despite the setbacks and disappointments, here is a list of victories to be thankful for, starting with three inspirational women.
Wednesday, November 17, 2010








Protesters Say George Bush Library Should be a Pile of Rubble
(2 comments) Over 100 peace activists showed up to protest, including New York City artist Laurie Arbiter, who helped organize a March of the Dead and carried a sign asking "Does America Have a Conscience?" "We should leave the broken ground and just fill it with a big pile of rubble," said Arbiter. "That would truly represent the catastrophic results of the Bush Administration."
Wednesday, October 27, 2010








Dear Jon Stewart, Sane People Protest Crazy Wars
(12 comments) The 10-30-10 rally on the capital's mall is looking more and more like a celebration of "slacktivism." Stewart is courting people who do not want to open their window and yell, "I'm mad as hell, and I'm not going to take it anymore!"
Monday, August 23, 2010








Blackwater vs. Pinkwater: The Wife of Erik Prince Picks a Fight With CODEPINK
(3 comments) It felt surreal to be inside the home of Erik Prince, the founder, owner and chairman of Blackwater (or Xe, as it is now called). Prince, a former Navy Seal, provides security for the CIA, the Pentagon and the State Department. His company trains 40,000 people a year in skills that include personal protection. Yet his home in McLean, Virginia, has no security. None. Not even a fence or a guard dog or a No Trespassing sign.
Sunday, August 22, 2010








The Iraq Legacy: Tell It Like It Is
(12 comments) With the withdrawal of U.S. combat troops from Iraq, the administration, the military and the media are trying to put a positive spin on this grim chapter of U.S. history. The bitter truth is that the U.S. intervention has been an utter disaster for both Iraq and the United States.
Tuesday, June 1, 2010








Obama Must Join Global Condemnation of Israeli Flotilla Assault
(12 comments) Conspicuously absent from the Nobel Peace prize signees was President Barack Obama. Instead of expressing outrage at an attack on civilian ships in international waters, Obama issued a tepid statement saying he "deeply regrets the loss of life and injuries sustained."
Thursday, May 27, 2010








Getting Naked to Expose BP
(5 comments) Codepink has begun and is organizing actions against BP.
Monday, April 19, 2010








Reading the Tea Leaves: Will the Empire Break Up the Party?
(2 comments) The Tea Party wants small government, right? Actually, it's not so simple. In fact, there is an ideological schism within the Tea Party that you could drive a Bradley tank through. On Tax Day, my CODEPINK colleagues and I conducted 50 interviews with Tea Party members about the cost of war and empire. With military spending eating up 20 percent of the federal budget and half of all discretionary spending, we figured...
Thursday, April 8, 2010








Stop Being and Funding the Evil We Deplore
(4 comments) "Let us not become the evil we deplore", warned Cong. Barbara Lee when she cast the lone vote against going to war in Afghanistan in September 2001. Well, it's time to look in the mirror--and it's not a pretty picture
Tuesday, February 23, 2010








With 1000 US Soldiers Dead In Afghanistan, Time To Revive the Anti-war Agenda
(4 comments) U.S. Corporal Gregory S. Stultz, 22, of Brazil, Indiana, died on February 19, 2010 while supporting combat operations in Helmand province, Afghanistan. According to icasualties.org, Stultz's death marks the grim milestone of 1,000 American soldiers killed in Afghanistan.
Saturday, December 26, 2009








Christmas in Cairo: The Grassroots Comes To Gaza's Aid
(5 comments) As the year-end brings horrifying memories to the Palestinians in Gaza, we hope they recognize that grassroots groups the world over are not only thinking of them, but actively organizing to lift the siege that makes their lives so difficult.
Saturday, December 5, 2009








International Participation in December 31 Gaza Freedom March Tops 1,000 As Registration Closes
Over 1,000 delegates from 42 countries have signed up to participate in the December 31 Gaza Freedom March that will mark the one-year anniversary of the Israeli invasion and call for an end to the siege that has brought 1.5 million people to the edge of disaster.
Tuesday, July 7, 2009








Hondurans Pour into the Streets Demanding Zelaya's Return
(11 comments) "If they think that were are going to give up, they are badly mistaken," said Caceres. "The events of today make us more determined than ever to overthrow this terrible coup."
Saturday, July 4, 2009








REPORTING FROM HONDURAS: No Press Freedom in Post-Coup Honduras
(2 comments) The Honduran people should have the right to know what their new leaders, in the name of democracy, are doing to destroy the very basic foundations of a democratic system-a free press.
Thursday, July 2, 2009








REPORTING FROM HONDURAS: Hondurans Call Out for Help from the International Community
(18 comments) Our emergency international delegation to Honduras, organized from the United States by CODEPINK, Global Exchange and Non-Violence International, began its fact-finding mission in the wake of the June 28 coup that overthrew President Manuel Zelaya.
Thursday, May 7, 2009








Who Will Stop the AIPAC Jews Before it is Too Late?
(7 comments) While I was being tackled by security guards at Washington's Convention Center during the AIPAC conference for unfurling a banner that asked "What about Gaza?," my heart was aching. I wasn't bothered so much by the burly guards who were yanking my arms behind by back and dragging me-along with 5 other CODEPINK members-out of the hall. They were doing their job.
Thursday, February 19, 2009








Once You See What Truly Happened in Gaza, it Will Change You Forever
(14 comments) Here in the U.S., Congress ignored the suffering of the Palestinians and pledged its unwavering support for the Israeli state. All but five members out of 535 voted for a resolution justifying the invasion, falsely holding Hamas solely responsible for breaking the ceasefire and praising Israel for facilitating humanitarian aid to Gaza at a time when food supplies were rotting at the closed borders.
Friday, October 10, 2008








Should Henry 'The Fox' Paulson Guard the Henhouse?
(2 comments) On Tuesday, October 7, a group of CODEPINK pranksters pranced in front of the New York Stock Exchange. One, wearing an oversized papier maché head of Treasury Secretary Henry Paulson, grabbed at the purses of the "chickens." "Give me your money; give me your money," he cried. "You might need a new house, but my buddies and I need new yachts." Passersby, read the sign "Henry 'The Fox' Paulson' in the People's Henhouse,"
Monday, December 31, 2007








Let's Toast to Ten Good Things About 2007
(1 comments) As we close this year on the low of Congress giving Bush more billions for war, and the assassination of Benazir Bhutto in Pakistan, let's remember some of the year's gains that can revive our spirits for the New Year. Here are just ten.
Friday, December 28, 2007








In Memory of Benazir Bhutto, Cut US Ties to Musharraf
We at CODEPINK were in touch with the former Prime Minister when we were writing our book Stop the Next War Now. In fact, Bhutto graciously contributed an essay that was a plea to counter extremism and "a clash of civilizations that can lead to Armageddon, where there will be no winners on earth." Bhutto's assassination is a blow to people all over Pakistan, and the world, who hold life sacred and believe in the basic...
Friday, November 2, 2007








George Bush and CODEPINK: Women for Peace
This is precisely the time for CODEPINK and other groups to step up their activities, and for new people to come forward to help. Remember the prescient words of Mahatma Gandhi: "First they ignore you, then they laugh at you, then they fight you, then you win." We're now in the stage where they are fighting us. We're anxiously awaiting the stage when we win.
Wednesday, September 5, 2007








Nancy Pelosi Should Listen to Karl Rove
(4 comments) Karl Rove might be a nasty guy, but he's no dummy. In a press interview as he left office, he gave the Democrats some free advice. He described his politics as building on the energy of the base of the Republican Party and expanding it outward. He mentioned that the Democrats could build on the energy of their base, like the "Pink Ladies", he said, referring to the Code Pink women who dogged him until the day he left office.
Monday, May 21, 2007








Have You Called Your Senator Today?
(4 comments)
Tuesday, April 10, 2007








Busy Easter Week!
Medea Benjamin recaps on CODEPINK's activities during the week leading up to Easter.
Monday, March 12, 2007








A New Network Forms to Close U.S. Overseas Military Bases
In a new surge of energy for the global struggle against militarism, some 400 activists from 40 countries came together in Ecuador from March 5-9 to form a network to fight against foreign military bases. While a few other countries such as England, Russia, China, Italy and France have bases outside their territory, the United States is responsible for 95% of foreign bases.
Thursday, March 8, 2007








Time for Congress to Lift the Fog of War

Monday, February 19, 2007








Italian Women Lead Grassroots Campaign Against US Military Base