Articles Listed By Date List By Popularity
Tuesday, August 13, 2013








Obama Wants U.S. "Comfortable" with Vast Surveillance
(5 comments) Barack Obama pulled out the "we're not Big Brother" line again Friday in the ongoing to effort to bamboozle people alarmed about the vast National Security Agency surveillance of whole populations exposed by Edward Snowden. The important thing to him is not that the surveillance is curtailed, but that you feel comfortable with it.
Saturday, July 27, 2013








Does the U.S. and its Commander in Chief Operate like a "Global George Zimmerman?"
(14 comments) Cornel West, on Democracy Now! Monday, went right after Obama's statement about Trayvon Martin. Immediately Dr. West caught all kinds of criticism, for criticizing the President -- a situation I personally identify with. I heartily support and agree with Dr. West's comments. I would like to hear what you think.
Wednesday, July 24, 2013








Manning Trial Coming to Conclusion: All Out to Support
(4 comments) Closing arguments in Bradley Manning's court martial begin Thursday at Ft. Meade. The government has been allowed by the judge to keep the "aiding the enemy" charge against Bradley...
Tuesday, June 25, 2013








Indict the Criminals Responsible for Vast Government Spying -- Hands Off Edward Snowden
(3 comments) WE DEFEND Edward Snowden for his courageous action in revealing vast, unlawful surveillance by the United States. WE CALL on others to join us in opposing the U.S. government's plans to gain custody of him, to try and imprison him on espionage charges. WE JOIN with a large section of the U.S. population and billions worldwide in outrage at the unconstitutional, illegitimate surveillance of whole populations by the U.S
Sunday, May 19, 2013








Why Obama Can & Should Close Guantanamo NOW
(3 comments) Obama, however, as people rightly point out, has promised to close Guantanamo. For his own reasons, whatever they may be, he repeats what most of the world thinks, that the continued existence of the illegal prison in Guantanamo, set up to avoid U.S. law by the Bush regime, doesn't serve the U.S. public image as the land of freedom and democracy.
Friday, March 29, 2013








The Guantanamo Hunger Strike Starts to Get Attention... and Gets More Dangerous
(5 comments) On day 50 of the continuing hunger strike at Guantanamo this week over 30 of the 166 prisoners were confirmed on strike, possibly 100-130 At least eleven are being force fed. The physical condition of the inmates is dire. On Monday the International Red Cross arrived .
Sunday, September 2, 2012








12 Steps to Overcoming Addiction to Voting for the "Lesser of 2 Evils"
(40 comments) Were you opposed to the policies of the Bush regime? Did you used to think critically and attend anti-war protests but now find yourself justifying Obama's wars in Iraq, Libya, Afghanistan & Pakistan? Are you unsatisfied with Obama but stay with him out of fear of Mitt Romney becoming president? If you answered yes to more than one of these questions, you are probably in a self-destructive relationship with the Democrats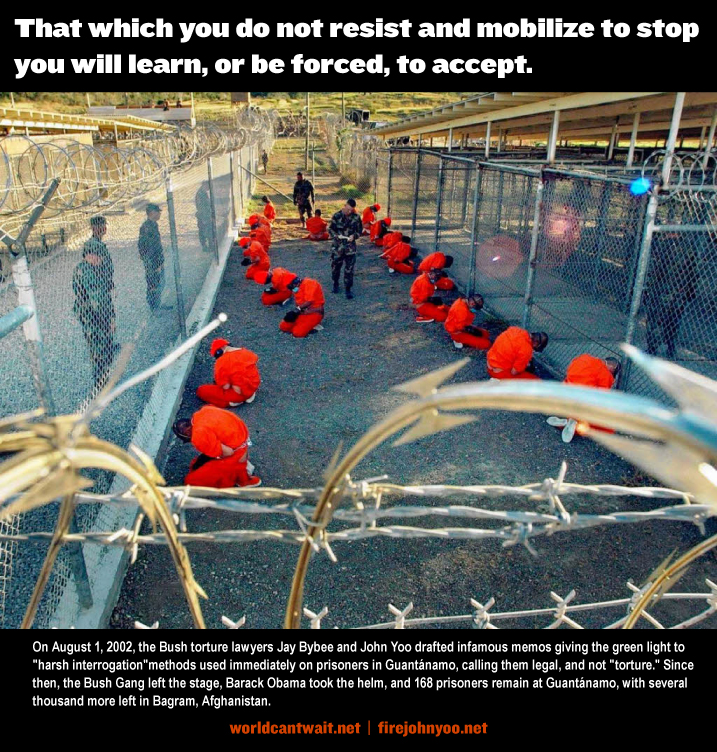 Friday, August 3, 2012








Torture called legal for 10 years, but "we don't torture"
(3 comments) Ten years ago today, lawyers for the Bush Regime sent memos up the chain of command which quickly reached the military and the CIA. The August 1, 2002 "torture memos" authored by attorneys in the Office of Legal Council at the White House gave the green light to torture, calling it "harsh interrogation" and completely legal.
Friday, May 11, 2012








War Criminals to Meet in Chicago, But Somehow Protest Will be the Danger?
(5 comments) The most heavily armed empire in world history occupies and has destroyed whole countries, has a system of indefinite detention and torture for Muslims in place, and is expanding secret military operations across the region. But the biggest danger to peace is some hundreds or thousands of people protesting the Chicago meeting of the NATO military alliance next week?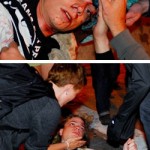 Friday, October 28, 2011








Despite Police Violence, Occupations are "SO Not Over"
(3 comments) Occupy Oakland is back, bigger than ever, and for the time being, the city has backed off with the heavy police presence, at least for now. Occupy Wall Street is sending them $20,000 and new tents. We need our own version of mass support for the occupations. If you can't get to one right now, get into print, get online, get on the phone, and weigh in: "Hands off Occupy!
Monday, October 10, 2011








To General Atomics: Stop Making DRONES
(3 comments) General Atomics is a manufacturer of parts for drones. Given the 10th anniversary of the US occupation of Afghanistan, and the mobilization of an occupation/encampment which began on October 6, at Freedom Plaza in Washington, we quickly decided to protest General Atomics.
Tuesday, October 4, 2011








Why is the U.S. war in Afghanistan such a central issue?
With more than 1,100 U.S. bases in countries around the world, U.S. power amounts to a world-wide empire, and the U.S. has a larger military budget than all other countries combined. Think about the destruction of the global environment caused by this military machine, the largest user of fossil fuels in the world, again, more than most countries.
Tuesday, September 6, 2011








Just what is it we're being told to "never forget" as we remember the events of 10 years ago?
(3 comments) Looking back at what the Bush regime did at the time:
Tuesday, July 5, 2011








The Cruel Lie: Bombing To Liberate Women
(1 comments) A heartbreaking and infuriating downward spiral for Afghan women-- Women are NOT doing better.
Wednesday, April 27, 2011








Caught in between; searching for alternatives to Empire & Fundamentalism
Our approach is not to throw up our hands, saying "there is no good solution," but rather to seek solutions that would be in the interests of humanity. Hearing those ideas will in turn stimulate people to see beyond a simple polarity of U.S. empire or Islamic government, both of which currently reinforce each other.
Thursday, March 31, 2011








This is no "Humanitarian Intervention" in Libya
(43 comments) I've talked to a number of people in the last 10 days who describe themselves as "hoping for the best" from the US intervention into the North African country of Libya. They choose to believe the US arguments that the intervention is 1) for humanitarian reasons limited to "saving civilian lives"; 2) is legitimate because it has the backing of the UN and NATO. But the facts don't support those hopes.
Wednesday, March 30, 2011








This is no "humanitarian" intervention in Libya
(1 comments) The people of Iraq suffered under a no-fly zone for 12 years, when 500,000 children died due to the sanctions. No-fly zones are hardly no-killing zones; they only mean that much of the killing is from the air. There is no way an anti-war movement should support this U.S. intervention.
Wednesday, March 16, 2011








Listening to the Victims of U.S. Wars
(1 comments) The other woman is a Westerner who has lived in Afghanistan for 8 years, trying to represent a different face to the Afghan people than the military. She writes to me about the change in her thinking as the occupation has escalated. She no longer thinks that U.S. forces can do good there.
Tuesday, March 8, 2011








Nakedness, Justice and Bradley Manning
(9 comments) On March 2, the U.S. military announced 22 more charges against Bradley Manning, the accused Army Private imprisoned in solitary confinement since May 2010. One of the new charges, "aiding the enemy," is potentially punishable with death. This a most outrageous development, echoing the months of right-wingers screaming for his death. View the charges. Word comes that Brad is now held naked overnight, and forced to stand at a
Friday, February 25, 2011








The U.S. Government Must Stop Supporting Repressive Regimes
(5 comments) In Libya hundreds of people are being slaughtered in the streets by mercenaries. Though Qaddafi's government has appeared more oppositional to the U.S., the U.S. reestablished full diplomatic relations with Libya, under pressure from U.S. oil companies. Military aid followed. But in the wake of the absolutely righteous upsurge of the people against Qaddafi's repression, will the U.S. take the opportunity to install...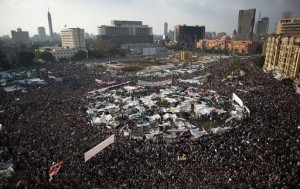 Thursday, February 24, 2011








More on Driving out a Regime
(1 comments) Last week, I posted this photo of masses of Egyptians in Tahrir Square in late January 2011 with the question, "Now do you know what we were talking about?" I sent the message to tens of thousands of supporters of World Can't Wait, established in 2005 as The World Can't Wait -- Drive Out the Bush Regime. The photo and one line got a lot of response.
Wednesday, February 2, 2011








State of the Union: War on Terror Goes On and On, and On"
(1 comments) Last I heard, the Defense Department is balking at even a 2014 pull out date of Afghanistan. The unjust, immoral, illegitimate occupations continue, and with them, the "war on terror" against civilians across the region. It's up to us to bring out that reality to people.
Wednesday, February 2, 2011








Reaching students who can't remember before the war
(3 comments) What if people in other countries watching CNN saw streets in the United States filled with people protesting the crimes of this government? World Can't Wait is committed to bringing that into being.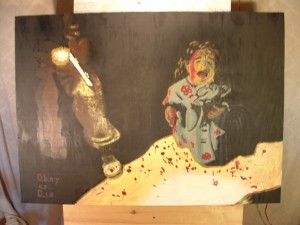 Wednesday, January 19, 2011








Call to Action: March 17-19 Iraq War Protests
(1 comments) People, it's time to put political opposition to these wars back on the map, in a mass, visible, and determined way.
Tuesday, January 11, 2011








In support of 173 men detained without end...
(1 comments) Protests are planned around the country Tuesday to mark the beginning of the tenth year of the US detention center at Guantánamo , from which, it appears, some men will never leave.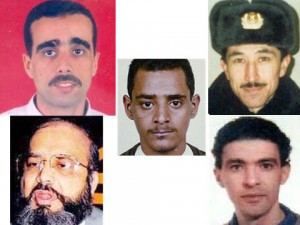 Thursday, January 6, 2011








What the U.S. Prison at Guantanamo Accomplished
The voices almost never heard in the discussion of torture, indefinite detention and Bush's Guantánamo are the men who were themselves detained. Over 600 have been released, in a tacit admission by the U.S. that they committed no crimes. 174 are still detained, even though Obama's own commission found last year that more than 90 should be released immediately. We should hear these voices.
Thursday, January 6, 2011








TEN Years of Guantanamo? Hell No! Protest Event Calendar
Protest Guantanamo Events January 2011
Friday, December 31, 2010








Determination is Part of Stopping Unjust Wars
(1 comments) We need controversy dividing every institution in society, from religious to educational, over whether these wars, and those who advocate them, are legitimate. We must find a way to bring in those under 18, who may not even remember the evil Bush regime, but who will be pressed into service for Obama's successor.
Tuesday, December 28, 2010








Going on 9 Guantánamo Years
(2 comments) It's not only that Guantánamo should have been closed, and isn't, but that the virulent Islamophobia, the illegitimate "war on terror;" the secret renditions begun under Bill Clinton; the covering for torture by the allies in Iraq and Afghanistan continue.
Monday, November 29, 2010








"Cablegate" Raises Question: How Does a Superpower Dominate?
(1 comments) The danger to civilians is in being militarily occupied, economically controlled and dominated by an unchecked superpower. Everything we can do to rouse people living in the United States to act to end these occupations is needed, now!
Sunday, March 28, 2010








Predator Chief Feted at Fordham
(3 comments) CIA covert operation chief, Michael Sulick was an invited speaker at Fordham University last week. Debra Sweet, national director of World Can't Wait, reports on what transpired when former CIA analyst and Fordham alum Ray McGovern, a harsh critic of CIA abuses, was unexpectedly invited on stage.
Tuesday, May 12, 2009








Protesting Torture Across the US May 2009
Recent polls suggest an alarmingly high percentage of Americans believe there are times when torture is "OK." If that is true, America is slipping deeper & deeper into a moral morass.