Light seems sometimes to act like a wave, sometimes like a particle. This seemingly nonsensical behavior has been accepted for so long, and entire careers devoted to it, so much so, that a hypothesis which would explain light's peculiarities, and resolve its apparent duality, is evidently unwelcome among physical scientists - even in violation of their most fundamental principles.
A guiding principle of science specifies that the worthiness of a theory or hypothesis should be judged by its conformity to evidence, and by its comprehensiveness and economy of explanation, all measured against other theories with the same object. But the hypothesis I've offered to numerous physics journals hasn't been explicitly criticized or refuted according to those standards, it's simply been rejected as "unsuitable."
The unsuitability of a hypothesis should be easy to identify and express, if the unsuitability is grounded in defensible principles. I'll paste my paper below, a fairly non-technical discussion, in the hope that it can be evaluated and criticized for its scientific value, rather than, as I suspect has happened, dismissed for its non-conformity to established commitments.



A hypothesis on the nature of light

Abstract

It is proposed that light is at absolute rest, its apparent motion being the reflection of the motion of mass in time. The hypothesis resolves the paradox of the apparent wave/particle duality of light, accounts for its speed being invariant and a limit, explains other peculiarities of its behavior, and identifies the source of gravitational energy.

Introduction

Light is currently regarded as in some ways wavelike, in some ways particle-like, invariant in speed, the limit of speed, and having various strange non-local effects. Einstein's suggestion (1905) that light be accepted as both wavelike and particulate, pending an intelligible resolution of the evidence, has become an abiding commitment to paradox as quantum theory has expanded the range of the counter-intuitive to encompass much of theoretical physics. Nonetheless, the value of the fundamental scientific preference for simplicity of description, explanatory power, and logical coherence remains, in principle, as desirable as ever. However much science is now accommodated to the paradoxical features of light, a theory that would obviate a need for strange compromise is always to be preferred by scientific standards.

The idea that light might be at absolute rest seems no doubt a very odd and unlikely remedy at first impression, but I hope to justify it here by an appeal to the explanatory power by which it may be judged superior to the conventional view.

A Heuristic Graphic

A simple spacetime diagram (figure 1a) conforming to Special Relativity and the Lorentz transformations(1), and drawn according to the relativistic perspective of a single observer, provides a heuristic representation by which the present hypothesis might be most readily understood.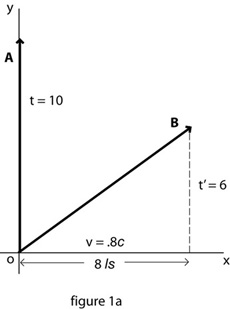 "
The x-axis represents space, while its perpendicular, the t-axis, represents time - both according to observer A, who is considered to be at rest and moving in time(2) along the t-axis. Vector B represents a body in motion relative to A.
A travels 10 sec(3)in time in the scope of the diagram while "at rest" in space. Body B, which as a matter of convenience is located initially at o, moves from the vicinity of A at a velocity, according to A, which takes it 8 ls in 10 sec. The final coordinates of B (8,6) can be derived from the Lorentz transformations, or geometrically by means of measuring the lengths in the diagram. By locating B at 6 seconds in time it is represented that the clock of B has moved 6 sec in the reference frame of A.
The spacetime interval given by s2 = t2 - x2 (with t proportional to c) is expressed here by
s2 = 102 - 82