On February 4th independent journalist Georgianne Nienaber and I flew into Haiti for a five day whirlwind investigative tour facilitated by our driver and "fixer", Andre Paultre, a journalist's best friend in Haiti. This is the fourth piece in my series, "Haitian Winter".

For Part One of this series, CLICK HERE
For Part Two of this series, CLICK HERE
For Part Three of this series, CLICK HERE

*******

On Saturday, our second day back in Haiti, we got up early and vacated our hotel into Andre's SUV with all our belongings, planning on spending the next night well north of Port-au-Prince in Gonaives. But our first major goal this morning would be to investigate the Truttier refuse and medical waste dump near the giant slum of Cite Soleil adjacent Port-au-Prince, a dump already controversial because even cholera-laced human feces was being dumped into an open and unlined pond there, threatening to contaminate an actual water source that serves Port-au-Prince, Plaine Cul-de-Sac Aquifer.

As we drove toward Truttier, we were suddenly passing by the huge La Saline open-air market where thousands of mostly women daily buy and sell goods, particularly used clothes, a locale I will again touch on later in this series. Leaving behind that colorful spectacle, Andre was soon winding us through the pot-holed side streets of La Saline's slums until suddenly a large, weathered and deserted-looking two-story ruin began to loom into view. "Fort Dimanche", Andre proclaimed, as he identified the place, explaining that this was the favorite Hell-hole of the Duvalier dynasty for destroying their political opponents during their three decade reign.

Fort Dimanche:





Inside the ruins of Fort Dimanche, now, in 2011 (photo by Mac McKinney)

and,

going back in time some 45 years, meet this woman, Rosalie Bosquet: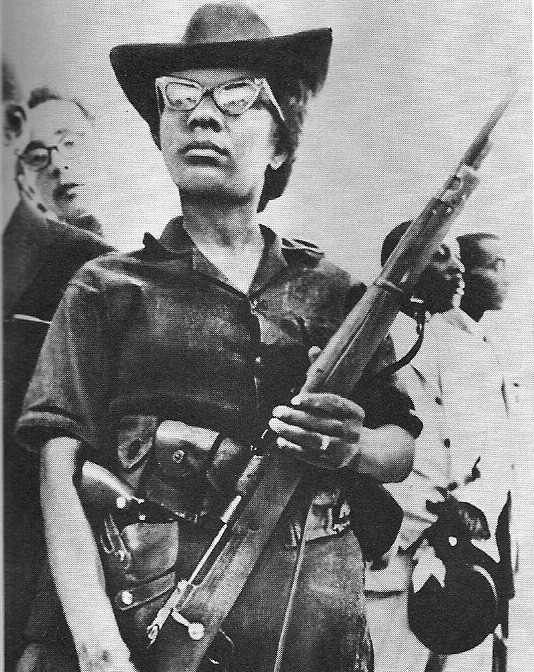 also known as Madame Max Adolphe, "warden of the death dungeon, Fort Dimanche, female Tonton Macoute and right-hand woman of Papa Doc Duvalier" until his death in 1971. (source)

She was, for a good while, the visible face of this, the most jaded prison and tool of repression, dehumanization and termination for years in Haiti. She first "came to the attention of Francois (Duvalier) during an attempt on his life. While she was a low ranking officer in the Tonton Macaute, her courage impressed the President so much that he promoted her to the position of warden at Fort Dimanche.

At the prison, Adolphe continued her strong support of the government and was known for her interrogations of political prisoners.

"Daily killings, torture, and beatings were typical at the prison during her tenure. After settling in at the prison, she was then promoted to the Supreme Head of the Tonton Macaute." (source)

The Tonton Macoute, although innocently called the militia, were, of course, the violent and criminal "Bogeymen " of President for Life Papa Doc Duvalier, the enforcers of his growing tyranny over Haitians of every walk of life, and whose shocking brutality knew no bounds.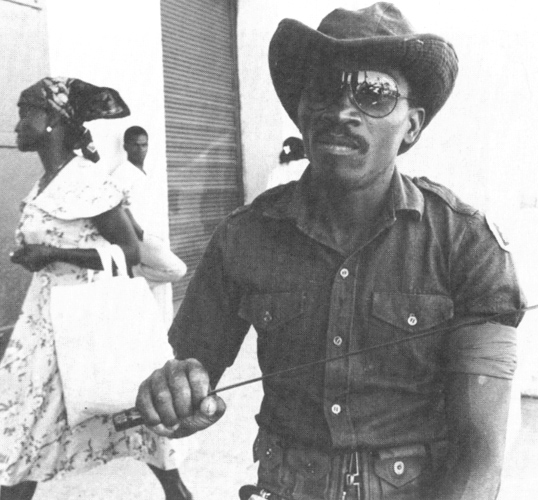 Tonton Macoute brandishing machete (source)

A quick video is in order to educate those of you who don't know a bit more about the Macoute:


(For a more in-depth look at not only the Tonton Macoute and the later manifestations of death squad-style militias in Haiti, but US government and corporate duplicity in training and supporting them, click HERE and HERE. This subject is too extensive to include in this article.)



1 | 2 | 3 | 4 | 5 | 6 | 7 | 8 | 9 | 10 | 11 | 12 | 13 | 14 | 15 | 16 | 17 | 18 | 19