Based on its history of support from Iran, one would suspect that Hamas is one of the "popular groups" Haaretz alludes to as behind the rocket attacks. That history was altered recently when Hamas supported Syrian rebels in their efforts to oust the current government.
"A leader of Hamas spoke out against President Bashar al-Assad of Syria on Friday, throwing its support behind the opposition and stripping Damascus of what little credibility it may have retained with the Arab street. It was Hamas's first public break with its longtime patron." New York Times, February 24

At the very least, as the governing authority in Gaza, Hamas supports the attacks by allowing them. Its motivation may have more to do with its anti-Israel than its fealty to Iran, a patron it deserted on Syria in favor of the United States, Great Britain, and the Arab oil plutocrats.
Rocket attacks have accelerated, according to the Israel Defense Force. In the past few days, 200 rockets were fired at Israel (compared to a peak of 170 in August 2011). Israel is now in better shape to handle the attacks due to a program called Iron Dome. The missile defense system boasts a 75% to 90% success rate at intercepting and defeating missiles in the recent reported salvo of 250 rockets from Gaza.
Back the pretext for attacking Iran
Firing missiles at Israeli population centers is a barbaric act. It was also barbaric when Israel invaded Gaza in 2008 using disproportionate force and attacked Lebanon in 2006. In the Middle East, there's always a barbaric act that justifies the subsequent act by any actor (except the totally unprovoked and illegal Bush-Cheney invasion of Iraq). Each side claims justification and blames the other for killing and maiming civilians. People are maimed and die, nonetheless.
Maybe Islamic Jihad-Palestine has grown significantly and now features rocket attacks. Maybe Iranians are in place coordinating them. Maybe Hamas is sitting idly by, as the governing authority in Gaza, and has a major responsibility for the attacks. But why are we seeing the sudden outrage by the Israeli "left" and Netanyahu when the Iron Dome defense is claiming 75% to 90% effectiveness (which does not excuse the culpability of those who fired those rockets that get through)?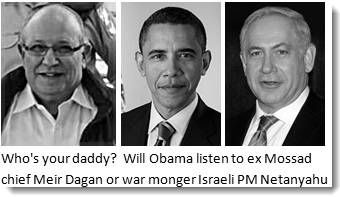 We may be saved the dire outcome of an attack on Iran by the man who ran Mossad from 2002 through 2011. Amidst the rush to war represented by Netanyahu, Meir Dagan, former head of Mossad, issued a caution:
"Former Mossad chief Meir Dagan said that an Israeli strike on Iran would lead to a missile attack on Israel that would have a 'devastating impact' on the country, in an interview that aired Sunday on CBS's 60 minutes.
"According to Dagan, an attack will start a regional war. 'And wars, you know how they start. You never know how you are ending it,' he said. "Haaretz.com, March 13 (Images: WikiCommons)
Brian Downing predicted that cooler heads were operating in the Israeli establishment a few weeks ago. Commenting on the Dagan 60 Minutes interview, Downing noted:
"The significance of his [Meir Dagan's] television appearance yesterday is considerable. It would be as if a respected former CIA or military chief had come forward in early 2003 and expressed deep skepticism over the case for invading Iraq and a major network gave him the opportunity to do so." Brian M. Downing, March 13

There's no point hoping for a happier past. But the opportunity for a sane present based on rational analysis and humanistic considerations is a welcome event. Seeking the truth is infinitely more productive than fabricating a delusion to serve a cause that serves no one at all, even the partisans who advance that cause.
END
This article may be reproduced with attribution of authorship and a link to this article.

1 | 2