Sarah Palin was runner-up in the 1984 Miss Alaska pageant. Her answers to some of Charlie Gibson seemed like those of some pageant contestants. But instead of giving the standard answer that she seeks "world peace," Palin in effect said she seeks world war. It's appropriate that her pageant was in 1984.
::::::::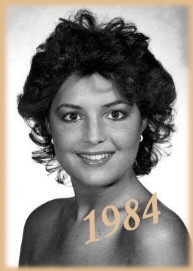 Watching Sarah Palin attempt to answer some of Charlie Gibson's questions was reminiscent of the responses given by contestants in beauty pageants.
I suppose that shouldn't be surprising, inasmuch as she is a pageant veteran, having been the runner-up in the Miss Alaska pageant in 1984.
But Governor Palin isn't like most beauty contest contestants.
As Sandra Bullock said in Miss Congeniality, "Hey! It is not a beauty pageant. It is a scholarship program."
So contestants have to demonstrate their scholarly credentials by answering questions, much as Sarah Palin did on Thursday and Friday.
We're all familiar with the standard response to such pageant questions as "What is the one most important thing our society needs?" or "What would you seek to accomplish as 'Miss [Wherever]'?"
"Well . . . I'd like to bring about world peace," the smiling beauty responds.
Not John McCain's beauty. Time and again when Gibson asked her about Russia, Georgia, Iraq, Iran, or just about anywhere, the candidate from whose state it is possible to see Russia answered that she's ready to go to war. (After all, she knows how close Georgia is to Alabama.)
This smiling beauty contestant has a different answer to the standard pageant question:
Well . . . I'd like to bring about world war, Charlie.
Finally - a beauty contestant who doesn't want to bring about world peace!
For this 1984 beauty, WAR IS PEACE.
Now, there's change we can believe in!
Big Sister.
Historian Robert S. McElvaine is Elizabeth Chisholm Professor of Arts & Letters at Millsaps College. His latest book is Grand Theft Jesus: The Hijacking of Religion in America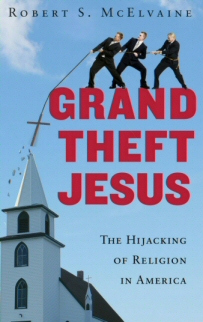 .}
Authors Website:
www.GrandTheftJesus.com
Authors Bio:
Robert S. McElvaine is a professor of history at Millsaps College and the author of ten books. He is a frequent contributor to the op ed pages of the major national newspapers and blogs for the Huffington Post. His latest book is "Grand Theft Jesus: The Hijacking of Religion in America" (Crown).