My longtime friend decided to die last week, on the heels of the Spring Equinox, the archetypal moment of renewal and new life. He sent out a Facebook farewell with an invitation to his memorial service, scheduled for a few days after he would "pull the plug."
::::::::
Ashlin and Aaron, 2013
(
Image
by
Aaron Winborn, used with permission
)
Details
DMCA
My longtime friend decided to die last week, on the heels of the Spring Equinox, the archetypal moment of renewal and new life.
He sent out a Facebook farewell with an invitation to his memorial service, scheduled for a few days after he would "pull the plug."
Forty-seven, married with two little girls, it was four years ago that he was diagnosed with ALS (Amyotrophic Lateral Sclerosis, also known as Lou Gehrig's Disease). He navigated a rapid deterioration with more grace and dignity than most people muster for dealing with daily stress.
Aaron and his family, March 2015
(
Image
by
S. Yorty, used with permission
)
Details
DMCA
ALS is 100% fatal and results in a slow death, with the most common cause of death being suffocation resulting from a paralyzed diaphragm muscle. The disease afflictsabout 350,000 people in the world annually. Approximately half of the patients die within three years of diagnosis.
After Aaron made his announcement, a few religious fundamentals rebuked him or tried to dissuade him, some even publicly suggested he had made a wrong choice, and might be punished for eternity.
But as Vine Deloria Jr. famously said, "Religion is for people who are afraid of going to hell. Spirituality is for those who've already been there." And Aaron certainly qualifies.
Thankfully, the vast majority of people posting on Aaron's and his family's Facebook pages were compassionate, understanding and supportive, and offered heartwarming words of comfort. He'd clearly surrounded himself with an extended family of deep friendship. And they all stretched out their love to midwife him on his journey.
Few on this planet have walked through the doorway to the beyond with the understanding, peace and grace that Aaron exhibited in his life, and in his poignant post on Facebook:



Farewell, all my friends, old and new. I have decided to "pull the plug" on March 24. I have to say that these past 47 years have been a grand adventure, and it is bittersweet to see it end. It will be quick and painless, and I am at peace with my decision. I am sad that I'm leaving my family. Though these words don't adequately express my feelings, they're the best I have.

To all of you who have been touched, no, mauled, by ALS, hang on, a cure is surely on its way. Alas, unless it comes in the next week, it's too late for me. I am nearly at the point where it is impossible to communicate, and if you know me, you know how much I love to talk when I have something on my mind.

Speaking of which, there are a few things I'd like to say. First, I want to express my gratitude to everyone who has supported me and my family in a multitude of ways. You have made all the difference in the world, and I expect you'll have nothing but good karma coming your way. I wish I had the time and energy to thank each of you personally. Suffice to say, I thank you and I wish the best for you and yours.

Next, I need to say that I will be spending the days I have left in solitude with Gwen, Ashlin, and Sabina. Although I will continue to read messages and emails, please don't expect a response. I have such limited time and energy now, and I want to focus all of it on my family. For messages to me, feel free to post those here. For offers to help or any questions, please send an email. Please do not text or call us. Our family has decided not to accept visitors this next week. Thank you for understanding.

Aaron and Gwen, March 2015

(

Image

by

S. Yorty, used with permission

)

Details DMCA




Finally, I would like to speak a little about the process of dying as I've experienced it these past four years. First off, it's not a matter of dying, so much as a process of living.

I can't stress that enough. When I lived with Elisabeth Kubler-Ross some 27 years ago, I thought it odd that so many people would send her butterflies. I don't mean literal butterflies, but rather drawings and stuffed cushions shaped like butterflies, many of which were created by terminally ill patients.

I used to think that they symbolized the notion of life after death. But now I've come to the conclusion that they actually represented the idea of life BEFORE death. This is an important distinction, one which I feel fortunate to have made before my end. Thus the personal mantra that I've had these past few months, that goes something like, "6 more beautiful days, and today is the most beautiful yet."

Even if we haven't had the pleasure of meeting, I want to affirm how influential you have been in my life. I love life dearly, in all its forms. Thank you for indulging me these few, precious minutes.

My memorial service will be held on Saturday, March 28th, gathering at 1:30 pm for a 2 pm service, at the Unitarian Church...Harrisburg, PA. In lieu of flowers, please make donations to Hope Loves Company(an organization for children who have or have had a family member living with ALS. Ashlin has attended their weekend camp free of charge annually for the last few years) or to The Circle School (Ashlin's and soon to be Sabina's school, where I served on the school's Board of Trustees for several years). Supporting and working at democratic/Sudbury schools has been one of my passions for many years.
Generously, Aaron shared his valuable expertise in a 2013 article for OpEdNews, Hack-Proof Passwords: Easy Tips from an Expert. Even my elderly dad was able to easily figure out how to follow Aaron's instructions for algorhythmic password safety.
A technical genius, Aaron worked almost up to the last minute as a creative problem-solving web developer and consultant. He was a foundational mover and shaker at Drupal, an open-source content-management framework, and at Advomatic, a development company that specializes in Drupal hosting and related services. He fulfilled so many different roles that founders of both companies credited him with "incredible dedication" and indispensible contributions.
The Drupal Community Working Group, with the support of the Drupal Association, has created an award in his honor, The Aaron Winborn Award, honoring individuals who demonstrate personal integrity, kindness, and above-and-beyond commitment to the Drupal community. They announced the new awardon Facebook on Aaron's last day, in time for him to see it.
Amidst an abundant ourpouring of comfort and love on Aaron's Facebook page during the poignant week after he posted his farewell, I posted this image and comment:



I've been there, that place where you go when you aren't in your body anymore. And I wanted to stay. But I started breathing again, and I came back. It's a magical place, hard to describe in words, but peaceful, joyful, and full of love and light. I'm glad I got a peek at it, because now I know. I made this image for you and your loved ones, it comes pretty close to what the experience was. I just wanted to share it.

(

Image

by

Meryl Ann Butler

)

Details DMCA



Few on this planet have walked through the doorway to the beyond with the consciousness and grace that Aaron exhibited in his letter, and in his life.
The name, Aaron, has been associated with communication since Biblical times. Moses, who had a speech impediment, depended on his elder brother, Aaron, to communicate for him.
And Winborn's initials are another reference to communication: J.A.W.
Aaron used to joke about his last name meaning "Born to win." And he certainly won this round. Few people have been so successful in their dance with the core essentials of life, no matter how many years they had in which to do it. The ripple effects of Aaron's generosity and creativity are destined to encircle the globe forever.
And if there is any possible way to communicate from where he is now, I suspect we'll be hearing from him.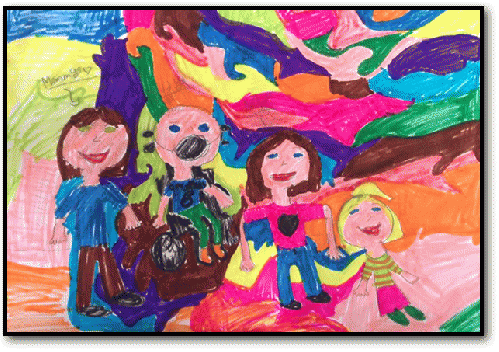 Ashlin's drawing of her family
(
Image
by
Gwen Pfeifer, used with permission
)
Details
DMCA
How you can help:
Aaron's sister, Diana, posted a link to ALS patient Anthony Carbajal's petition to the FDA to accelerate approval for a new drug. The drug has no side effects, and "differences in outcomes between the group of trial patients given the placebo and those given GM6 were 'statistically significant.'" The FDA will make a decision by mid-April. Anthony notes, "Thousands of ALS patients and myself want to be able to try this drug. I do not have any other options to fight."

http://www.change.org/p/fda-grant-accelerated-approval-for-gm604
Submitters Website:
http://www.OceanViewArts.com
Submitters Bio:
Meryl Ann Butler is an artist, author, educator and OpedNews Managing Editor who has been actively engaged in utilizing the arts as stepping-stones toward joy-filled wellbeing since she was a hippie. She began writing for OpEdNews in Feb, 2004. She became a Senior Editor in August 2012 and Managing Editor in January, 2013. In June, 2015, the combined views on her articles, diaries and quick link contributions topped one million. She was particularly happy that her article about Bree Newsome removing the Confederate flag was the one that put her past the million mark.

Her art in a wide variety of media can be seen on her YouTube video, "Visionary Artist Meryl Ann Butler on Creativity and Joy" at http://www.youtube.com/watch?v=UcGs2r_66QE

A NYC native, her response to 9-11 was to pen an invitation to healing through creativity, entitled, "90-Minute Quilts: 15+ Projects You Can Stitch in an Afternoon" (Krause 2006), which is a bestseller in the craft field. The sequel, MORE 90-Minute Quilts: 20+ Quick and Easy Projects With Triangles and Squares was released in April, 2011. Her popular video, How to Stitch a Quilt in 90 Minutes with Meryl Ann Butler can be seen at http://www.youtube.com/watch?v=PrShGOQaJQ8

She has been active in a number of international, arts-related projects as a citizen diplomat, and was arts advisor to Baltimore's CIUSSR (Center for Improving US-Soviet Relations), 1987-89. She made two trips to the former USSR in 1987 and 1988 to speak to artists, craftpeople and fashion designers on the topic of utilizing the arts as a tool for global wellbeing. She created the historical "First US-Soviet Children's Peace Quilt Exchange Project" in 1987-88, which was the first time a reciprocal quilt was given to the US from the former USSR.

Her artwork is in collections across the globe.

Meryl Ann is a founding member of The Labyrinth Society and has been building labyrinths since 1992. She publishes an annual article about the topic on OpEdNews on World Labyrinth Day, the first Saturday in May.

Find out more about Meryl Ann's artistic life in "OEN Managing Ed, Meryl Ann Butler, Featured on the Other Side of the Byline" at https://www.opednews.com/Quicklink/OEN-Managing-Ed-Meryl-Ann-in-Life_Arts-Artistic_Artists_Quilt-170917-615.html

On Feb 11, 2017, Senior Editor Joan Brunwasser interviewed Meryl Ann in Pink Power: Sister March, Norfolk, VA at http://www.opednews.com/articles/Pink-Power-Sister-March--by-Joan-Brunwasser-Pussy-Hats-170212-681.html

"Creativity and Healing: The Work of Meryl Ann Butler" by Burl Hall is at
http://www.opednews.com/articles/Creativity-and-Healing--T-by-Burl-Hall-130414-18.html

Burl and Merry Hall interviewed Meryl Ann on their BlogTalk radio show, "Envision This," at http://www.blogtalkradio.com/envision-this/2013/04/11/meryl-ann-butler-art-as-a-medicine-for-the-soul

Archived articles www.opednews.com/author/author1820.html
Older archived articles, from before May 2005 are here.