As we approach the 41st anniversary of Allison Krause's killing by the US government at Kent State University on May 4, 1970, the energy from that time calls out for our attention and current events demand we re-examine what went down in the sixties, ending at Kent State.
::::::::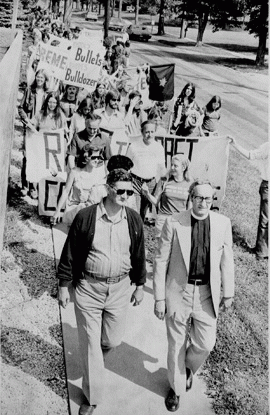 Arthur Krause marching with Reverend John Adams in 1977
(
Image
by
Laurel Krause
)
Details
DMCA
HERE WALKS my dad, Arthur Krause with Reverend John Adams and other protesters on his last trip back to Kent State. His daughter, Allison Krause, was slain at Kent State in the student protest against the Vietnam war on May 4, 1970, a day that forever changed our family and civil rights in America.
Approaching the anniversary of Allison's killing, the energy from that time calls out for our attention now. Current events demand we re-examine what went down in the sixties, ending at Kent State.
A remarkable cosmic signpost arrived on March 11, 2011 when a 9.0 earthquake struck Japan, creating a tsunami and the emerging Fukushima nuclear disaster. Very early that morning I awakened to a reverse-911 telephone call suggesting I move to higher ground for safety from the approaching tsunami due at 7:23am, read my account here ~ http://bit.ly/gOovLw Here's an article about the tsunami and the damage in our community ~ http://bit.ly/gWy090

As I waited at higher ground, I realized how this world event was transforming humanity and the way we live together globally. Hours after that massive shake, we were shown on every level that what happens there, happens here as we are all connected on this third planet from the sun.
Most importantly, the nuclear event at Fukushima showed us the deeply polluting, over-reach of corporations, echoing George Orwell's 1984 and Cat's Cradle by Kurt Vonnegut. Fiction from the sixties now becomes commonplace current events in 2011.
General Electric, the developer of the nuclear technology used at Fukushima also conceived the overall design, organized the construction and manufacture of Fukushima's parts and literally put together the 'gears' of the Fukushima nuclear reactor.
Yet following this tsunami in Japan and the nuclear alert created at Fukushima, GE's first step was to protect their corporate interests and distance the General Electric, GE brands, claiming TEPCO's majority ownership. Corporate-owned media machines backed them by never referring to General Electric as a player in this nuclear horror, following the same playbook as the BP Deepwater Horizon disaster and the BP brand from last year.
GE continues to disassociate itself from Fukushima and in these actions, GE takes no responsibility for the nuclear plant they designed and built years ago, pointing the finger instead at their customer and partner TEPCO, another corporation.
We also see that Corporatists eat their own, shown last week with BP bringing lawsuits against Transocean and the blow-out protector manufacturer. Each of these players, along with BP, are clearly responsible for the world's worst oil disaster and how it continues to evolve ~ polluting, degrading and jeopardizing the eco-health of a large portion of planet Earth.
When will these offending corporations take responsibility and engage in the required significant remedial clean-up (as in making whole again) as well as thorough research or analysis of the eco-damaging event? To date that is nothing beyond a handful of lawsuits, pay-outs, fines and, yes, bonuses and awards in 2010 to Transocean for safety, of all things.
Lest we not forget newly-awarded energy contracts just signed by the US government and BP. Or the two TEPCO-directed nuclear plants to be built in Texas with $4B of tax payer-derived funds. All's going great in eco-disasterville for Corporatists in America.
Back to Fukushima, the US nuclear energy lobby and US reactor manufacturers (top players, GE & Westinghouse-now Hitachi) without pause, continue skipping down the same development path, lacking proven safety procedures and offering not one innovative effort to safely begin bioremediating the nuclear disaster as it unfolds in Japan.
Just days after Fukushima began it's radiation spew and without missing a beat, President Obama announced US commitment to continue to fund and develop new nuclear reactors as a key energy technology for our country. As their response to Fukushima, China, Germany and many other countries have placed moratoriums on new development in nuclear energy with Germany going a step further to begin de-commissioning every nuclear reactor there.
At my local supermarket a colleague whispered that the GE engineers, the guys that originally conceived of these water boiling nuclear reactors for GE, left the corporation quickly thereafter, quitting to become anti-nuke advocates. They realized the power unleashed in the technology they created, along with humanity's inability to control or harness nuclear fission in a disaster scenario ... like a tsunami.
Going back more than 40 years ago and related to nuclear energy, I remember heated arguments around my family's dining room table circa 1967-69. Allison, my sister, was 16-18 and I was 12-14. Dad was pro-Vietnam war, voted for President Johnson and worked in management at Westinghouse Electric Corporation. Because of this Dad was de facto pro-nukes. Allison was against the Vietnam war her friends were being drafted into and against the dangers of nuclear weapons as well as nuclear reactor manufacturers. I stood with Allison, Mom with Dad, as the nightly battles ensued.
Before Allison and I were born, Dad came home from WWII and he married my mom Doris. They moved to Chicago where he studied at Illinois Institute of Technology. His first job was at Westinghouse and it became his lifelong employer, common back then.
His employment at Westinghouse Electric Corporation was a big part of our family life. My folks first settled in Cleveland, Ohio. Then in 1963 we moved to Westinghouse headquarters in Pittsburgh, PA. From there we moved to Wheaton, Maryland with dinner arguments as Allison found her voice, progressing through high school.
Going back to 1967, the emerging counter-culture energies of the sixties were in high gear ~ like we have never really seen since. As a pre-teen, I looked up to my older sister by four years and we stood together as a united front against our parents, reflecting the generation gap back then.
TV news blasted widespread unrest, chronicling national protests as we watched bloody Vietnam warfare footage with body-bags of returning killed American soldiers. Many of the dead draft-age men had never voted for or against the war as the voting age was 21, changing to 18 in 1971.
Back then our folks, especially Dad was a lifelong democrat, supporting President Johnson's Vietnam war. Allison locked horns with Dad about the war and how he made his living, his jobs at Westinghouse involved streamlining systems, progressing to creating the computerized shipping & tracking systems for Westinghouse nuclear reactor parts worldwide.
Allison and most everyone her age back then was pissed. By 1968, she was protesting the draft and the war in Vietnam. Young men her age were facing a lottery, being drafted into the war. To escape the draft, many peaceful folks enrolled in college or dodged the draft by going to Canada as it became impossible to get Conscientious Objectors status. If you drew a bad lottery number based on birthdate, you were forced to make some very serious decisions.
As the Vietnam war progressed and President Nixon was re-elected in '68, Nixon grandstanded his secret plan to end the war as he covertly full-throttled the war machine with secret bombings in Laos and Cambodia.
Stoking the embers of the Indochine wars, President Nixon took aim at the younger generation like a enemy camp ~ unleashing a tsunami of persecution from the Nixon administration, the Dept. of Justice, the FBI, COINTELPRO and J. Edgar Hoover. Check out this photo album on the people behind the killings of Kent State ~ http://on.fb.me/hFGAgK

As mentioned, we also fought about how Dad made his living. Arthur Krause was a well-respected and forward-thinking manager at Westinghouse Electric. He loved his job and enjoyed fixing systems so our family was transferred to plants that needed his help. As a young kid I remember Dad's work colleagues greatly respecting his contribution as their colleague and/or manager. Years later Dad would receive the coveted Westinghouse 'Order of Merit' for his superior and lifelong contributions.
In our home back then, my sister and I did not share that pride for our father's work. We also knew that the spent nuclear fuel was used in the manufacture of nuclear weapons, something else we were wishing to eradicate. We felt the conflict that what Dad did for a living was at the expense of our safety on Earth and our environment. We knew it back then and brought it to his attention.
That wound between Dad and Allison never healed. Allison continued to protest against the war and for honoring our environment.
In a ruinous chapter for our family, Allison Krause was one of four students gunned down by the US government on May 4, 1970 protesting the Vietnam War and the military occupation of her campus, Kent State University.
The day after Allison's death, in our backyard Dad made his plea before television cameras and in TV sets across America. In Dad's passionate and emotional speech, he demanded that Allison's "death not be in vain.'
As Dad learned his eldest child was murdered by the US government while protesting the Vietnam war, something he didn't agree with, he fought back for Allison's stolen life and civil rights. Dad began to understand the meaning in Allison's death and in the killing of Jeffrey Miller, Sandy Scheurer and William Schroeder on May 4, 1970.
Within the year President Nixon's men strongly encouraged my folks to drop legal efforts, offering bribes for millions of dollars and my father turned them all down. Just the same, our family was put under surveillance by the FBI for years, continuing to this day.
The Kent State law suits were heard in court houses all the way to the US Supreme Court and back over the next nine years. In 1979, Dad's efforts settled at $15,000 and the 'statement of regret' was personally signed by each of the guardsmen that shot at Allison, along with their commanders ~ something Dad insisted on.
Dad fought for Allison's right to protest and her murder at the hands of the United States government until the end of his days. Arthur Krause knew that the murders at Kent State 1970 were personal for us, yet important for all.
Submitters Bio:
Laurel Krause ~ Co-founder and Director of KSTT
Laurel Krause is a writer and truth seeker dedicated to raising awareness about ocean protection, safe renewable energy and other environmental issues. She publishes a regular blog on these topics at MendoCoastCurrent http://bit.ly/aOfPp0 Laurel is co-founder (with filmmaker Emily Kunstler) and director of the Kent State Truth Tribunal. www.TruthTribunal.org Before spearheading this effort for her sister Allison Krause, Laurel worked at technology start-ups in Silicon Valley for more than 20 years.