Reprinted from Consortium News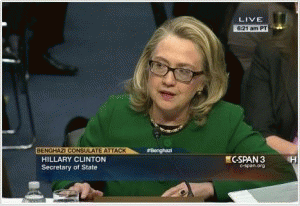 Secretary of State Hillary Clinton testifies before Congress on Jan. 23, 2013, about the fatal attack on the U.S. mission in Benghazi, Libya, on Sept. 11. 2012.
(
Image
by
(Photo from C-SPAN coverage)
)
Details
DMCA
>
At least since the 1980s -- when Ronald Reagan made war seem like fun again and the modern mainstream media took shape -- the Democratic Party has lacked a coherent foreign policy, highlighted today by the fact that its top 2016 presidential candidates have largely evaded the topic in favor -- almost exclusively -- of domestic issues.
Part of the problem is that Democratic frontrunner Hillary Clinton has a record of pandering to the neoconservatives during her time as a U.S. senator from New York and as Secretary of State. She voted for the Iraq War in 2002 and, while President Barack Obama's top diplomat, supported what some call "liberal interventionism," which is barely distinguishable from neoconservatism.
Indeed, arch-neocon Robert Kagan, a co-founder of the infamous Project for the New American Century, said -- in his praise of Clinton's aggressive foreign policy -- that he was ready to jettison the term "neoconservative" in favor of the phrase "liberal interventionist."

Kagan, who was made an adviser to Clinton's State Department, said in 2014: "If she pursues a policy which we think she will pursue ... it's something that might have been called neocon, but clearly her supporters are not going to call it that; they are going to call it something else." [For more, see Consortiumnews.com's "Is Hillary Clinton a Neocon-Lite?"]
So, it's understandable why Hillary Clinton's campaign has downplayed the details of how she would conduct foreign policy. Many Democrats, who opposed the Iraq War and are uncomfortable with the hawkishness that Clinton displayed as Secretary of State, would recoil at the prospect of her being a Trojan Horse for Kagan and the neocons to sneak inside another Democratic administration to continue their bloody strategies.
Though Sen. Bernie Sanders, her principal challenger, also has chosen to downplay foreign policy issues in favor of economic ones, the Vermont "democratic socialist" can at least point to his prescient opposition to the Iraq War in 2002.
In a Senate floor speech, Sanders cited five reasons for voting against President George W. Bush's war resolution: the death and destruction that would result, the dangerous precedent of "a unilateral invasion," the damage to the war on terror, the "extremely expensive" price tag of "a war and a long-term American occupation," and the "unintended consequences."
On the last point, Sanders asked: "Who will govern Iraq when Saddam Hussein is removed and what role will the U.S. play in [an] ensuing civil war that could develop in that country? Will moderate governments in the region who have large Islamic fundamentalist populations be overthrown and replaced by extremists? Will the bloody conflict between Israel and the Palestinian Authority be exacerbated? And these are just a few of the questions that remain unanswered."
Back-burner Issues
Though right about Iraq, Sanders is unwilling to put forward a comprehensive strategy for dealing with today's Mideast chaos and other international tensions, including the Ukraine crisis which was partly fomented by Kagan's neocon wife, Assistant Secretary of State for European Affairs Victoria Nuland, who rose to prominence under the protective wing of Secretary of State Clinton.
When Sanders has spoken about the Mideast, he has framed his comments in ways that make them acceptable to Official Washington but that ultimately make little sense. For instance, in an interview with CNN's Wolf Blitzer, Sanders suggested that Saudi Arabia and other oil-rich sheikdoms replace the United States as the region's policeman in the fight against Sunni terrorists in the Islamic State (also called ISIS).
"Saudi Arabia is the third largest military budget in the world," Sanders said. "They're going to have to get their hands dirty in this fight. We should be supporting, but at the end of the day this is fight over what Islam is about, the soul of Islam, we should support those countries taking on ISIS." [See Consortiumnews.com's "Sanders's Screwy Mideast Strategy."]
Frankly, it's hard to believe that Sanders is that naive. A core reality of the Mideast crisis is that Saudi Arabia, Qatar and other Sunni Gulf states have been the principal funders and ideological supporters of the Sunni extremists who have organized into violent jihadist movements, including Al Qaeda, its Syrian affiliate Al Nusra Front, and a hyper-violent spinoff, the Islamic State.
Vice President Joe Biden blurted out this reality at Harvard's Kennedy School last October, when he said: "Our allies in the region were our largest problem in Syria ... the Saudis, the emirates, etc., what were they doing? They were so determined to take down [President Bashar al-] Assad and essentially have a proxy Sunni-Shia war, what did they do? They poured hundreds of millions of dollars and tens of thousands of tons of military weapons into anyone who would fight against Assad, except the people who were being supplied were Al Nusra and Al Qaeda and the extremist elements of jihadis coming from other parts of the world." [Quote at 53:20 of clip.]
Biden had confirmed something that was well-known in the region and inside the U.S. intelligence community, that many of these terrorist groups were supported, directly and indirectly, by elements of Saudi Arabia's royal family and by oil-rich sheiks around the Persian Gulf who see themselves fighting a sectarian war against Iran and the Shiites. The Vice President later apologized for speaking the truth, but the cat was out of the bag. [See Consortiumnews.com's "Why Islamic State Is Winning."]
Saudi Arabia's Dirty Hands
(Note: You can view every article as one long page if you sign up as an Advocate Member, or higher).