Reprinted from The National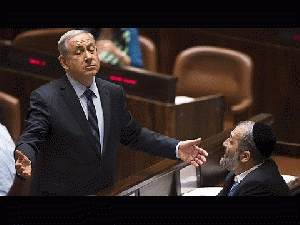 Only a few weeks into Benjamin Netanyahu's new government, the intense strain of trying to square its members' zealotry with Israel's need to improve its international standing is already starkly evident.
The conundrum was laid out clearly by Tzipi Hotovely, a young political ally of Mr Netanyahu's recently appointed to oversee the foreign ministry on his behalf.
She called together the country's chief diplomats last week to cite rabbinical justifications for taking Palestinian land. Her broader message was that Israeli embassies abroad needed to stop worrying about being "smart" and concentrate instead on being "right."
Urging the country's envoys into a headlong confrontation with the world community, she told them the "basic truth" was: "All the land is ours."
Mr Netanyahu is too experienced a politician to take Ms Hotovely's advice fully to heart himself. Having briefly spoken his mind to ensure he won the recent general election, he has now walked back much-criticized comments, that he would never permit a Palestinian state.
Damage control was also the reason he quickly cancelled defense minister Moshe Yaalon's plan to create separate buses for Jewish settlers and Palestinians as they return to the occupied territories at the end of a day in Israel.
Unlike most in his cabinet, Mr Netanyahu understood that, denied by his military even the flimsiest security pretext, the historical antecedents of bus segregation were too uncomfortable, especially for Israel's patron, the United States.
The graver danger for Mr Netanyahu is that, stuck with a cabinet of the like-minded -- of ultranationalists, settlers and religious extremists -- he lacks a solitary fig leaf to soften his image with the international community.
In his two previous governments, he relied on such sops: Ehud Barak, his defense minister, followed by Tzipi Livni as justice minister became the sympathetic address in the Israeli cabinet craved by Washington and Europe. Both spoke grandly about Palestinian statehood, even if they did precious little to achieve it.
With no veteran of the peace-process to hand, the west now faces a foreign ministry led jointly by Ms Hotovely and Dore Gold, appointed director-general this week. Mr Gold, a long-time hawkish adviser to the prime minister, is deeply opposed to Palestinian statehood, and even floated two years ago the idea of annexing the West Bank. The minister in charge of talks with the Palestinians -- hypothetical though such a role is at the moment -- is Silvan Shalom, another Netanyahu intimate who publicly rejects the idea of two states and supports aggressive settlement building.
Other key ministries affecting Palestinian life are similarly burdened with righteous -- and outspoken -- extremists.
Shortly before announcing his bus segregation plan, Mr Yaalon suggested that Israel, in dealing with Iran, might ultimately follow the example set at the end of the Second World War by the US, as it dropped nuclear bombs on Hiroshima and Nagasaki.
Mr Yaalon's deputy, Eli Ben Dahan, a leading settler rabbi, refers to Palestinians as "sub-human."
Ayelet Shaked, who spoke in genocidal terms against Palestinians in Gaza last summer, now oversees Israel's justice system, the sole -- and already feeble -- form of redress for Palestinians struggling against the occupation's worst excesses.
Other ministers are no less dogmatic in their fanatical opposition both to Israel signing an agreement with the Palestinians and to the US signing one with Iran. The absurdity of diplomacy in these circumstances may be one reason why Tony Blair, the ineffective Middle East peace envoy, threw in the towel this week.
(Note: You can view every article as one long page if you sign up as an Advocate Member, or higher).