Because he loves himself a lot -- really, he does.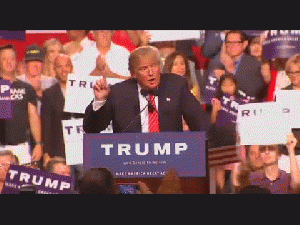 Donald Trump Brings Down The House
(
Image
by Right Side Broadcasting, Channel: rightsideradio)
Details
DMCA
Last week -- before Donald Trump schlonged Hillary Clinton and charitably pledged not to kill journalists -- there was a curious episode involving the GOP front-runner and Russian President Vladimir Putin that remains, even after the passage of several news cycles, worthy of a few dollops of reflection, since it may provide a true key to understanding Trump.
It all began when the Russian strongman hailed Trump as "a very bright and talented man." He also pointed out the obvious: that Trump was the leader in the GOP presidential race. Trump replied with a bear hug. On MSNBC's Morning Joe, he proudly commented, "When people call you brilliant, it's always good, especially when the person heads up Russia." Though host Joe Scarborough pressed Trump, noting that several journalists critical of the Putin regime have been slain, the tycoon turned politician stuck with his admiration for Putin and replied, "He's running his country, and at least he's a leader, you know, unlike what we have in this country."
Go to Mother Jones to read the rest of this article.