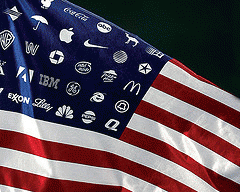 Corporate America
(
Image
by
Owner Unknown
)
Details
DMCA
This information is for all of you Democrats that believe Hillary Clinton will be a "Progressive" woman that will fight for the Middle Class as she has recently espoused. She is just trying to take away some momentum away from the Sanders Campaign by parroting some of his views.
We last saw these players contributing to Barack Obama who outrageously claimed in 2008 that he didn't take corporate campaign contributions and who was elected on the premise of "Hope and Change", and with a majority in the House and the Senate, could do nothing for the people of this nation except bail-out Wall Street at taxpayer expense. So as you gaze at this list taken from The Center for Responsive Politics and their website Opensecrets.org, remember who Obama's friends were and how all that "Hope and Change" worked out for us. Remember Occupy? It really hasn't gone away. Look at these donors and just imagine who Hillary Clinton will be working for. You can figure t it all out for yourself, I don't have to hit you over the head with it.
Citigroup Inc$824,402$816,402$8
,000Goldman Sachs$760,740
$750,740$10,000DLA
Piper$700,530$673,530$27
,000JPMorgan Chase & C
o$696,456$693,456$3,000Morgan Stanley$
636,564$631,564$5,000EMILY's List$609,684$605,764$3,920
Time Warner$501,831$476,831$25,000
Skadden, Arps et al
$469,290$464,790$4,500
University of California$417,327$417,327
$0Sullivan & Cromwell$369,150$369,150$
0Akin, Gump et al$364,478$360,978$3,500
(Note: You can view every article as one long page if you sign up as an Advocate Member, or higher).