Sphynx and pyramid-- monuments to psychopaths.
(
Image
by
New York Public Library
)
Details
DMCA
In the world of psychopaths there are different levels of functioning. The lowest functioning psychopaths have weak impulse control. They get caught when they lose control and have rage episodes, often violently assaulting others.
Better functioning psychopaths don't lose control of their temper but they're not that smart in their predatory behavior. They get caught ripping people off, lying, manipulating.
Then there are the smartest psychopaths. They almost never get caught, and when they do, they are often so ensconced behind the barriers of wealth, power and influence that they are untouchable-- too big for jail. Perhaps they are so big that their actions are not even seen as psychopathic.They are often rewarded and honored, their ruses are so effective.
The book and movie, The Corporation, describes how corporations fit the profile of psychopaths in many ways. Corporations get away every day with psychopathic behavior. I would argue that most billionaires also engage in what must be defined as psychopathic behavior.
"Behind every great fortune lies a great crime." Honore de Balzac
Balzac nails it. Look close enough at EVERY billionaire and there is crime, certainly not caught and convicted crime, but crime nonetheless. Billionaires have become, like bankers, too big to prosecute. But it's not just criminality that is the problem with billionaires. They have so much power that they engage in manipulation at massive levels. Remember, small time psychopaths and narcissists routinely rip people off. Women are often victims of charismatic psychopaths who empty their bank accounts, sell their homes out from under them and put them into massive credit card debt. That's small time.
The scale of destruction for billionaires and the corporations they run is so, so much bigger it's hard to get your head around it. Think about the pyramids-- massive edifices that cost thousands of lives of slaves. Built for psychopaths. Today's billionaires and corporate heads can be just as bad, but less overt in the megalomaniacal predations.
Sure, they steal from the commons, but they do it with teams of lawyers, spending millions to make hundreds of millions or billions, while they're at it doing things like making it illegal in Wyoming to take photographs of or document pollution.
They deform the nature of education, spending millions on state education programs and funding chairs and departments in universities so their Libertarian, Ayn Randian pathological values are institutionalized and made a part of the education system. This is massive scale predatory perpetration of abominations upon society. This is the scale of the abuses of power by billionaires and the corporations they run. Take a look at this l ink to the hundreds of universities the Koch Family Foundation "funds." And keep in mind that this represents them corrupting the minds of tens of thousands of university students. They are worse than a disease. They are a plague upon humanity.
And keep in mind that any mega-corporation or any billionaire worth his or her or its salt will own scores if not hundreds of shell corporations, as I document in this article: The power and danger of complexity and secrecy.
Bloomberg News is now reporting e-mails that reveal how Oklahoma billionaire Harold Hamm, the CEO of Continental Resources, attempted to have researchers who were studying ties between fracking and earthquakes removed from their jobs. Bloomberg obtained emails, using a public records request, which led to this report:
"Mr. Hamm is very upset at some of the earthquake reporting to the point that he would like to see select OGS staff dismissed," wrote Larry Grillot, the dean of the university's Mewbourne College of Earth and Energy, in a July 16, 2014, e-mail to colleagues at the university. Hamm also expressed an interest in joining a search committee charged with finding a new director for the geological survey, according to Grillot's e-mail."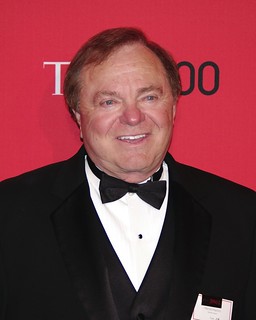 Harold Hamm 2012
(
Image
by
david_shankbone
)
Details
DMCA
This is one example of how a billionaire attempts to influence scientific research. It is reasonable to assume that Hamm, was so ham-handed in his predations upon the light of truth, that he got sloppy or was not smart and charismatic enough to make his intentions become reality. He spent $20 million supporting diabetes research at the university of Oklahoma. This is how it works. Give a shitload of money to one part of the university and then ask for changes elsewhere. I believe that there are hundreds of billionaires doing things like this. Most do not get caught.
Did Hamm actually fail? That's hard to tell. Bloomberg reveals that "University President David Boren, a former U.S. senator, sits on the board of directors of Hamm's Continental Resources." Oklahoma has a co-dependent relationship with psychopaths. One of its senators, Jim Inhofe, the number one climate change denier in congress, has proclaimed Hamm to be a friend, and has introduced legislation on his behalf.
Time Magazine named Hamm one of the most influential people in 2012. James Inhofe wrote the pean on the wonderfulness of Hamm for Time. He says Hamm's created hundreds of jobs. Let's do the math. Say he pays $70,000 a year for 300 people. That's only $21 million-- and the guy has a multi-billion dollar business. Wikipedia puts his net worth at around $10 billion. His wife received a divorce settlement of just shy of $1 billion. $21 million in jobs for such a big billionaire is shameful. It's just another argument disputing the positive aspects of billionaires.
(Note: You can view every article as one long page if you sign up as an Advocate Member, or higher).