Both Donald Trump and Bernie Sanders have one thing in common. They're tapping the same anger Howard Beale did in the movie Network.
Donald Trump and Bernie Sanders
(
Image
by
Donkeyhotey
)
Details
DMCA
They are both tapping the public's dissatisfaction with the status quo. Bernie Sanders has just about developed a meme message-- "enough is enough." He's referring to the a collection of issues that revolve around the favorable treatment that the wealthy get compared to the middle class. Sanders blames the system, which is enabling predatory plutocrats and billionaires.
Trump is also tapping a similar vein of discontent, but he's saying that immigrants are at fault. In her article,
The Trumping of Real Over Unreal
, Cheryl Pappas says,
Americans stand, a la the movie, Network, in greater numbers than have been recently imagined, at their metaphorical windows, yelling, "We've had enough and we are not going to take it anymore!"

We have had enough transparently phony political non-speak from candidates with corporate money who remove our trust in government.

Perhaps anyone running for president who would have dared to speak spontaneously without a script would have stopped us in our tracks.

We are starving for anything real; to be said, considered, declared, and enacted.

I say, "starving", because the impoverishment of truth has been on a steep incline for all to see for a vast amount of time. Surely the outpouring of government lies has soared into infinity since 9/11.

You can see the responses to the lack of political and media truth in the anger, impatience, and growing hysteria of the populace. Shootings, crashes, word wars in the news. Hate seems heavily on display, maybe even more than usual.

People are hurting financially and the upbeat economic nightly news does nothing to change that.

Too many issues, inconsistencies, bad financial conditions, wars, and confused reporting on it all has led to a growing unease, puncturing even our hearty American habits of denial, overwhelm, and intellectual laziness.

Every thinking person knows the media news is airbrushed, if not reeking with lies, and the American response has been to silently simmer and retreat, until now.

Trump's media presence is a blood red blooming patch upstaging a field of plastic artificial flowers.

Trump's greatest challenge is, of course, whether he can pull the ego mania back and present his material with specific substance, factual footnotes, and a much more quiet confidence.

That is more than an iffy proposition.
Bernie Sanders is doing the same thing Pappas is describing, shouting out, "enough is enough" and his supporters are enthusiastically going to rallies, to meetups, saying "we're not going to take it any more."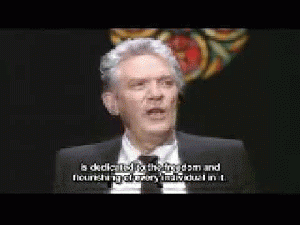 Hillary Clinton is unable to attack the system, unable to resonate with the "mad as hell and not going to take it anymore" masses, because she is merged at the hip with the system and the top-down people at whom the masses are targeting their fury. Same thing for all the GOP toys the right wing billionaires are throwing spare change million$ at.
A teapartier recently asked me, knowing I'm a lefty, what I think of Trump. I replied, "I love him," to his shock and consternation. I went on to explain, "I can't wait to see him running against Bernie Sanders." The polls are showing that Sanders, who is still unknown to a majority of voters, will already make toast of Trump.
The number of bigots and haters in this nation is large, but the number of people who are smart enough to see that the real problem, the real reason they need to go out into the streets and shout, "I'm mad as hell and not going to take it any more" is the form of malignant, predatory, top-down capitalism that all three branches of government have allowed to metastasize. Trump is a symptom, like a cancer cell that replaces healthy cells. Bernie Sanders is a truth-teller, offering a cure. He's not perfect, but he's making progress in the primary like we haven't seen in quite some time.