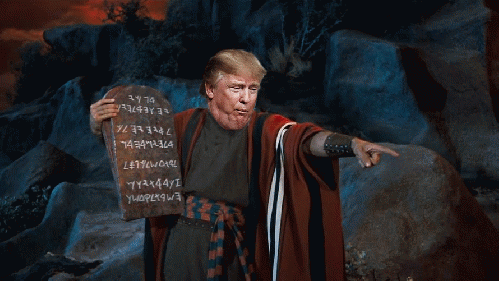 (
Image
by marketwatch.com/story/donald-trump-doesnt-need-the-good-book-hes-got-the-best-book-ever-2016-02-23)
Details
DMCA
To answer the irksome question -- why Trump? why this year? why no implosion? -- we need look beyond his inane pontifications and instead unpack his entire surreal, demagogic narrative formula. How do nearly content-free tirades, coarsely rehashing last season's wedges alongside liberal-sounding feints, bring life to last season's sound bite corpses? With impassioned overkill, Trump executes what other politicians ignore: that coherent, attention-grabbing storylines, however off the wall, penetrate angry hearts better than preachy-sounding declarations win over befuddled minds.
The born trickster naturally trumps reason, plausibility, and reality. Like fuming prophets, Trump badmouths the facade of corruption -- yet sneeringly impugns voting majorities for being taken in ("what morons elected those yahoos?"). He pushes the "America stinks" theme home with shrill melodrama, teeming with lurid antagonists: immigrant criminals, lying, spinelss opponents, sneaky minorities, nasty foreigners, dismally-inept leaders, entrenched elites, plus non-specific losers, protesters, and all Trump critics. A reborn Enemies List that victimizes "good people;" the flawless Trump, his staff, voters and rally fanatics from Palin's "true America", and the celebrity cohorts still talking to him.
This storyline is grossly materialistic, positing great wealth alone endows his "trust me" wonderfulness. That such blunt, low-brow, billionaire arrogance strikes his far less affluent marks as honest "straight-talk" was the first breakthrough in Trump malarky. That the mic-friendly, faux spontaneity of the TV con man conveys genuineness, despite tsunamis of lies, distortion and cheap shots, finalizes the mind-boggling sell-through.
The outcome, for the nation's most aggrieved one-sixth, is testimony to a genius for acid smoke and broken mirrors. After all, Trump's monkey grinder has dished out equally-mindless, smirking absurdities for years. Except that this year, facing 16 dismal party "losers," Trump's faux outrage is the perfect bait for insurgents dying to tar and feather empowered party snakes. Talk about buyers' remorse:the "kill the incumbents" cry comes from once again deluded Tea Partiers.
Unpacking how Trump's pandering works offers far more leverage than isolating individual fictions and falsehoods, delusions and mockery. The Trump clown show dramatizes simple-minded themes with fake suspense (America, on the edge) and cartoon characters (reduced to nicknames like "lyin' Ted"). His disgust and shaming answer to his cast of evil enemies (high and low) and imminent Yankee desolation.
Bingo, the resolution is equally simple: elevate Trump, master of the universe, who knows first-hand all the dirty tricks. How else does this hustler pull off his preposterous con -- in which an elitist, billionaire publicity hound speaks for disgruntled masses -- waving aside his stardom in the rich and famous gang he harshly berates? Beyond belief and beyond irony.
Making Fables, Not Speeches
Every other politician today declaims with high-minded speeches, preachy enough to express higher values and uplifting proposals. Normal candidates don't shock to entertain and avoid overt, paranoid mendacity (Cruz aside), talking up their records, career and goals. Born for the microphone, Trump's phony spontaneity propels his cult of smirking personality. Propaganda fables need not be rational or realistic to corral multitudes awash with confusion and despair. Trump tall tales purposely hold testable reality in contempt. His evangelical mission is to convert the mob to his private cult, not encourage doubt, thought, or education.
(Note: You can view every article as one long page if you sign up as an Advocate Member, or higher).