From Consortium News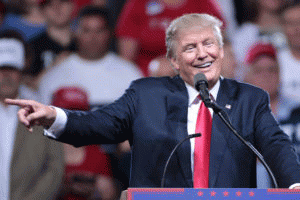 Donald Trump speaking with supporters in Phoenix, Arizona. June 18, 2016.
(
Image
by
(Photo by Gage Skidmore)
)
Details
DMCA
Donald Trump must decide -- and decide quickly -- whether he wants to be a great U.S. President or a robo-signature machine affixing his name to whatever legislation comes from congressional Republicans and a nodding figurehead acquiescing to more neoconservative foreign policy adventures.
Or, to put it in a vernacular that Trump might use, does he want to be "Paul Ryan's b*tch" on domestic policies? And does he want to surrender his foreign policy to the "wise guys" of Washington's neocon establishment?
Trump's problem is that he has few fully developed ideas about how to proceed in a presidency that even many of his close followers did not expect would happen. Plus, over the past few decades, the neocons and their liberal-hawk sidekicks have marginalized almost every dissenting expert, including old-line "realists" who once were important figures.
So, the bench of "confirmable" experts who have dissented on neocon/liberal-hawk policies is very thin. To find national security leaders who would break with the prevailing "group thinks," Trump would have go outside normal channels and take a risk on some fresh thinkers.
But most mainstream media accounts doubt that he will. That is why speculation has centered on Trump settling on several neocon retreads for Secretary of State and National Security Advisor, such as former Ambassador to the United Nations John Bolton, former New York City Mayor Rudy Giuliani, former CIA Director James Woolsey and ex-National Security Advisor Stephen Hadley, all staunch supporters of George W. Bush's disastrous Iraq War which Trump has denounced.
"Team of Rivals"
If Trump is guided in that direction, he will make the same mistake that President Barack Obama made during the 2008 transition when Obama was seduced by the idea of a Lincoln-esque "Team of Rivals" and staffed key top national security jobs with hawks -- keeping Bush's Defense Secretary Robert Gates, hiring Secretary of State Hillary Clinton and leaving in place top generals, such as David Petraeus.
That decision trapped the inexperienced Obama into a policy of continuity with Bush's wars and related policies, such as domestic spying, rather than enabling Obama to achieve his promised "change."
Faced with powerful "rivals" within his own administration, Obama was maneuvered into an ill-considered "counterinsurgency" escalation in Afghanistan in 2009 that did little more than get another 1,000 U.S. soldiers killed along with many more Afghans.
Secretary Clinton also sold out the elected progressive president of Honduras, Manuel Zelaya, when he was ousted in a coup in 2009, signaling to Latin America that "El Norte" hadn't changed much.
Then, Clinton sabotaged Obama's first attempt in 2010 to enlist the help of Brazilian President Luiz Inacio Lula da Silva and Turkish Prime Minister Recep Tayyip Erdogan to work out a deal with Iran on constraining its nuclear program. Clinton favored an escalating confrontation with Iran along the lines dictated by Israeli hardliners.
Clinton and the other hawks succeeded in thwarting Obama's will because, as Gates wrote in his memoir Duty, Gates and Clinton were "un-fireable" in that they could challenge Obama whenever they wished while realizing that Obama would have to pay an unacceptably high price to remove them.
As clever "inside players," Gates, Clinton and Petraeus also understood that if Obama balked at their policy prescriptions, they could undercut him by going to friends in the mainstream news media and leaking information about how Obama was "weak" in not supporting a more warlike approach to problems.
Obama's Real Weakness
(Note: You can view every article as one long page if you sign up as an Advocate Member, or higher).