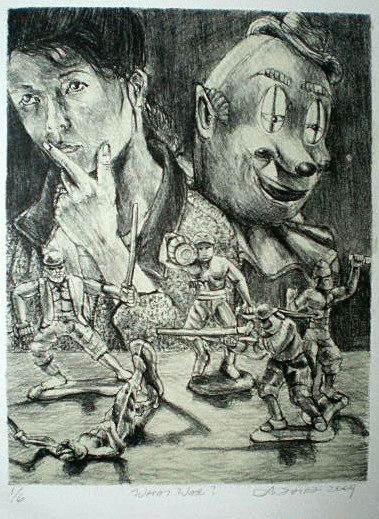 Wonder where Character and Honor went?

(

Image

by

Akemi Ohira

)

Details DMCA

What is it with North and South?!? Whether Koreas, Vietnams or our house still divided at the Mason-Dixon Line? Is the fault in our stars, or are we so easily blinded by fast talking flash-in-the-pan Pied Pipers stealing our children's future?

Our Universe is constantly revealing its secrets, but failing to listen, we risk missing the wisdom of harmonious unity. Life, lives and living matter more without repetitive clutter, overwhelming data devoid of complete and accurate information, outdated even before we tap our screens.

We talk about The Right and dishonor the correct. Anchoring our babies and elderly to our one-day point swings, rather than solutions for gender and racial inequality and crippling student debt leaves five million Americans living with Alzheimer's in 2015.

For many years after his assassination, the media honored President John F. Kennedy's death, if not life, every November 22nd. Now in Emailland, most of us haven't a clue who he was or, arguably, the profound effect his assassination had on TV news and the American psyche.

In the 1960s, most welcomed the change John Kennedy brought to politics, politicians and America's civil and voting reality -- posthumously transforming Jim Crow into Voter ID, the KKK into Border Security and Lincoln's Solid South into the 2000 blood Red Republican Party with a Tea stained appendage.

We honor the memory of those murdered on September 11, 2001, with roll calls, bells tolling and moments of silence, but how often do we honor those sent to be maimed, brain damaged or killed, for our Oligarchy of war profiteers on Corporate Welfare?

Now who and what will we honor in 2016?

West coast families are fleeing unrelenting record home, land and life destroying fires, drought and water shortage. Trumped up corporate owned Conservative Right Wing Extremists, Fox Talk Radio and even MSNBC regurgitate DT's Sturm und Drang -- all while Nestle sucks the H2O out of California.

Are we so easily distracted by echo chambers of email servers, while Ashley Madison expedites our family values with, click a cheat? Or are those Americans who bother to exercise their voting privilege, still too smart to be slimed by oil slick GOP puppets? Remember, Trump may not be just an obnoxious, dishonorable, self-serving smoke screen hiding the wall closing in on brown immigrants, while Black Lives Matter taunts Bernie and Hillary.

It is vital we listen to victims of K & Wall Streets, who still choose the Donald for the POTUS, for that thinking is far more dangerous to Freedom, Justice for All and Equal Economic Opportunity, than any desperate for power Koch head.

Truth's Achilles Heel is its inability to impose itself on those preferring to salivate over the political party making the most noise with the least ideas.

Do you suppose somewhere in the darkness, Karl Rove is laughing at us, or crying over spilt Trump milking it?

Our honor is steeped in our national self-examination of our political priorities, and who we choose to memorialize.

On the morning of August 29, 2005, Katrina slammed into our Gulf Coast. When it made landfall, it was a Category Three Hurricane, with sustained winds of 100--140 miles per hour -- and was 400 miles across. Yet how many times have we, as a nation, honored the 1,833 American fatalities? How many even remember that one million Americans were displaced by our Katrina gridlocked Federal, State and City governments?

It is not institutions, streets, buildings, bridges, sinkholes, mudslides or storms that dishonor our potential. It's the non-voter, the lascivious family values hypocrite, the blind with greed CEO and the craven conservative con artists posing as patriots.

The Worldwide Freefall, like our Great Recession, is about character, and for the poor and Middle Class, neither was Free Will.

(Note: You can view every article as one long page if you sign up as an Advocate Member, or higher).