This piece was reprinted by OpEd News with permission or license. It may not be reproduced in any form without permission or license from the source.
Reprinted from Consortium News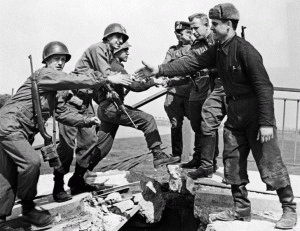 The controversy over alleged Russian "aggression" in Ukraine is already raining on the Kremlin parade with which Russia will mark the 70th anniversary of the Allies' victory over Adolf Hitler and the Nazis on May 9. U.S. President Barack Obama set the tone by turning down the Kremlin's invitation to take part in the celebration, and allies in Western Europe have been equally uncouth in saying No.
The fanfare on Red Square will be a "Last Hurrah" for most surviving World War II veterans, since few are likely to be able to be there for the 75th or 80th anniversaries. Though I was only five years old on V-E Day -- marking the victory in Europe -- I was delighted to receive an invitation to go to Russia this week for a smaller-scale celebration marking an equally important 70th anniversary -- April 25, 1945, the historic day on which U.S. and Russian troops met at the Elbe River.
On V-E Day, which came a couple of week later on May 9, 1945, I recall the thundering celebration as one of my most vivid early memories. So I find it a particular shame that for this year's 70th anniversary the usual thunderclaps of applause will be muted.

Tragically divided once again by hate, greed, and power-lust, Europe lies in the shadow of war, as the violence percolating in Ukraine threatens to result in wider, more open military intervention from outside. Equally sad, responsibility for the turmoil in Ukraine lies mostly at the doorstep of Washington. Worse still for one who normally pretends to understand what drives foreign policy, how shall I explain to my hosts what lies behind U.S. actions in central Europe, when -- try as I may to come up with cogent explanations that make some sense -- the reasons elude me.
For those who may find my straightforward allocation of blame surprising, do not feel you must rely on me (although I have been watching what happens in Russia and Europe for half a lifetime). I strongly recommend the trenchant insights of John Mearsheimer, pre-eminent political science professor at the University of Chicago, and professor Stephen F. Cohen of Princeton and New York University, a distinguished Russianist who has been a Kremlin watcher even longer than I have.
Last fall, a year into the burgeoning troubles in Ukraine, Mearsheimer stunned those who had been misled by hate-Putin propaganda when he placed an article in the Very-Establishment journal Foreign Affairs entitled "Why the Ukraine Crisis is the West's Fault," and more recently followed up with a more recent op-ed entitled "Don't Arm Ukraine."
As for Professor Cohen, if you have not already done so, please take the time to read his recent "Why We Must Return to the US-Russian Parity Principle: the Choice is Either a New Detente or a More Perilous Cold War." and his earlier "Patriotic Heresy vs. the New Cold War."
You will emerge from that reading far better educated on the realities than those malnourished on the thin gruel of the co-opted corporate media, which -- unashamedly -- are well into a redux of their familiar drum-beating to send people from our poverty draft merrily off to war. And for extra credit, I highly recommend veteran journalist Patrick L. Smith's recent interview of Professor Cohen, Part 1 of which Salon has published under the title "The New York Times Basically Rewrites Whatever the Kiev Authorities Say."
Some Visitors to Moscow
U.S. leaders along with its foreign "vassals" -- as Russian President Vladimir Putin has called them -- have responded to the Kremlin's invitations to the V-E celebration with "regrets." Not so Chinese President Xi Jinping , whose plans to come for the anniversary observance was announced in January. The President of India, Pranab Mukherjee, will also take part. Signs of the times.
German Chancellor Angela Merkel has devised a compromise. So as not to appear to be breaking ranks with other "vassals," she will shun the parade but will travel to Moscow on May 10 to lay a wreath at a war memorial. The U.S. will be represented by U.S. Ambassador to Russia John Tefft.
It may be difficult for history-starved Americans to understand why it should be that most Russians react so negatively to what they regard as something more serious than a mere gratuitous snub. From watching Russian media one gets the clear impression that veterans and most men/women-on-the-street view the boycott as more serious than a petulant slight -- but rather as a supreme indignity.
For example, during Putin's four-hour TV tour de force Q&A with Russian citizens on April 16, one questioner said the world leaders who boycott the celebration "insult the memory of war veterans of the Red Army. ... We liberated them out of that Nazi plague, or they would still be shouting 'Heil!'"
And a retired colonel, who fought in the five-month-long, pivotal World War II battle of Stalingrad as a 19-year-old battery commander, had this to say: "In the first years of the war, the Red Army, our people, were fighting all of Europe singlehandedly. ... Yes, we had allies, but they opened the second front too late."
Putin replied with a mix of condescension and feigned understanding: "Some simply do not want to go, but some are not being allowed to go by the 'Washington apparatchiks,' who say, 'No way.' And they say, 'We won't go,' although many would like to come."
(Note: You can view every article as one long page if you sign up as an Advocate Member, or higher).