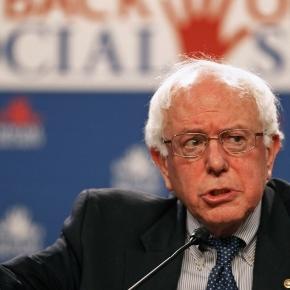 Bernie Sanders: Vermont Senator will support Standing Rock
(
Image
by
us.blastingnews.com
)
Details
DMCA
Each of these comments were from people who signed the petition I put up less than 24 hours ago on Moveon. At this writing, 1700 have signed it, and I have extracted some of the most articulate comments. This issue is going to become as important as Vietnam was 50 years ago. If you haven't signed the petition to various Democrat members of the US Senate, please do so here:
petitions.moveon.org/dashboard.html?petition_id=116409

The name of the petition is
Senators, Please Intervene to Protect Standing Rock Defenders
and it was inspired by press releases, speeches, and letters to the President by Bernie Sanders of Vermont, Harry Reid of Nevada, Tom Udall of New Mexico, Martin Heinrich of New Mexico, Cory Booker of New Jersey, and Al Franken of Minnesota. We have heard inklings of responses in letters from Michigan's Debbie Stabenow, and diplomatic "middle ground" from North Dakota's Senator Heidi Heitkamp, plus several Congressmen have issued statements, including above all Tulsi Gabbard of Hawaii, Tim Ryan of Ohio, and Mike Honda of California.
Talking and more words are of course appreciated, but not nearly enough, in this dire situations. These Senators could and should go up to North Dakota not enough, in this dire situation, let the Defenders know that some members of the Senate really care. Let the signers speak for themselves, directly to the United States Senate in toto. Send this to your Senators, please!
>>>>>>>>>>>>>>>>>>>>>>>
Ce'cile Stelzer-Johnson from Wisconsin Rapids, WI: Their brutality against the Standing Rock Sioux is INEXCUSABLE. I want those bastard fired for taking the side of a PRIVATE enterprise against people who are defending their water and their land from thieves. Democrats, here is your chance to help us believe you are for the little guy again! Don't mess it up!
Marilyn Blen from Yamhill, OR The brutality perpetrated by the militarized police, MT National Guard, and private security is a travesty and shame on Obama for ignoring it.
Cheryl Hecker from Fairfield, OH Leave these people's land. Stop this brutality! Go around and protect our watersheds! These brutal attacks on peaceful demonstrators should be met with severe opposition. Senators, call off your dogs, promote peace and well-being - give Mother Earth back to the land!!!
John Jorgensen from Tucson, AZ Senator Jeff Flake, please don't respond with one of your fake concern form letters on a completely different topic.
Karen Special from Annandale, VA. It is a travesty of justice that this has been going on for so long. You have the power of the Senate to change this.
Sandra Streifel from Vancouver, Canada Our First Nations of Canada, particularly, are in solidarity with the Native Americans and their supporters at Standing Rock, but no one deserves the brutality of the violent action those nonviolent activists have received at the hands of the heavily militarized police force on that site. It's reflecting badly on the USA around the globe
Ray Workman from Willard, MO Haven't our indigenous people been mistreated for far too much of American history? Isn't it time to reverse this sad legacy? If not now, When?
Robert and Marilyn Meyers from Windsor, MA These human rights violations must stop. America is becoming a "Banana Republic".
Ysabeault d'Valar -Alba from Gatineau, Canada To respect Native American rights under the Fort Laramie Treaty; to protect the drinking water of millions and the habitat of millions; to save the world from the perils of Global Warming. How many reasons do you need?
(Note: You can view every article as one long page if you sign up as an Advocate Member, or higher).