It is far from surprising that another totally-unjustified "Death-by-Cop" case has now occurred, this time in North Charleston, South Carolina. What is amazing, though, is that anyone should be surprised by that latest tragedy. After all, recently White police officers, in predominantly-White police departments, have gotten away with the needless killings of a Black twelve-year-old boy in Cleveland, Ohio; a young Black man in Ferguson, Missouri; a Black man selling bootleg cigarettes in Staten Island, New York; and comparable tragedies in other jurisdictions. Why, then, should anyone be surprised that the culmination (for the moment) of all of these unjustified killings would be a Black man shot repeatedly in the back by a White police officer in North Charleston, after being stopped for a broken tail light?
What is different about this present case. however, is that the entire tragedy was caught in a cell phone video taken by a courageous bystander -- and then shared not only with police authorities, but with the victim's family, and news media as well. One might think that the video of the Staten Island "Death-by-Cop" case, with the victim in a choke-hold struggling over and over to say "I can't breathe!", would have been sufficient evidence for that particular Bad Cop to be prosecuted for homicide -- but one would be wrong; that officer was fully exonerated after minimal investigation.
In North Charleston, however, the Bad Cop chickens have finally come home to roost. The cowardly officer who shot and killed his victim was caught lying about that victim trying to get the officer's taser, which in truth had apparently been dropped by the cop. Actually, the victim was just understandably trying to get away, and undoubtedly would have been nabbed by the backup police who were already on the way to the site, had he not been shot repeatedly and killed needlessly. It also appears, from the video, that the officer who killed him then placed the taser near his hand in a misguided effort to fake evidence to match the initial fairy tale. It also appears that both officers on the scene failed to give CPR or make other lifesaving efforts after the shooting; it may have been too late for that, but standard police protocol requires them to try resuscitation, since officers are not expert in making such determinations.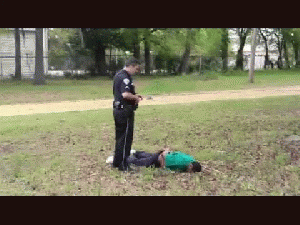 Some people may breathe a sigh of relief now that this particular Bad Cop was fired from his job, and has been charged with murder. It should be noted, though, that during his five years on the North Charleston Police Force, he had previously been accused of the unnecessary use of a taser by the victim of that incident, which apparently did not result in sufficient disciplinary action to provide the necessary guidance which might have prevented the present tragedy. It should also be noted that this North Charleston "Death-by-Cop" is unlikely to be the last such case, even with the growing use of police body cameras which can record officer conduct -- and misconduct when it occurs.
Unless and until America practices, as well as preaches, the adage that ALL LIVES MATTER, such tragedies will undoubtedly continue. Unless and until there is a fully-independent Civilian Review Board over police authorities, more such tragedies will undoubtedly occur. Unless and until all law enforcers realize that they will have to answer for their conduct, and be prosecuted for misconduct, more lives will be needlessly lost. Yes, it is true that the vast majority of law enforcers are dedicated, responsible, hard-working officers. Nevertheless, we must not let the infamous Blue Wall prevent our taking all needed actions to eradicate the abuse of police power, and the weeding out of any and all officers who misuse their own power. Civilian Police Review Boards are a very good place to start.