From Consortium News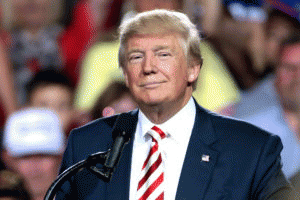 Donald Trump speaking with supporters at a campaign rally in Prescott Valley, Arizona. October 4, 2016.
(
Image
by
(Flickr Gage Skidmore)
)
Details
DMCA
Americans and the world have valid reasons to worry about Donald Trump's presidency, given his lack of experience and his refusal to recognize that his loss of the popular vote should moderate his emerging domestic policies. But Trump also could do some good things.
Particularly, Trump could break the death grip that neoconservatives and their "liberal interventionist" tag-team partners now have locked around the throat of U.S. foreign policy.
Trump owes little to these "regime change" advocates since nearly all of them supported either other Republicans or his Democratic rival, Hillary Clinton. And the few who backed Trump, such as John Bolton and James Woolsey, have been largely passed over as Trump assembles his foreign policy and national security teams by relying mostly on a combination of outsiders and outcasts.
Obviously, there remains much uncertainty about what foreign policy direction a President Trump will take and the neocons/liberal-hawks in Congress are sure to mount a fierce battle to defeat or intimidate some of his nominees, particularly Exxon-Mobil chief executive Rex Tillerson for Secretary of State because of his past working relationship with Russian President Vladimir Putin.
However, assuming that the neocon/liberal-hawk establishment fails to stop Trump from escaping Official Washington's foreign policy "group thinks," the new president could radically reorder the way the U.S. government approaches the world.
Lost Opportunity
Eight years ago, President Barack Obama had a similar opportunity but chose to accommodate the Establishment and empower the neocons and liberal hawks by appointing his infamous "team of rivals": Republican Robert Gates as Defense Secretary, liberal-hawk Hillary Clinton as Secretary of State, and leaving in place President George W. Bush's military high command, including neocon-favorite Gen. David Petraeus.
Defense Secretary Robert Gates and Secretary of State Hillary Clinton on May 1, 2011, watching developments in the Special Forces raid that killed Osama bin Laden. Neither played a particularly prominent role in the operation.
(
Image
by
(White House photo by Pete Souza)
)
Details
DMCA
For doing so, Obama won applause from the editorial and op-ed writers but he doomed his presidency to a foreign policy of continuity, rather than his promised change. Only on the edges did Obama resist the neocon/liberal-hawk pressures for war and more war, such as his decision not to bomb Syria in 2013 and his negotiations with Iran to prevent it from building a nuclear weapon in 2014.
But Obama bowed down more than he stood up. He let Secretary Clinton push a neoliberal economic agenda by supporting oligarchic interests in Latin America, such as the 2009 Honduran coup, and extend the neocon "regime change" strategy in the Middle East, with the brutal overthrow of Muammar Gaddafi in Libya and covert support for rebels in Syria.
Even after the original "team of rivals" was gone at the start of his second term, Obama continued his pathetic efforts to appease the powerful, such as Israeli Prime Minister Benjamin Netanyahu by undertaking a submissive three-day tour of Israel in early 2013 and cozying up to the Saudi royals with trips to the kingdom despite intelligence that they and their Gulf state allies were financing Al Qaeda and Islamic State terrorists.
Though Obama would eventually boast about the rare moments when he defied what he called the Washington "playbook" of relying on military options rather than diplomatic ones, it was a case of the exception proving the rule. The rule was that Obama so wanted to be accepted by Washington's well-dressed and well-heeled establishment that he never ventured too far from what the editorialists at The Washington Post and The New York Times deemed permissible.
Still, the neocon/liberal-hawk establishment continued to scold America's first African-American president for not doing everything that the "smart people" demanded, such as escalating the U.S. role in the "regime change" war in Syria or fully arming Ukraine's military so it could more efficiently slaughter ethnic Russian rebels on Russia's border.
Power Consolidated
(Note: You can view every article as one long page if you sign up as an Advocate Member, or higher).