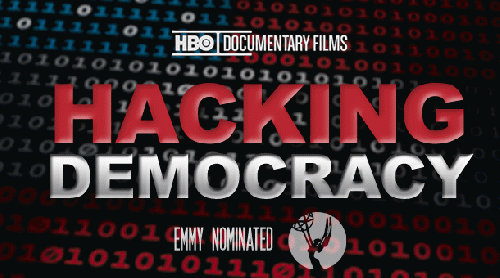 HBO documentary Hacking Democracy. hackingdemocracy.com
(
Image
by
hackingdemocracy.com
)
Details
DMCA
Based on information released by BlackBoxVoting.org on October 31, 2016.
Yes, we know that the "deep state" - the un-elected oligarchs who control the planet - also falsify elections. We now know how they are doing it. New research from Bev Harris of Black Box Voting reveals that "fractionalized-voting programs" made by the GEMS program currently programmed into election computers in the following 27 states: Alaska, Connecticut, Georgia, Mississippi, New Hampshire, Utah and Vermont, and for counties in Arizona, California, Colorado, Florida, Illinois, Indiana, Iowa, Kansas, Kentucky, Massachusetts, Michigan, Missouri, Ohio, Pennsylvania, Tennessee, Texas, Virginia, Washington, Wisconsin and Wyoming. and delivered to one centralized computer delivers a pre-programmed percentage of votes to the selected candidates on the ballots, district by district. Naturally it produces fractions of humans, so it then eliminates the fraction to cover its tracks. It is nationwide. It is done by percentages - as observed and reported by poll workers nationwide in the Democratic primary and by presidential candidate Rocky de la Funte as reported to RT. Below is a video link showing how the program works - and proving that American elections are a sick joke. The only possible remedy is for all electronic voting machines to be trashed immediately, and all ballots nationwide to be cast by handwritten paper ballot and counted by hand with representatives from all candidates present to witness the vote count. Failing that, the US will be proven to be so hopeless and corrupt a nation that it is no longer deserving of global respect as the "land of the free" - and there is no longer any point to living inside its borders. In other words, move to Iceland.
Here is the proof:
Fraction Magic - Black Box Voting.Org blackboxvoting.org/fraction-magic-video/
Bev Harris explained the process on Alex Jones program. Yes, I know, Alex Jones has highly questionable connections. OEN will not link to any Jones site, but you can go there yourself if you want to hear Bev Harris summarize how the process works. It is also on youtube.
for more, go to blackboxvoting.org/
CORRECTION: According to Brad Friedman of the Brad Blog and others, and contrary to assertions that appear on multiple websites, George Soros "does not have and has never had any ownership stake in Smartmatic" or any other voting machine company to our knowledge. Why Mr. Soros has been accused of involvement in election theft is anybody's guess, but he is often under attack by conservative websites. The Smartmatic link is here:
http://www.smartmatic.com/case-studies/article/facts-about-smartmatic/
(Article changed on November 2, 2016 at 05:33)
(Article changed on November 2, 2016 at 05:58)
(Article changed on November 3, 2016 at 06:30)