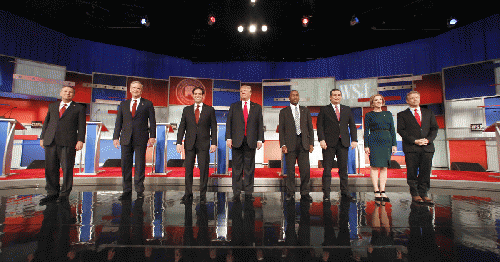 The presidential candidates face a serious dilemma. With almost a year to go before the 2016 election they have repeated their scripts and mantras over and over -- and have exhausted everything they have to say.
Does anyone want to hear once again that Donald Trump will make America great again (with details to follow when he is elected President)? Do we need yet another heartwarming narrative from Marco Rubio and Ted Cruz about their immigrant parents' working class struggles? How many more self-aggrandizing proclamations can the public bear before switching channels?
So what can they do to stay in the spotlight? New acts? Good idea but, unlike other performers, politicians' new acts can lead to the charge of waffling or playing to the crowd.
The media has pointed to a possible new scenario for the candidates: Entertainment.
After each debate a flood of commentaries rated winners and losers for the best one-liners. Carly Fiorina scored points for her quip in response to Donald Trump boasting that he got to know Vladimir Putin very well because they were both on 60 Minutes. Fiorina fired back: "I have met him as well, not in a green room for a show, but in a private meeting." Fiorina was praised even though, as later revealed, neither she nor Trump had any meaningful contact with Putin.
Nonetheless, comedy captures attention. Will candidates now make the rounds of the TV entertainment shows armed with a barrage of one-liners?
Comedy writers alert: This may be a lucrative work opportunity.
Don't be surprised to see the candidates deliver their routines while schmoozing with the women on The View, cooking with Mario Batali, and trading quips with Jimmy Fallon, Jimmy Kimmel, Stephen Colbert and Trevor Noah. And don't rule out stand-up acts at comedy clubs.
But there is one show that could offer the best platform for the candidates: Dancing with the Stars.
Here are the dances they might choose to best reveal themselves and attract votes:
Donald Trump: El Jarabe Tapatia. With this lively national folk dance of Mexico Trump will demonstrate his love of Mexico and Mexicans -- that is, the good Mexicans, not the rapists and other criminals who sneak illegally into the U.S or are sent here by the Mexican government.
Ben Carson: The slow dance. No wild gyrations in the fox trot or box step -- only easy swaying, with methodical, if monotonous, almost imperceptible movements.
Hillary Clinton: Tap dance. Fast-paced shuffling and side-stepping will show she can dodge the political bullets shot at her from all directions.
Bernie Sanders: Jig and reel. In Colonial America the upper classes preferred "fancy dances" like the minuet. Slaves and lower class whites did informal jigs and reels derived from African and Scottish traditions. In his jig and reel performance, Sanders will demonstrate his disdain for the "fancy" one-percenters.
(Note: You can view every article as one long page if you sign up as an Advocate Member, or higher).