Reprinted from Consortium News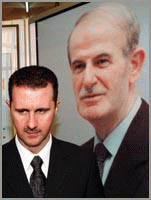 If Syrian President Bashar al-Assad meets the same fate as Libya's Muammar Gaddafi or Iraq's Saddam Hussein, much of Official Washington would rush out to some chic watering hole to celebrate -- one more "bad guy" down, one more "regime change" notch on the belt. But the day after Damascus falls could mark the beginning of the end for the American Republic.
As Syria would descend into even bloodier chaos -- with an Al-Qaeda affiliate or its more violent spin-off, the Islamic State, the only real powers left -- the first instinct of American politicians and pundits would be to cast blame, most likely at President Barack Obama for not having intervened more aggressively earlier.
A favorite myth of Official Washington is that Syrian "moderates" would have prevailed if only Obama had bombed the Syrian military and provided sophisticated weapons to the rebels.

Though no such "moderate" rebel movement ever existed -- at least not in any significant numbers -- that reality is ignored by all the "smart people" of Washington. It is simply too good a talking point to surrender. The truth is that Obama was right when he told New York Times columnist Thomas L. Friedman in August 2014 that the notion of a "moderate" rebel force that could achieve much was "always ... a fantasy."
As much fun as the "who lost Syria" finger-pointing would be, it would soon give way to the horror of what would likely unfold in Syria with either Al-Qaeda's Nusra Front or the spin-off Islamic State in charge -- or possibly a coalition of the two with Al-Qaeda using its new base to plot terror attacks on the West while the Islamic State engaged in its favorite pastime, those YouTube decapitations of infidels -- Alawites, Shiites, Christians, even some descendants of the survivors from Turkey's Armenian genocide a century ago who fled to Syria for safety.
Such a spectacle would be hard for the world to watch and there would be demands on President Obama or his successor to "do something." But realistic options would be few, with a shattered and scattered Syrian army no longer a viable force capable of driving the terrorists from power.
The remaining option would be to send in the American military, perhaps with some European allies, to try to dislodge Al-Qaeda and/or the Islamic State. But the prospects for success would be slim. The goal of conquering Syria -- and possibly re-conquering much of Iraq as well -- would be costly, bloody and almost certainly futile.
The further diversion of resources and manpower from America's domestic needs also would fuel the growing social discontent in major U.S. cities, like what is now playing out in Baltimore where disaffected African-American communities are rising up in anger against poverty and the police brutality that goes with it. A new war in the Middle East would accelerate America's descent into bankruptcy and a dystopian police state.
The last embers of the American Republic would fade. In its place would be endless war and a single-minded devotion to security. The National Security Agency already has in place the surveillance capabilities to ensure that any civil resistance could be thwarted.
Can This Fate Be Avoided?
But is there a way to avoid this grim fate? Is there a way to wind this scenario back to some point before this outcome becomes inevitable? Can the U.S. political/media system -- as corrupt and cavalier as it is -- find a way to avert such a devastating foreign policy disaster?
To do so would require Official Washington to throw off old dependencies, such as its obeisance to the Israel Lobby, and old habits, such as its reliance on manipulative PR to control the American people, patterns deeply engrained in the political process.
At least since the Reagan administration -- with its "kick the Vietnam Syndrome" fascination via "public diplomacy" and "perception management" -- the tendency has been to designate some foreign leader as the latest new villain and then whip up public hysteria in support of a "regime change." [See Consortiumnews.com's "The Victory of Perception Management."]
In the 1980s, we saw the use of these "black hat/white hat" exaggerations in Nicaragua, where President Ronald Reagan deemed President Daniel Ortega "the dictator in designer glasses" as Reagan's propagandists depicted Sandinista-ruled Nicaragua as a "totalitarian dungeon" and the CIA-trained Contra "freedom fighters" the "moral equal of the Founding Fathers."
And, since Ortega and the Sandinistas were surely not the embodiment of all virtue, it was hard to put Reagan's black-and-white depiction into the proper shades of gray. To make the effort opened you to charges of being a "Sandinista apologist." Similarly, any negative news about the Contras -- such as their tendencies to rape, murder, torture and smuggle drugs -- was sternly suppressed with offending U.S. journalists targeted for career retaliation.
The pattern set by Reagan around Nicaragua and other Central American conflicts became the blueprint for how to carry out these post-Vietnam War propaganda operations. Afterwards came Panama's "madman" Manuel Noriega in 1989 and Iraq's "worse than Hitler" Saddam Hussein in 1990-91. Each American war was given its own villainous lead actor.
(Note: You can view every article as one long page if you sign up as an Advocate Member, or higher).