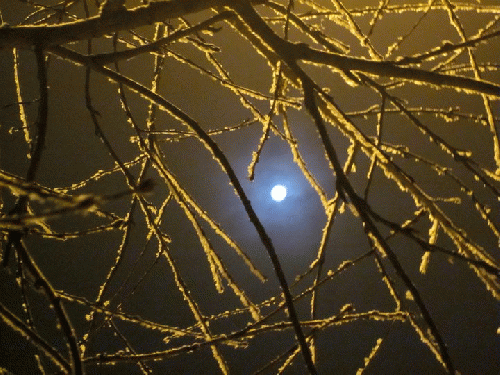 Winter Moon
(
Image
by
Jennifer Shippee
)
Details
DMCA
In this coldest time of year, the fiery Leo Full Moon lights up the Night, reminding us of summer days and a harvest to come. As we approach the beginning of February and the gateway of the Wheel of the Year of Imbolc or Candlemas, the Light begins to shine a little brighter as we look for a vision of the new life to come this year. You'll really notice the difference in the sunlight after February 2nd as the days grow visibly longer.
Imbolc/Candlemas or Ground Hog's Day on February 2nd is a time to seek a vision of what your inner light wants to grow into this year. Take time to meditate on your vision, then invoke it through ritual and ground in this vision, for it will guide you through the coming year.
Meanwhile, many bright 'stars' have passed away during this Mercury retrograde, which ends on January 25th. David Bowie, Natalie Cole, Alan Rickman, poet Stephan Levine and Glenn Frey (to name just a few), as well as parents, loved ones and animal companions who gave our lives so much light have left us. While we miss them, the truth is their work here is done. As these lights go out, now it is our work to shine our light out into the world.
Planetary Alignment
(
Image
by
Dr Alan Duffy
)
Details
DMCA
The Cosmos is putting on a show in the night sky from January 20-February 20, a good time to honor our dead and invoke our vision. 5 planets will line up in the early morning sky this month. Mercury will be lowest in the sky, closest to the rising Sun. Then comes Venus, Saturn and Mars with Jupiter riding high in the sky. With Mercury, we speak our truth with love and compassion (Venus) and integrity and responsibility (Saturn) as we grapple (Mars) with viable ways to change things (Jupiter).
This is a beautiful event you won't want to miss. Hold your arm up in a straight line from the horizon to the moon and the planets should fall along that line. Try to find a flat horizon and a dark sky. Don't give up! It may take more than one early morning to see the full alignment.
Leo Full Moon: Time to Light Our Fire
When the Full Moon shines brightly in the night sky, our attention is drawn to the heavens, and the alchemical truth is manifested: As Above, so Below. As Within, so Without. Our inner light shines brightly and shows us a new truth, making us aware of how we're living.
This winter Full Moon occurs in the signs of Leo and Aquarius, the two signs most concerned with our participation in and contribution to our group, our society and the world.
Leo's gift to us is a sense of the deep Self, which we need to express in some way through our creations. Leo's royal nature wants to be expressed in a way that shows the world what we're made of--what our hopes and dreams are and how we manifest them. We do this through our creativity--the children of our minds and hearts, as well as the children of our bodies.
Aquarius' gift is our ability to link with other like-minded individuals to work for the common good. Aquarius embraces the group Mind, hopefully not in a mob-mentality (although Trump has certainly tapped into this more negative aspect of Aquarius), but as a collaborative enterprise where individuals work together without losing their personal power and ideals. My vision of Aquarius is that of The Round Table, where Arthur's knights and ladies sat together to work for the common good of the kingdom.
Aquarius resonates to the energy of Uranus, which constellates the awakened Mind, the original rebel who sees the future and isn't afraid to live it. With Uranus in Aries, we are all called to be our unique Self, resonating to the archetypal power which gives us our purpose and identity. I am a Bard--storyteller, teacher, priestess, visionary. Others are healers, judges, leaders, warriors, midwives of both life and death. When we bring our unique talents to the Table, we enrich our culture and our possibilities.
Leo is a good energy to have when we have to go it alone. Aquarius allows us to mingle our energies to make something greater than the sum of our parts.
(Note: You can view every article as one long page if you sign up as an Advocate Member, or higher).