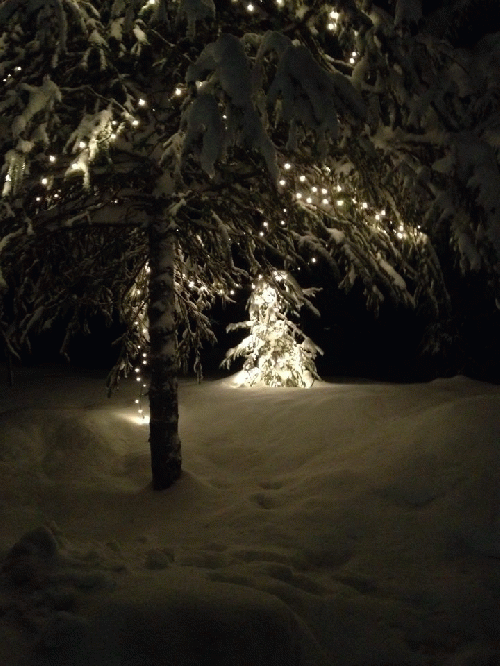 Winter Light in Alaska
(
Image
by
Cathy Pagano
)
Details
DMCA
Winter Solstice
We are blessed this year with a Christmas Full Moon while the Gate of the Winter Solstice is opened. Winter Solstice (for those of us in the northern hemisphere) marks the longest night of the year, the time of greatest darkness when the Sun reaches its most southerly position, slows and seemingly stops, before starting its journey back north. For those of you in the southern hemisphere, Happy Summer Solstice--you are celebrating the fertility of life on your longest day of the year.
Winter Solstice marks the 'rebirth of the Light' (the promise that light and warmth will return to a cold, dark world) which is celebrated by all our major religions: Christmas, Hanukah, Kwanzaa are all celebrations of the Light. Our 'yuletide carols being sung by a choir' hark back to the pagan celebration of Yule, which means 'wheel' as in the turning of the Wheel of the Year or the heavenly wheel of the Zodiac.
We mark time with these celestial events, celebrating their symbolic meaning on our religious holy days, although we have commercialized them to such an extent that people no longer look forward to them. Which is a shame, since celebrating these seasonal changes gives our psyches a chance to let go and move on through celebrating with loved ones, music, food and good cheer. When we celebrate these Earth holidays, we bring in new energies which enhance our lives because we are in tune with the Earth and her laws.
The Winter Solstice marks the seed time of the cycle of the year, when the 'seed of light' is born again, the Christ Child reborn each year, within each one of us. On this shortest day and longest night of the year, called Mother Night by many ancient cultures, the Divine Mother once again gives birth to life and light and spirit. Each of us has the Divine Feminine within us, women and men alike. If we really want to change the world, each of us has to change. First we need to release the patriarchy within us, its rules and beliefs, so our new vision has room to grow. This is the Divine Child of Light, the potential within each of us to live in our spiritual vision, to experience life as conscious choice and responsibility.
The chart for Winter Solstice gives us a glimpse of what type of energies we'll be dealing with for the next three months until the Wheel turns again at Spring Equinox. The Sun (along with Pluto and Mercury) is in Capricorn while the Moon is in Taurus. Both these luminaries (light-givers) are in earth signs, forming a grand trine along with Jupiter and the North Node in Virgo, the third earth sign. With 5 out of 10 planets in earth signs, this promises very concrete results to whatever we set our minds to now. The Pluto in Capricorn/Uranus in Aries square, with its evolutionary and revolutionary energies still affecting us, now activates Mars in Libra to act with courage and fairness. The Sun's entrance into Capricorn places our attention on how we participate in the cultural issues of our time. With so much negative rhetoric flying around, we can each take a more positive stance and contemplate how to share as well as bring a new vision of life into the world.
This is the time of year when we are inspired by the power of Life, the possibilities we hope for as we stand in the dark. Let the dark sink into silence so you can hear and see the Light that is being born.
Cancer Full Moon on Christmas Day
This Christmas a beautiful Full Moon will shine on us, but also look for unexpected surprises under the tree as Uranus turns direct. This holiday, expect the unexpected! Or do the unexpected! Like turn off all your electronic gadgets and talk with people.
A Full Moon energizes us in many ways. It pulls at us physically and emotionally, just as it creates big tides in Earth's waters. The best way to work with Full Moon energy is to become aware of what's been hidden and percolating in the unconscious since the last New Moon.
This past New Moon was in Sagittarius--the sign of truth and meaning, of cosmic laws and moral laws. This Cancer Full Moon will bring up issues that relate to our truth and our purpose--those beliefs that make you who you are. Are you living your truth? Are you standing up for your beliefs? Are you being nurtured by your work and is your work nurturing to the world?
This Full Moon brings those beliefs home to us, since Cancer symbolizes not only our home and family, but our emotional body. What makes a home, a family, a country? Shared beliefs, shared visions, shared concerns? Does our work (Capricorn) fulfill us(Cancer)? Do we value the people in our lives who love and support us? How are our talents nurturing the world?
Full Moons call for a balance between two different energies. The Sun in Capricorn highlights our collective life--our connection to our culture and how we are meant to enrich the world with our purpose. The Cancer Moon opens us to our emotional intelligence, our feeling response to how we're living in the world. Are we at home in our own bodies? Are we comfortable with where our society is heading? Are we nurturing what is important to us--our human connections as well as our connection to the Earth?
(Note: You can view every article as one long page if you sign up as an Advocate Member, or higher).