Another Endorsement for Bernie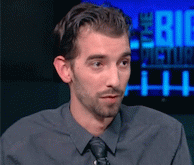 Erik Altieri, on RT's Big Picture with Thom Hartmann
(
Image
by courtesy of Erik Altieri)
Details
DMCA
My guest today is Erik Altieri, president of The Agenda Project Action Fund, chief political strategist, and media rep.
JB: Welcome to OpEdNews, Erik. The Agenda Project Action Fund released a press release today. Before you tell us about the press release, please give our readers a sense of the Agenda Project. I'm afraid many of us are not familiar with your work.
AE: The Agenda Project Action Fund is a progressive advocacy organization that is built to take on the radical extremism of the Right. We view American politics as a battle for the political soul of the nation between two diametrically opposed world-views -- progressivism vs. conservatism.
We firmly believe that radicalism cannot be met with subtlety and hesitation. That is why we have pursued a unique model that marries the activities of a traditional marketing firm with a citizen-funded revenue stream. This unique model allows us to aggressively advance a core set of values in the public debate using a rapid response strategy.
By creating compelling illustrations of the differences between conservatives and decent Americans, we challenge our fellow citizens to examine their personal values and pick a side. We have built numerous nationwide campaigns that aggressively fight for our shared progressive values. You may remember one of our most famous ads, Granny Off the Cliff, which we released in 2011 targeting Representative Paul Ryan over his efforts to defund Medicare. The ad has lasting resonance, it was mentioned at this year's GOP FOX Business Debate and even name dropped by Donald Trump as one of the reasons Mitt Romney's presidential campaign failed.
JB: Yes; I remember that one. Memorable!
AE: From our first campaign F*ck Tea against the Tea Party to Granny Off the Cliff which focused on preserving Medicare to Republican Cuts Kill which called out the GOP for their reckless budget cuts, the Agenda Project Action Fund has never shied away from a fight. We've taken on those dirtbags on Wall Street, extremists in Congress, the absolute sociopaths in the Tea Party, and Muslim bashing hate-mongers. We believe that PROGRESS is the real American party and we are unabashed in our desire to champion progressive ideals that make public policy work for all Americans, not just a wealthy few.
JB: Hard to disagree with anything you've said, Erik. So, why the press release today? What's new?
AE: To be a bit coy, everything and nothing. Nothing has changed about the mission and objectives of the Agenda Project Action Fund. We were founded to be outspoken progressive advocates and as the 2016 election got into full swing, our plan was always to play a large role in shaping the narrative in regards to our issue portfolio in key states, both at the presidential and congressional level.
On the other hand, everything has changed in regards to the political dynamics of the American electorate. We are seeing a rejuvenated and resurgent progressive left in this country, the likes we haven't seen in many decades. More and more Americans are identifying as liberals and the organizational structure across the board has matured immensely. Then, Bernie Sanders took center stage. He gave a voice to the previously voiceless, to the millions of Americans who support issues such as real campaign finance reform, enhancing our social safety net, raising wages for workers, radical reform to our education system, and fixing our utterly broken criminal justice system. He created a grassroots campaign that engaged millions of previously unengaged citizens in the political process, raised a staggering amount of money directly from the people $27 at a time, and impressively began to put up big wins in the primary states. We saw within the Sanders campaign an ideological soulmate and knew we had to be a part of the political revolution.
JB: How did the Agenda Project decide to support Bernie? Did you survey your members to measure their support?
(Note: You can view every article as one long page if you sign up as an Advocate Member, or higher).