From Wallwritings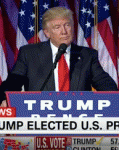 (
Image
by
Screen Shot
)
Details
DMCA
The early morning after Donald Trump's shocking upset election victory, the first thought that came to my mind was Job's dark lament: "For the thing which I greatly feared is come upon me, and that which I was afraid of is come unto me." KJV Job 3:25.
My mother seared that verse into my consciousness the moment she quoted it, when my wife and I traveled 45 sad miles to tell my mother of the unexpected death of her son, who was also my oldest brother.
Job's lament was her immediate reaction, followed by her quoting to me another line from Job, "Though he slay me, yet will I trust in him."
When I recall that exchange that took place in my childhood home in Monroe, Georgia, it is a memory in a different context, consistent with the distress I felt in response to Trump's victory.
It is a response not shared by more than half of those voters who gave Donald Trump the presidency.
Stunned by that final vote, and yet bolstered by the memory of my mother's testimony of faith in the midst of her darkness, I turned to John Wesley's Notes.
This is how Methodism's founder understood Job's lament:
3:25 Feared -- Even in the time of my prosperity, I was full of fears, considering the variety of God's providences, the changeableness of this vain world, God's justice, and the sinfulness of all mankind. And these fears of mine, were not in vain, but are justified by my present calamities.
"Justified" had a special meaning for Wesley. Each faith tradition has its own way of understanding a believer's trust in God. In the Methodist tradition:
The justifying dimension of "God's grace" is a gift. God's grace alone brings us into relationship with God. There are no hoops through which we have to jump in order to please God and to be loved by God. God has acted in Jesus Christ. We need only to respond in faith.
It was her belief, as my mother testified those decades ago, that our "present calamities" will not be permanent. For her, out of darkness comes hope.
Donald Trump's political victory was a defeat of the political establishment of both political parties which have grown moribund because those parties placed far too much political power in the hands of those who seek power to enrich themselves.
Donald Trump is not the leader I would have chosen to break up that moribund political/financial combine. But Trump it is, Mr. and Mrs. America, the man the majority of you chose to be our 45th President with his finger on the nuclear trigger.
Will Trump be as disastrous as his campaign rhetoric and personal comments would lead us to expect, or is there hope things can change for the better?
(Note: You can view every article as one long page if you sign up as an Advocate Member, or higher).