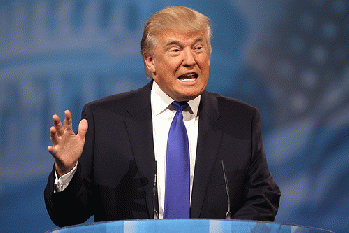 Donald Trump

(

Image

by

Gage Skidmore

)

Details DMCA





When someone shows you who they are -- believe them. Past behavior is the most accurate indicator of future behavior.

The following is a combination of intuitive prediction and personal opinion grounded in my long term experience with psychopathic behavior, as well as many years of observing Donald Trump.

For those of you who will dismiss this article as outrageous, consider the insane reality of a completely unstable mad man having unlimited power and control over most of the globe. Aided by equally insane henchmen of the rabid right; and an already bloodthirsty nationally militarized law enforcement as his personal goon squad.



Trump is a stone cold psychopath. And every surreal and incomprehensible horror this monster is about to unleash on the US citizenry and the world, may well be referred to, from here on out, as pre and post anti-Christ. The depths of his depravity have been grossly underestimated. His performance during the campaign was actually restrained in his rhetoric and reactions to people daring to criticize him.

He will move swiftly and viciously to attempt to implement rounding up those who are not only immigrants, but minorities, political enemies and all others he feels have wronged him or which he considers a threat.

In light of the current global migration crisis, his plan of mass deportation is sheer delusion, since there must first be a place to deport people to.



So, what to do with millions of people who have nowhere to be shipped off to? The logical conclusion is to fill the concentration camps which already exist on US soil. These are little known, rarely mentioned installations which are currently manned with a skeletal staff of military, and can be immediately pressed into service, given the order. Yes folks, they do exist. Stadiums and arenas will also be utilized as venues capable of processing and detaining the masses.

[The value of private prison stocks skyrocketed after Trump was announced the winner.]

Since we now have a totally militarized police force, it isn't a stretch to figure out who will form a task force to implement such a plan. Anything identifying individuals as anti-Trump will be used against them.

In order to assert immediate control of the populace, Trump will need to find a ruse to shut down social media, internet access and most forms of communication. It's essential that people be kept in the dark if mass roundups are to succeed. Any type of mandatory requirement to appear before authorities, for whatever reason, should be a red flag.

Trump has already shown a contempt for, and propensity to control the news so what he can't completely manipulate he will find a way to eliminate. If Trump is unsuccessful at curbing free speech via the internet, then US citizens' access to the internet will be eliminated or restricted to pro-Trump propaganda. Consider dusting off the ham radios and training your carrier pigeons.

He has alluded to the fact that he is capable of murder on more than one occasion. "I could stand in the middle of 5th Avenue and shoot somebody and I wouldn't lose voters." Believe him. That's exactly what we are about to witness on a grand scale. He is completely comfortable with torturing and murdering innocents based on nothing more than his own twisted justification. Don't look for an already rabidly-right, biased, judicial or congressional system to stop him -- this is now a dictatorship:


When asked about former CIA Director Michael Hayden's recent comments that the military could defy unlawful orders to torture or kill civilians, Trump said, "They won't refuse. They're not going to refuse, believe me."




(Note: You can view every article as one long page if you sign up as an Advocate Member, or higher).