Victoria Nuland has been responsible at the State Department for East European affairs. Is it her resounding success at engineering a coup in Ukraine - in the hopes of getting ever closer tRussian land - that has now apparently won her the job of reversing the Brexit?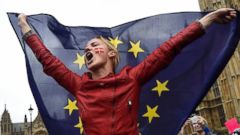 (
Image
by
abcnews.go.com
)
Details
DMCA
She's already succeeded in bringing thousands of demonstrators to London.
I wonder what Elizabeth, ensconced in her palace, will think of a color revoltuion a la Gene Sharp.