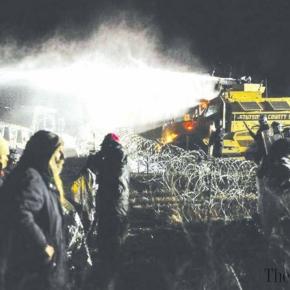 American Civil Liberties Union blasts police use of water cannons ...

(

Image

by

us.blastingnews.com

)

Details DMCA
Do you honestly and/or naively believe for a moment that a conglomerate of corporate and banking forces that would propel the kind of brutality seen in the above photo is going to back down permanently? Hell, no! Mr. Trump seems like (and I pray I am wrong) the kind of president who would gladly flex his muscles politically and overturn the decision by the Corps, and give the pipeline a green light no matter who gets angry, to prove his bona fides with corporations and his big backers.
Standing Rock Sioux Tribe's Statement on U.S. Army Corps of Engineers Decision to Not Grant Easement
http://standwithstandingrock.net/standing-rock-sioux-tribes-statement-u-s-army-corps-engineers-decision-not-grant-easement/
>>>>
Bravo! For at least a few minutes, we can say WE WON! This may be a short lived victory, as the Pipeline chairman said in November that he is 100% sure it will be completed during the Trump years~
Thanks to all of you for your help thus far, but I honestly feel that this battle is only just beginning, not only for ND, but a bigger one coming brewing up in Arizona over Oak Flat and the Tonto National Forest being turned into John McCain's Plan to dig North America's largest copper mine.
So here's the hitch and the real problem, what the Standing Rock controversy may ultimately boil down to in about 7 weeks: Energy Transfer Partners CEO Kelcy Warren, who remained publicly silent on the pipeline for months as protests forced a halt in the pipeline's construction, told NBC News in an interview in November that he was "100 percent sure that the pipeline will be approved by a Trump administration," regardless of what the Army Corps ultimately decides.
Let's shift gears and talk about other Cabinet Members for a moment: Trump is considering for Homeland Security the Sheriff of Milwaukee County. This is the article from Mother Jones I read with incredulity yesterday:
Potential Trump Pick for Homeland Security Wants to Send up to 1 Million People to Guantanamo
http://www.motherjones.com/politics/2016/11/sheriff-clarke-trump-terrorists-guantanamo-bay
'Clarke went further and called for rounding up Americans who sympathize with terrorists and shipping them to an offshore prison. During a December 2015 segment of his show, The People's Sheriff, on Glenn Beck's TheBlaze radio network, Clarke suggested that any person who posts pro-terrorist sentiments on social media be arrested, deprived of the constitutional protection against unlawful imprisonment (known as habeas corpus), and sent to Guantanamo Bay indefinitely. He estimated the number of people who could be imprisoned under his proposal could reach 1 million. Presumably, this would include American citizens. (The Democratic research group American Bridge caught Clarke proposing this idea.
"I suggest that our commander in chief ought to utilize Article I, Section 9 and take all of these individuals that are suspected, these ones on the internet spewing jihadi rhetoric"to scoop them up, charge them with treason and, under habeas corpus, detain them indefinitely at Gitmo," Clarke said.
Article 1, Section 9 of the Constitution allows the president to suspend the writ of habeas corpus only "when in cases of rebellion or invasion the public safety may require it." Clarke added that locking up suspected terrorists in American prisons and jails would turn those facilities into "terrorist recruitment camps." That's why these people would have to be packed off to Guantanamo.
Put that fellow in charge of Homeland Security which is already full of people who are paid to sometimes be justifiably paranoid? It is obvious his attitude is racist, a surprise coming from an African American himself, even to consider putting proponents of Black Lives Matter into Guantanamo.
This ia a repeat and deja vue of the FBI back in the 60's thinking that the Black Panthers were set on violent revolution. Nonsense....but do I get sent to Guantanamo for thinking and uttering and writing down such concerns? Probably not as long as habeas corpus and our First Amendment are still even partially intact.
Similarly, appointing Senator Jeff Session as Attorney General deserves a brief discussion by me as a layman, an art dealer, not a lawyer.
Next Page 1 | 2 | 3 | 4 | 5 | 6 | 7 | 8
(Note: You can view every article as one long page if you sign up as an Advocate Member, or higher).