From Capitol Hill Blue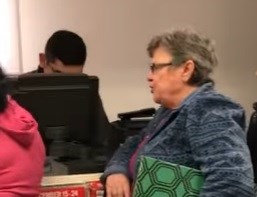 Kentucky mall to ban woman for racist, vulgar tirade
(
Image
by
wpsdlocal6.com
)
Details
DMCA
An obscenity-shouting white woman in Louisville, Kentucky, this week screamed at a an apparent Hispanic customer at the J.C. Penney store in Jefferson Mall to "go back to wherever the f--k you come from, lady!"
The target of her wrath ignored her taunts so the bigot turned her anger on the store's cashier, yelling; "hey, tell them to go back where they belong."
The vile rant apparently began when a friend of the Hispanic woman brought her some additional items as she was checking out at the busy store.
"You're nobodies," she yelled. "You're nobody, as far as I'm concerned! Probably on welfare! The taxpayers probably paid for all that stuff!"
Another customer in the store captured the tirade and posted it on Facebook, where it went viral.
Such behavior is becoming all too common. In Chicago in late November, another loud bigot screamed at a black employee in a Michaels store. When the store asked her to leave, the white woman claimed she was being discriminated against.
Her tirade, captured on video:
"And I voted for Trump! So there! What, you want to kick me out because of that? And look who won! And look who won! And look who won!"
Jesse Grady, shopping for a Santa hat for her young daughter, saw the incident and filmed it.
"It sounded like a disgruntled customer for a second," Grady told The Washington Post. "And then she made a homophobic slur, then starting cussing the manager, all sorts of things. It just kind of got out of control. So I waited, but it was like, when she starting yelling African American women are discriminating against me, that's when I pulled out my phone."
In Florida, real estate remodeler David Sanguesa claimed he was a victim of "anti-white discrimination" when he lashed out at a barista at a Starbucks coffee shop.
"We want nothing to do with you," Sanguesa screamed at the brista. "You're trash!"
(Note: You can view every article as one long page if you sign up as an Advocate Member, or higher).