Th is is the first in a three-part series on Kaya Henderson's time atop DCPS.
After six years as head of D.C. Public Schools, Kaya Henderson is calling it quits Friday.
According to the Washington Post, her biggest booster, Henderson is leaving behind a "legacy of progress ."
Not everyone agrees.
Before ascending to chancellor, Henderson served three years as top deputy to her close friend, Michelle Rhee, known for mass teacher firings and school closings.
Henderson has continued in Rhee's footsteps, albeit with less bombast.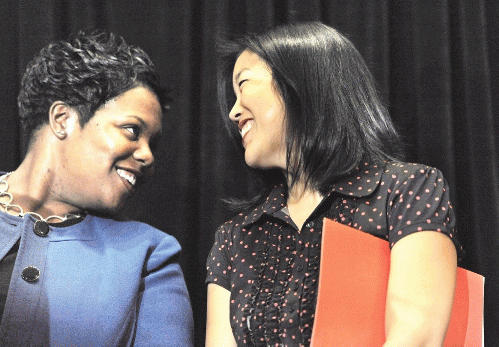 Kaya Henderson and Michelle Rhee

(

Image

by

Linda Davidson/Washington Post

)

Details DMCA

Throughout the Rhee and Henderson years, the Post has played the role of lead-cheerleader (even collaborating on coverage). Now the Post wants the good times to continue.

Instead of conducting a search for the next chancellor, the Post's Jay Mathews says D.C. Mayor Muriel Bowser should just ask Henderson to name her replacement since "she knows better than anybody what the job is."

But after nearly a decade atop DCPS, some don't give the Rhee/Henderson team such high marks.

'Haters'

Improving test scores has been central to Henderson and Rhee's claims of turning DCPS around.

But when retired DCPS teacher Erich Martel dug into the data, he found the gains were largely due to D.C.'s rapid gentrification, which has pushed lower-income African American students out, while ushering in wealthier whites, who score higher on tests.

Associated Press reporter Ben Nuckols similarly noted, "The gains in test scores have" coincided with the city becoming wealthier and the white population increasing."

"Literally, I just got to just let this out," Henderson has said in response to such critiques, "Haters are going to hate."

(Note: You can view every article as one long page if you sign up as an Advocate Member, or higher).