This interview was filmed in the Embassy of Ecuador in London -- where Julian Assange is a political refugee -- and broadcast on November 5, 2016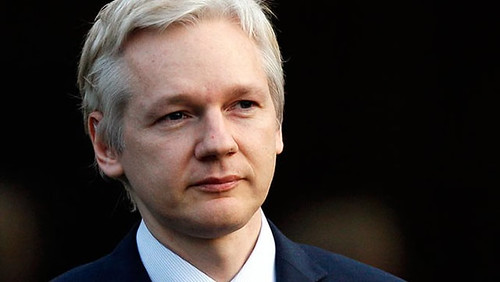 WikiLeaks founder Julian Assange
(
Image
by
newsonline
)
Details
DMCA
John Pilger: What's the significance of the FBI's intervention in these last days of the U.S. election campaign, in the case against Hillary Clinton?
Julian Assange: If you look at the history of the FBI, it has become effectively America's political police. The FBI demonstrated this by taking down the former head of the CIA [General David Petraeus] over classified information given to his mistress. Almost no-one is untouchable. The FBI is always trying to demonstrate that no-one can resist us. But Hillary Clinton very conspicuously resisted the FBI's investigation, so there's anger within the FBI because it made the FBI look weak. We've published about 33,000 of Clinton's emails when she was Secretary of State. They come from a batch of just over 60,000 emails, [of which] Clinton has kept about half -- 30,000 -- to herself, and we've published about half.
Then there are the Podesta emails we've been publishing. [John] Podesta is Hillary Clinton's primary campaign manager, so there's a thread that runs through all these emails; there are quite a lot of pay-for-play, as they call it, giving access in exchange for money to states, individuals and corporations. [These emails are] combined with the cover up of the Hillary Clinton emails when she was Secretary of State, [which] has led to an environment where the pressure on the FBI increases.
John Pilger: The Clinton campaign has said that Russia is behind all of this, that Russia has manipulated the campaign and is the source for WikiLeaks and its emails.
Julian Assange: The Clinton camp has been able to project that kind of neo-McCarthy hysteria: that Russia is responsible for everything. Hillary Clinton stated multiple times, falsely, that 17 U.S. intelligence agencies had assessed that Russia was the source of our publications. That is false; we can say that the Russian government is not the source.
WikiLeaks has been publishing for 10 years, and in those 10 years, we have published ten million documents, several thousand individual publications, several thousand different sources, and we have never got it wrong.
John Pilger: The emails that give evidence of access for money and how Hillary Clinton herself benefited from this and how she is benefiting politically, are quite extraordinary. I'm thinking of when the Qatari representative was given five minutes with Bill Clinton for a million dollar cheque.
Julian Assange: And twelve million dollars from Morocco ...
John Pilger: Twelve million from Morocco yeah.
Next Page 1 | 2 | 3 | 4 | 5 | 6 | 7
(Note: You can view every article as one long page if you sign up as an Advocate Member, or higher).