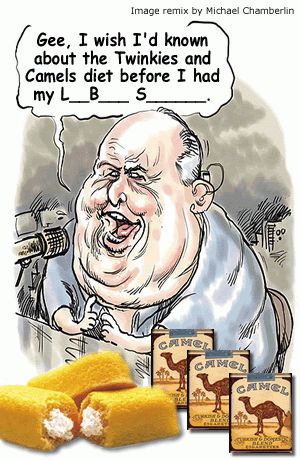 Rush Limbaugh cartoon
(
Image
by
Ian D. Marsden
)
Details
DMCA
Do you remember when Rush Limbaugh stunned America's nutritional experts last year, with his 80 lb weight loss, in just 21 weeks? He claimed that he had accomplished that weight loss without exercising. The health community came back and said, "No way, A) he must be doing drugs, B) he must have started his weight loss process much earlier than he was claiming, C) he must have had Lap-band surgery, or D) he must have had gastric bi-pass surgery."
Here's the CalorieCount"ócom article that sparked the controversy: Lessons Learned From Rush Limbaugh's Weight Loss
And here's Mr. Limbaugh's lame rebuttal the following day: It's a Fascinating Phenomenon: Limbaugh Weight Loss Deniers.
Looking back at Limbaugh's 2009 transcripts, indications are that it was a combination of A), B), and C). There's little doubt about what those indications indicate.
Think about it. Why isn't Rush Limbaugh pushing the virtues of the Quick Weight Loss Centers of Florida any longer? Originally, he gave them total credit for his supernatural weight loss. Now, he never seems to mention them. Weird, huh?
Actually, maybe it isn't so weird after all. Not when you consider your ABC's that is. Consider the ABC's above again. Then, do the following, and ask yourself the corresponding questions.
A) Watch his 2009 CPAC speech. Q: Do you really believe that all that blubbering, bouncy bouncy idiocy, was diet-drug free? You do? Pull the other leg!


B) Read Rush Off Next Week, Won't Play Prank on Listeners. Q: Do you really believe that Rush's decision to go to the Pro Bowl, instead of Super Bowl XLIII, between the Arizona Cardinals, and Limbaugh's "favorite team of all time", the Pittsburgh Steelers, is not "a ruse" to cover something up? You don't? Whatever you say, nudge nudge, wink wink.
C) Read about this weight loss method. Q: Knowing that Rush spent one week in Hawaii, right before all this supernatural weight loss began, to see the Pro Bowl, instead of the Super Bowl, do you really believe that Rush Limbaugh lost all that weight using shear Conservative willpower and self discipline? You do? Need a bridge?
"It's not a ruse! It's not a ruse! It's not a ruse!", Limbaugh decried on January 28, 2009, concerning his last minute Pro Bowl to Super Bowl switch. Well, evidently. Mr. Snerdley thought that it was a ruse, Mr. Limbaugh, because you put Snerdley's chin smack dab on the floor with that last minute announcement. He was looking at you like you had three heads. In desperation, Rush pleads with his call screener to get onboard with his mysterious "ruse" that Snerdley knows absolutely nothing about, "Okay, you're not buying this? You're not buying this, Snerdley? Ha! Back me up on this."
America needs to go back and listen to that transcript. It's one of the many keys to the truth behind Limbaugh's goofball weight loss story. What a hoot. Limbaugh's deceitful, weight loss cover-up gambit was off to a shaky start. Limbaugh even caught Mr. Snerdley by surprise when he announced his Super Bowl to Pro Bowl switch. Mr. Snerdley must have been thinking something like, What kinda nonsense is the Maha Goofball up to now?
It would be months before Mr. Snerdley would know what was actually going on. Only when the pounds were really starting to come off of his boss, would the cat be out of the bag. When did you start getting suspicious Mr. Snerdley? About April 7, 2009 I presume? That would be about sixty-seven days after the Pro Bowl to Super Bowl kerfuffle. Because it was April 8, 2009 that your boss finally, officially, announced to America that he was on a new diet that he had, supposedly, began twenty seven days earlier, on "March the 9th". Oops! Your boss should have picked an earlier start date to throw the media off his "It's not a ruse!" weight loss trail. He blew it. He should have made up an earlier date, not a later one. Limbaugh pooch screwed his own ruse, by making up the wrong "start" date. Classic.
From the April 8, 2009 Rush Limbaugh Show, titled, "El Rushbo's Expert Diet Tips":
"You think I should tell 'em, Snerdley? I don't like to go public with this kind of information, but it would buttress my case. I have been on a diet. I started March the 9th, I think. Yeah. Let me check the date here. Blah, blah, blah, blah. Yep, yep. I started March the 9th. Today is Day 27. I have lost 27 pounds, twenty-seven pounds in 27 days. No, I'm not going to tell you how because I've done every diet."