Elon Musk's Space-X has just changed the game for space travel and exploration. It's enabled reusability of rockets.

Imagine if for cars, boats and phones you could only use them once, then you'd have to throw them away. Drive to work and throw away the car. Take a boat or use a boat to transport goods and when you unload, throw away the boat. Make a phone call and then throw away the phone. That is done by criminals, soldiers, spies and drug dealers where the stakes are very high and the benefits huge or essential to strategy. But it's not practical for most uses. It's prohibitively expensive.

For over fifty years every object humanity propelled into space orbit used a disposable booster rocket that was used one time then thrown away.

For the first time, SpaceX has landed, intact, an orbital rocket used to propel a payload into space. That is a game changer that will make space travel, space commerce profoundly more affordable-- and more profitable.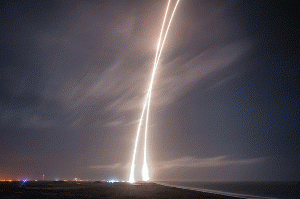 'There and back again' first orbital rocket lands in one piece.
(
Image
by
Twitter User elonmusk, Twitter User: elonmusk
)
Details
DMCA
Even the reusable Space Shuttle used disposable booster rockets to propel the shuttle up into the upper atmosphere.
ABC News reports
""I think this is a critical step along the way towards being able to establish a city on Mars," Musk said on a call with reporters Monday night after the Falcon 9 successfully landed upright on a launch pad at Cape Canaveral in Florida.
The ABC article also reports, "Musk has previously said he believes reusing rockets -- which cost as much as a commercial airplane -- could reduce the cost of access to space by a factor of one hundred."
This technological breakthrough will lower the cost of bringing supplies into orbit. That will make it much, much more affordable to build new structures in space and on nearby planetary objects-- the moon, Mars, Jupiter's moons.
It will also make it more affordable to get fuel into orbit, which will allow longer excursions to further places, be that moons, mars or asteroids and comets coming close to earth. This could be what it takes to enable the mining of asteroids and comets.
It will also make it possible to create commercial structures that take advantage of zero gravity-- hotels, vacation spots, manufacturing facilities. It will also lower the cost of travelling into zero gravity, i.e., space tourism.
What makes this even more exciting is that there's a new space race. Amazon's Jeff Bezos sent a tweet of congratulations, with the message, "Welcome to the club!" to Spacex, because private space company,
Blue Origin, put a rocket into outer space a month ago
. The difference is, Bezos rocket blasted sixty two miles above earth. Musk's Spacex rocket went over 120 miles, to reach orbital level-- a huge difference in functionality. When the Blue Origin rocket landed, Musk tweeted, "Getting to space needs ~Mach 3, but GTO orbit requires ~Mach 30. The energy needed is the square, i.e. 9 units for space and 900 for orbit."
The good news is that between the two companies, there's a new space race going on.
My hope is that it will get bigger. Imagine if military companies which make their profits selling military aircraft shifted their investments to building space travel technologies. It could take an important part of the financial motivation out of war.
It's a huge accomplishment. I'm just touching the surface of the possibilities. And I haven't touched on the frightening ones, like the power this new technology could give to billionaires.
So, readers, how do you see this technological breakthrough changing things? And can you think of other currently non-re-usable categories that would be disrupted if they could made to be re-usable?
I'll prime the pump. Reusable rockets save money. But we have seen so many cases where manufacturers and even our culture have moved towards disposable products-- use once and throw away or items built for replacement, not repair. These are unsustainable practices, ecologically. Why not offer legislation that rewards production of reusable products. The reward could be in the form of tax breaks or carbon credits (when we, eventually, get around to instituting them more systemically.)