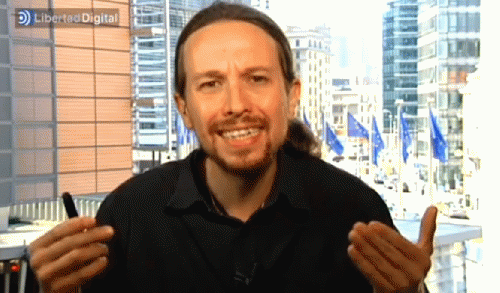 Pablo Iglesias, leader if Podemos
(
Image
by
libertad digital
)
Details
DMCA
(we can -- yes, it's possible)
This Sunday, local, municipal elections in Spain will take place on Sunday, May 24, and a new party is about to become the new kid on the block. History will be the final judge of this voting, but any way you slice it, Podemos is about to step into the spotlight with a vengeance.
The current ruling part, partido popular (PP), has been a mainstay of post-Franco Spain since its reformation in 1989. Remember that General Franco outlawed politics and Spain had to wait until his death before starting anew. Mariano Rajoy won the last elections in Spain in 2011 and is currently serving as its prime minister.
Before him, Jose Luis Rodrguez Zapatero, from the partido socialista obrero espanol (psoe) was prime minister. The Socialist Party has existed since the 19 th Century and was reborn upon the death of Franco. Between these two parties, Spain has been ruled for the past 35 years. Let's just say that things could have gone better.
Neither party has really shown much interest in the people of Spain. The People's Party has seemed much more interested in kowtowing to major European and American interests leaving the Spaniard to grapple with one of the slowest economies on the continent. Wages are among Europe's worst and Spain, with an average annual salary of 22,000 euros, ranks closer to Greece at 17,000 euros than Switzerland at 71,000 euros.
When the American made Global Recession hit in 2007/8, Spain took a terrible beating. Many banks closed, growth rate tumbled from 3.5% annual pre crisis to a mere 0.8% post crisis. And like in almost all countries the too big to fail banks were saved while the average worker and businessman was fed to the wolves. When the crisis hit the Socialist Zapatera was prime minister, but even after the 2011 elections and the return to pp with Rajoy, the crisis continued unabated.
ENTER PODEMOS
Before March 24, 2014, this party did not even exist. When it finally decided to open its doors to the general public it quickly became Spain's fourth largest political party by membership. It has won seats in parliament in Spain and in Europe. Its founder, Pablo Iglesias was even named after the founder of the Socialist Party in Spain in the 19 th Century.
One of the biggest differences between Podemos and the two major parties, is its position on the austerity measures that Europe has imposed on the country since the US-made Great Recession. Both Germany and France have been in general violation of the strict European rule of no more than 3% of one's debt to GDP ratio. France has been recently granted new loans from the EU central bank without having to submit its citizens to new austerity means while countries like Greece, Ireland, Portugal and Spain find it near impossible to get any loans and are forced into severe austerity measures as a result.
Pablo's group proposes the following:
"Citizens' audit of public and private debt to find out what parts of it can be considered as illegitimate...and declare that those won't be paid back."
"Creation of democratic and parliamentary control mechanisms for the European Central Bank...Creation of a European public credit rating agency."
"Regain public control over strategic sectors of the economy: telecommunications, energy, food, transport, health, pharmaceutical and education."
"Budgetary support for and increased development of public R&D centres, in order to favour the return of Spanish researchers and scientists from abroad."
"Right to a basic income for each and every citizen, for the mere fact of being citizens" - which sounds a lot like the 'citizenship wage' advocated by the Five-Star Movement in Italy.
(Note: You can view every article as one long page if you sign up as an Advocate Member, or higher).