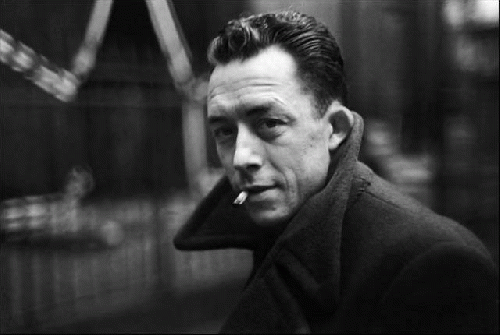 Albert Camus

(

Image

by

mitmensch via Flickr

)

Details DMCA

When many think of France, they likely think first of the singing city of Paris, and the Eiffel Tower. Indeed, the continuing fascination of tourists for the phallic edifice still manages to impress those that live in the City of Light. Another symbol of France and of Paris that the French would be more proud of is that of the public intellectual. It is often said that the French embrace a 'contradictory spirit', and this is true of no one more than its philosophers, who have often enjoyed pillorying the social and moral norms of their day. And, while the definitive French public intellectual today seems to be Bernard Henri-Levy, who convinced best bud President Nicolas Sarkozy to unseat Muammar Gaddafi in Libya (and who normally inspires little more than exasperated eye rolls in his French countrymen), France was once known as the hotbed of existentialism, where philosopher activists such as Jean-Paul Sartre and Albert Camus bickered in smoke-filled cafes on the boulevard Saint Germain.

Needless to say, the smoke-filled cafes are no more in Paris, which has enacted the same bans on public smoking as nearly every other European country. Today, the drug of choice in Les Deux Magots or Cafe de Flore, which are almost exclusively filled with well to-do tourists now anyway, is a black espresso or a cafe crème. Outlawing smoking in Paris' esteemed cafes once seemed unthinkable to those who saw the haze-filled rooms as a symbol of the city's intellectual heritage. Successive governments have taken their anti-tobacco zeal even further, however, and are now even taking the extreme positions of countries such as Australia and Ireland. On Monday, a National Assembly committee will vote on a measure that would force cigarette brands to adopt "plain packaging" - removing any branding that differentiates cigarette packets from each other, the idea being that attractive colors encourage individuals, particularly the young, to smoke.

The commonly accepted position on anti-smoking legislation is the more the merrier, with policymakers seemingly unconcerned about the effectiveness of the measures they enact because, after all, it's only hurting tobacco companies (which probably are seen in a less positive light than even companies that have Southeast Asian children working in sweatshops). In the United Kingdom, plain packaging was passed with cross-party support, as was the case in Australia and other countries. Nevertheless, France has shown its characteristic esprit de contradiction in its own plain packaging debate, as politicians and citizens are much more hesitant to adopt such a drastic and invasive policy.

For starters, French buralistes - owners of the small shops that are designated by the government to sell tobacco products, lotto tickets and other products of vice - descended into the street in protest through the country. On Monday November 2, thousands of the buralistes staged protests in five major French cities. Even the wine industry joined in, expressing their opposition to plain packaging, worried that they could be next in the government's crusade against individual choice. Politicians themselves are also showing more eagerness to debate the merits of plain packaging than their counterparts in the UK did. In the French Senate, where the conservative political party Les Republicains hold a majority, the plain packaging component in the vast health law that Minister of Social Affairs, Health and Women's Rights Marisol Touraine is pushing was struck down, only to be added again by the other house of Parliament, the National Assembly, who has the final word.

One reason for this political opposition is doubtless the pressure that the buralistes have applied through their protests, the best vehicle to enact or prevent legislative change in France, but there are other reasons that France is not smitten with the idea of plain packaging to the extent that other countries are, some practical and others philosophical.

For one, it is unclear to date whether plain packaging has actually achieved its stated goal of decreasing smoking rates in any countries that it has so far been applied in. In Australia, for example, the amount of money spent on cigarettes has decreased since plain packaging was enacted but this correlation isn't necessarily causal. Tobacco companies have suggested that the loss of revenue could be due either to the 'commodification of cigarettes' - all cigarette packets look the same so consumers now buy the cheapest ones instead of the brand their prefer - or to an increase in black market purchases. Indeed, this second potential cause seems especially noteworthy, as it is estimated that the black tobacco market now represents 14.5% of all tobacco consumption in Australia.

Notably, French politicians and commentators seem to understand one thing that many others have missed - that the consequences of plain packaging go beyond the material cost of implementing the measure, they impact the individual freedom of individuals to make lifestyle and consumption choices that are not ideal from a health perspective. There is the feeling here of establishing a dangerous precedent that could lead to a slippery slope towards other unhealthy products that are symbols of the French lifestyle, from fatty cheeses to wine. French life has always involved small luxuries and excesses, which to this day includes cigarettes as any stroll across a Parisian terrace will demonstrate. While the most famous French philosophers are now dead and gone, it is reassuring to see that the country's contradictory spirit is very much alive.