Reprinted from Alternet
The Founding Fathers were very clear that they didn't want America to ever degenerate into an oligarchy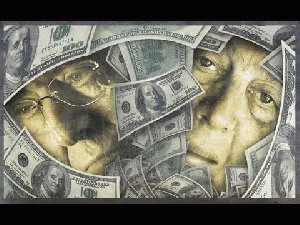 At what point does great wealth held in a few hands actually harm democracy, threatening to turn a democratic republic into an oligarchy?
This week, Forbes Magazine released its list of the 20 richest people on the planet -- and tied for number six were Charles and David Koch. Right now, it is easy to call out the billionaire brothers as a threat to our democracy (after all, they have promised to spend nearly a BILLION dollars in the 2016 election), but there are 18 other people on that list.
In the last few years, we've spoken at length about inequality and political corruption and corporate tax dodgers, but we haven't had a real debate about this topic in our nation for nearly a century. But it's a debate that's vital to the survival of democracy in America. At what point does one person's wealth pose a serious threat to our nation, and what do We the People do about that threat?
In a letter to Joseph Milligan on April 6, 1816, Thomas Jefferson explicitly suggested that if individuals became so rich their wealth could influence or challenge government, then their wealth should be decreased upon their death. He wrote, "If the overgrown wealth of an individual be deemed dangerous to the State, the best corrective is the law of equal inheritance to all in equal degree..."
In this, he was making the same argument that the Framers of Pennsylvania tried to make when writing their constitution in 1776. As Kevin Phillips notes in his masterpiece book Wealth and Democracy: A Political History of the American Rich, a Sixteenth Article to the Pennsylvania Bill of Rights (that was only "narrowly defeated") declared: "an enormous proportion of property vested in a few individuals is dangerous to the rights, and destructive of the common happiness of mankind, and, therefore, every free state hath a right by its laws to discourage the possession of such property."
Despite what some conservatives will argue -- which I will get to in a moment -- the Founders felt so strongly that oligarchy was a threat to democracy that they proposed a solution, which still holds true today: a wealth tax. To combat today's powerful oligarchy, we need a 100% tax on income over $1 billion.
Unfortunately, many Americans believe our nation was founded exclusively of, by, and for "rich white men," and that the Constitution had, as its primary purpose, the protection of the super-rich. They would have us believe that the Constitution's signers didn't really mean all that flowery talk about liberal democracy in a republican form of government.
But the signers didn't hold a candle to the wealth and power of men like the Koch brothers, and most were never "rich" in the way we think of that term today. In fact, many of the Founders themselves gave up everything, even risking (and losing) their lives, their life's savings, or losing their own homes and families to birth this nation.
The myth/theory of the "greedy white Founders" was first widely advanced by Columbia University professor of history and self-described socialist Charles Beard, who published in 1913 a book titled An Economic Interpretation of the Constitution of the United States.
Numerous historians, on both the right and the left, have since cited his work as evidence that America was founded solely for the purpose of protecting wealthy interests. His myth unfortunately helps conservatives come up with their talking points about the "job creators" and the "death tax" and other myths they perpetuate so that the very richest few can rule America.
Every generation sees the past though the lens of its own time. Beard, writing as the great financial Robber Baron empires of Rockefeller, Gould, Mellon, and Carnegie were being solidified, looked back at the Framers of the Constitution and imagined he was seeing an earlier, albeit smaller, version of his own day's history.
But Beard was wrong.
The majority of the signers of the Constitution were actually acting against their own best economic interests when they put their signatures on that document, just as had the majority of the signers of the Declaration of Independence.
Beard thought he saw his own era's Robber Barons among the Colonial economic elite. And, had the Revolution not happened, he might have been right. But, during and after the Revolutionary War, the great fortunes loyal to the Crown were dispersed or fled, and while some of the wealthy British families of 1776 still hold hereditary seats in the British House of Lords, nobody can point to a Rockefeller dynasty equivalent that survived colonial times in the United States.
While there were some in America among the Founders and Framers who owned a lot of land, Pulitzer Prize-winning author Bernard Bailyn suggests in his brilliant 2003 book To Begin the World Anew: The Genius and Ambiguities of the American Founders that their wealth was a pittance in comparison to the true aristocrats of England. With page after page of photographs and old paintings of the homes of the Founders and Framers, Bailyn shows that none of those who created this nation were rich by European standards.
(Note: You can view every article as one long page if you sign up as an Advocate Member, or higher).