Reprinted from The Nation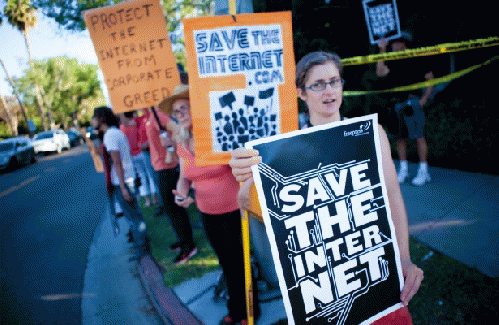 Free Press activists rally for net neutrality on President Obama's motorcade route in Los Angeles.
(
Image
by
(Stacie Isabella Turk/Ribbonhead, Creative Commons)
)
Details
DMCA
>
If you are looking for fast and affordable broadband Internet service, go to Chattanooga, Tennessee.
Or Lafayette, Louisiana.
Or Cedar Falls, Iowa.
Residents and businesses in these and a handful of other cities enjoy Internet speeds that are nearly 100 times faster than the national average. And the cost of getting online is substantially lower than in much of the rest of the country.
Why?
Because these communities didn't simply rely on big cable and telephone companies to develop broadband networks. Citizens and their elected representatives acted to assure that high-speed, high-quality and affordable Internet service would be broadly available. They did so by investing in infrastructure, developing partnerships with national and international innovators and encouraging genuine competition -- as opposed to corporate monopoly.
The digital divide still exists in much of America. Indeed, the United States has fallen behind other countries when it comes to building out the sort of twenty-first-century communications infrastructure that is vital not just to commerce but to democracy itself.
But there are American communities that have taken charge of their digital destiny -- many of the small, some of them rural -- and they have put themselves on the global cutting edge by developing their own responses to the demand for high-speed, high-quality broadband Internet. In many cases, they have developed municipal broadband utilities -- in what The Washington Post refers to as "efforts by cities to build their own alternatives to major Internet providers such as Comcast, Verizon or AT&T -- a public option for Internet access, you could say."
(Note: You can view every article as one long page if you sign up as an Advocate Member, or higher).