Reprinted from Consortium News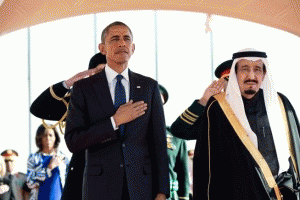 President Obama and King Salman Arabia stand at attention during the U.S. national anthem as the First Lady stands in the background with other officials on Jan. 27, 2015, at the start of Obama's State Visit to Saudi Arabia.
(
Image
by
(Official White House Photo by Pete Souza).
)
Details
DMCA
>
Like the old story of the little boy who cried wolf, the U.S. government is finding out that -- just when its credibility is most needed -- it doesn't have any. With all its "soft power" schemes of "perception management," funding "citizen bloggers" and sticking with "narratives" long after they've been discredited, the U.S. government is losing the propaganda battle against ISIS.
That was the conclusion of outside experts who examined the State Department's online campaigns to undercut ISIS, according to an article by The Washington Post's Greg Miller who wrote that the review "cast new doubt on the U.S. government's ability to serve as a credible voice against the terrorist group's propaganda."
In other words, even when the U.S. government competes with the creepy head-choppers of ISIS, the U.S. government comes in second. Of course, the State Department remains in denial about its collapse of credibility -- and typically won't release the details of the critical study.
Instead, Undersecretary of State for Public Diplomacy Richard Stengel insisted that the State Department's messaging operation "is trending upward," although acknowledging that his team is facing a tough adversary in ISIS and must "be equally creative and innovative." [For more on Stengel's falsehoods, see Consortiumnews.com's "Who's the Propagandist: US or RT?"]
But the U.S. government's problem is much deeper than its inability to counter ISIS propaganda. Increasingly, almost no one outside Official Washington believes what senior U.S. officials say about nearly anything -- and that loss of trust is exacerbating a wide range of dangers, from demagogy on the 2016 campaign trail to terrorism recruitment in the Middle East and in the West.
President Barack Obama seems to want so desperately to be one of the elite inhabitants of Official Washington's bubble that he keeps pushing narratives that he knows aren't true, all the better to demonstrate that he belongs in the in-crowd. It has reached the point that he speaks out so many sides of his mouth that no one can tell what his words actually mean.
Indeed, Obama arguably suffers from the worst "credibility gap" among the American people since Lyndon Johnson and Richard Nixon on the Vietnam War, or at least since George W. Bush on the Iraq War. As eloquent as he can be, average folk in the U.S. and around the world tune him out.
White Rage
So, on the domestic side, when the President tells Americans that another trade deal -- this one with Asia -- is going to be good for them, does anyone outside the opinion pages of the elite newspapers and the big-shot think tanks believe him?
America now has a swelling underclass of formerly middle-class whites who know that they've been sold out as they face declining living standards and an unprecedented surge in dying rates. Yet, because they don't trust Obama, these whites are easily convinced by demagogues that their plight stems from government programs designed to help blacks and other minorities.
This white rage has fueled the race-baiting and anti-immigrant campaigns of billionaire Donald Trump and other political outsiders in the Republican Party. Trump has soared to the top of the GOP presidential field because he says a few things that are true -- that rich people have bought up the political process and that trade deals have screwed the middle class -- giving him an aura of "authenticity" that then extends to his uglier comments.
Americans are so starving for a taste of honesty -- which they're not getting from Obama or other members of the elite -- that they will believe a megalomaniacal huckster like Trump. After all, they know that what they get from Obama and his clique is manipulative spin, treating them like dummies to be tricked, not citizens of a Republic to be respected.
The hard truth is that the Great American Middle Class indeed has been sold out, often by fast-talking neo-liberals like President Bill Clinton who -- with the help of many centrists and conservatives -- pushed through trade deals and banking "reforms" that gussied up Wall Street while boarding up Main Street. The neo-liberals, working with Republicans, also promoted trade deals with Mexico and other low-wage countries that sent millions of U.S. jobs overseas.
From this experience, many Americans see "guv-mint" to blame for their plight, enticing them down the right-wing path that seeks to negate government power. What these Americans don't grasp is that this Tea Party ideology is further selling them out to the corporatists and the speculators who will be put in an ever stronger position to gouge what's left of the Middle Class.
In other words, at a time when Americans need their government to collectively represent their interests -- to provide for "the general Welfare" as the U.S. Constitution mandated -- they have no faith that the government is theirs or will protect their interests.
(Note: You can view every article as one long page if you sign up as an Advocate Member, or higher).