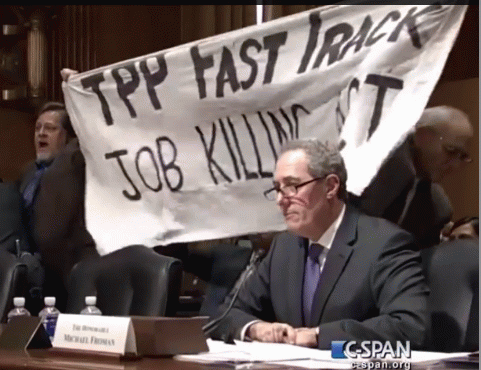 Kevin Zeese protesting at TPP hearing while Michael Froman Testifies
(
Image
by C-span on youtube)
Details
DMCA
by Kevin Zeese and Margaret Flowers
Since the President's State of the Union message where he announced his plan to push corporate trade agreements and seek Fast Track trade promotion authority, the movement against Fast Track, the Trans-Pacific Partnership (TPP) and globalized trade has grown. Instead of the bump in support that Obama expected after the State of the Union,opposition has increased inside Congress and in the grass roots.
Indications are that we are winning, and if we continue to mobilize over the next two months, we will win.
Mobilization
Before the President's speech there was already a large movement organized from across the political spectrum to oppose Fast Track and stop corporate trade agreements.
When we took action on Capitol Hill this week, we did so as part of a larger campaign to stop Fast Track. The US Trade Rep Michael Froman testified before the House and Senate. It was essential that he be confronted at these hearings because he has consistently misled the Congress and the people. There are multiple false statements to dissect, but his latest is the claim that Fast Track will give Congress the power to shape the negotiations. This is a laughable lie since the negotiations have been carried on in secret for most of Obama's Presidency. How can Congress shape negotiations that Froman claims are near completion?
The truth is that Fast Track removes Congress from the equation. It allows the President to sign trade agreements before sending them to Congress for a brief review of thousands of pages of documents; without committee hearings and only brief debate on the floor. Then Congress has an up or down vote with no amendments. Under Fast Track, Congress would be unable to fulfill its responsibilities under the Commerce Clause to regulate trade. It is also a tremendous grant of power to President Obama.
After the President's speech there was a protest at a town hall of Oregon Senator Ron Wyden. Wyden is a key player as the ranking member of the Senate Finance Committee. He has played both sides of the debate and the movement needs to monitor him closely and hold him accountable. If he cannot reach agreement with Finance Chairman Orrin Hatch, then Fast Track is unlikely to pass the Senate. This week Senator Grassley said that currently they don't have 60 votes in support of Fast Track and therefore it could not pass a filibuster. If Wyden demands that Congress sees the text of the TPP and has true involvement in the negotiations before they are finalized, then he and Hatch will not reach agreement and the Republicans will have to go it alone.
In the House there are even more challenges for Fast Track. Chuck Porcari of the Communication Workers (CWA) writes:
"House Speaker John Boehner has said that the White House needs to deliver at least 50 House Democrats if Fast Track has any hopes of passing, especially now that the White House is trying to whip together 80 Democrats in the House and New Democrat Coalition is trying to cobble together at most 40 votes. . . . According to a story by Inside U.S. Trade, 'one informed source questioned whether the New Democrats actually have an idea of which lawmakers will provide the 40 'yes' votes they are seeking.'"
When the TPP negotiators met in New York City this week, people showed up to protest the negotiations despite a winter blizzard. The protests were organized by Trade Justice New York and included the Teamsters, 350.org NY, International Brotherhood of Electrical Workers, Fight for the Future, Food and Water Watch, Veterans for Peace, Citizens for Safe Energy, Popular Resistance and a host of other organizations. Despite snow, the crowd was too large to stay in front of the Sheraton and police forced them across the street. After the protest, they marched to protest Senator Chuck Schumer, a member of the Finance Committee and the Democratic Party leadership in the Senate.
In the first week after the President's speech there were 10,000 phone calls opposing Fast Track made to Congress, according to Arthur Stamoulis of Citizens Trade Campaign. These phone calls will continue to escalate. We urge people to call; go to StopFastTrack.com which will contact your legislator for you and provide you with talking points. Phone calls make a difference when tied to a campaign that includes on-the-ground protests, meetings with congressional representatives and media work. We know that this movement can generate tens of thousands of calls and are confident it will do so again.
Captain Ray Lewis joins TPP protest at trade negotiation meetings at the Sheraton Hotel Jan 26, 2015 by StopMotionsolo
NAFTA has changed the Politics of Trade
There are many differences between the debate over trade today and the 1990s era debate over NAFTA. The major difference now is people know that corporate trade agreements favor transnational corporations but undermine people and the environment. At the same time, politicians know they are risking their political careers by supporting corporate trade agreements.
(Note: You can view every article as one long page if you sign up as an Advocate Member, or higher).