My guest today is Nora Zuckerman, co-chair of Luggage for Freedom.
JB: Welcome to OpEdNews, Nora. Please tell us a bit about this project.
NZ: Luggage for Freedom ("LFF") is a project of the National Council of Jewish Women - Chicago North Shore Section that was started in 2004. The goal of LFF is to provide a sense of hope and dignity to women who are living at or working with domestic violence shelters and programs. Throughout the year, LFF collects donations of gently used luggage, new sheets and towels, small toiletry items, as well as gently used backpacks, new stuffed animals and children's books. Our donations come from many sources - individuals in the community, local businesses, as well as some national stores and hotel chains.
Every October, in honor of Domestic Violence Awareness Month, LFF has their "Pack & Delivery Day". At Pack & Delivery Day, volunteers sort through the donations we have collected throughout the year. They also create Dignity Bags, which are gallon ziplock bags filled with small toiletry items such as shampoo, soap, lotion, toothpaste and toothbrushes. When the donations are sorted and organized, volunteers pack the luggage with sheets, towels and dignity bags and back the backpacks with stuffed animals and children's books. In addition, we run an amazing art room where volunteers help make several items for the backpacks, including no-sew fleece blankets. Since our budget is limited, we usually do not have enough fleece blankets for each backpack. Our goal is to have enough fleece blankets for each backpack one year!
JB: I had never heard about this project until my daughter Yael invited me to join her. I really enjoyed myself. The place was abuzz with people of all ages including a number of kids there with their parents. The kids clearly hadn't been dragged along; they were active and enthusiastically participating. How many volunteers do you typically have and is there a lot of continuity from one year to another?
NZ: We were so happy to have you and Yael with us this year! For the past several years, we typically have between 75 and 100 volunteers of all ages! We have a lot of continuity from year to year. Many of our volunteers stay in touch with my co-chair, Pam Zlotnik, and me throughout the year and email us about donations they come across. And many of our volunteers recruit their friends to volunteer. The Art Room that we set up really keeps the younger volunteers engaged. I think volunteers enjoy LFF because it is a hands on activity and they can see the results of their efforts during the event. And we hope that people have fun too.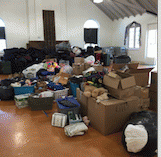 donations awaiting volunteer sorting and packing on Pack & Delivery Day during October, Domestic Violence Awareness Month
(
Image
by courtesy of Nora Zuckerman)
Details
DMCA
JB: I was disappointed that I got there too late to make a blanket. Maybe next year! How long have you personally been involved in the project?
NZ: I moved from Chicago to the suburbs in 2004. I went to a National Council of Jewish Women North Shore Section meeting soon after and heard about LFF, which was a new program they were starting. I joined the committee at that time and have been working on LFF since then! I have been the Co-Chair of Luggage for Freedom for the past six years, most recently with my amazing Co-Chair Pam Zlotnik. I was really interested in working on LFF because I worked with victims of domestic violence during law school, as well as in my first job out of law school.
JB: I can attest that LFF is making an impact on the volunteers who participate. But do you feel that LFF is making a dent in the need of victims of domestic violence? Is that even possible? What kind of feedback have you gotten over the years?
NZ: I believe that LFF does make a difference in the lives of victims of domestic violence. I am an attorney and I worked at a non-profit for many years representing low income individuals, many of whom were victims of domestic violence. Often times, my clients would come in with all their belongings in plastic bags. It was terrible to see their valuables and important papers in such disarray. We hope that LFF will prevent that from happening to those women who receive our donations. The feedback we receive from the shelters has always been positive. And we have been donating to the same shelters year after year.
JB: I like that there's some continuity. Anything you'd like to add before we wrap this up?
NZ: I am really proud of the important work being done by LFF and honored to help lead those efforts. LFF is a small program that can have a big impact on the individuals it touches. And we could not run the program without our dedicated volunteers and businesses that have supported us year after year. For more information on volunteering for LFF or making a donation, please let your readers know they can do so through the National Council of Jewish Women - Chicago North Shore Section website at www.ncjwcns.org. It was a pleasure talking with you about LFF and I hope to see you and Yael at Pack and Delivery Day in October 2016!
JB: Count us in! Thanks for talking with me, Nora. I love Luggage for Freedom and am so glad you shared its story with our readers.