I spent much of last week at CULTURE/SHIFT2016, the U.S. Department of Arts and Culture's first national convening, hosted by and cosponsored with the St. Louis Regional Arts Commission. It was incredibly powerful to be with artists and allies from all over the U.S. who had joined together in creative resistance to the extreme hate flooding this nation, from the elevation of antisemite Steve Bannon and racist Jeff Sessions to the White House to the appalling escalation of violence against water protectors at Standing Rock--and who understand the importance of working to enact our dreams of cultural democracy even as we resist.
I had the responsibility of giving a talk at the final plenary to mark the official launch of Standing for Cultural Democracy, The USDAC's Policy and Action Platform, offering ten ways to advance toward cultural democracy. Click the link to download a platform summary or the full summary, and to be taken to an online petition where you can endorse the platform. Please endorse it now!
You can also watch the video of the plenary on Facebook.
__________________________________________________
Thousands of Citizen Artists have been working on this platform for a long time. It is based on the USDAC's ongoing action research, inviting people across the U.S. to share hopes, dreams, and concerns through art and culture. In dozens of Imaginings, in National Actions from the People's State of the Union to #DareToImagine to USDAC Super PAC, people have told fierce and beautiful stories of a future they want to embrace. With the help of our National Cabinet, we've translated these visions into powerful practical proposals.
All of that happened before 11/9.
Many people gathered here at CULTURE/SHIFT 2016 have spent the last ten days in dialogue with friends, neighbors, family members living in fear that families will be torn apart by deportation, internment, forced registration. People fear that now more than ever, their communities will be made sacrifice zones, ravaged to feed the bottomless appetite for profit of the hungry ghosts this system breeds. And in the face of this massive insult to the body politic, people under attack and their allies are rising once again to annihilate injustice and give birth to the beloved community.
This platform proclaims and defends the right to culture: the right to be who we are, to show up in our fullness--in both our rich particularity of difference and our transcendent oneness--and to be valued, honored, and treated with respect as a fundamental human right. Some of the platform points will be immediately doable, especially locally--tools we can use to create sites of true belonging. Others are aspirational, pointing us toward the cultural democracy we deserve regardless of who occupies the White House.
The challenges we face under President Trump--racism, homophobia, xenophobia, sexism, institutionalized greed, state-sanctioned violence, and every other form of predatory behavior--are not new. But the level of response is already astounding. We will be working in countless local communities to build on the courageous action already seen from mayors of sanctuary cities, leaders who have declared their refusal to normalize hate, vast numbers of individuals and groups who have already--less than two weeks after the election--taken action in the courts, on the streets, and in their own lives and communities.
Protecting and defending are urgent, essential priorities. The USDAC stands with all who are endangered by policies that deny belonging and further threaten the people. We stand to support and assist all those who are affected by the repression of rights. We will work with you to co-create a network of connection and support, to share skills in planning and executing creative resistance, and to bring as much attention as possible to your courageous work in kindling a shared vision of cultural democracy and putting it into practice.
And while this massive outpouring of creative resistance unfolds, we can't surrender our dreams because we awoke on 11/9 to this funhouse nightmare of democracy.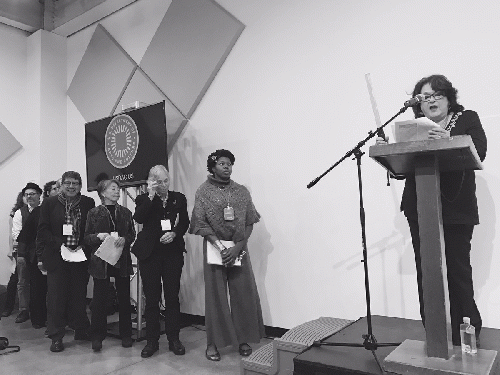 USDAC Cultural Policy Launch Plenary
(
Image
by
U.S. Department of Arts and Culture
)
Details
DMCA
A platform is a compendium of ideas for policy and action. Ideas are essential to reveal and explore the true depth of demand for cultural democracy which has been increasingly evident over the years as artists and allies show up everywhere, investing creativity in social and environmental justice. Ideas are essential, but without action they are stillborn. To create the conditions for action, we need a national conversation bringing the right to culture to the fore as a foundation for belonging without barrier, belonging that knows no borders and needs no papers.
A tall order, you may say--noticeably taller than it was a couple of weeks ago.
Yes.
(Note: You can view every article as one long page if you sign up as an Advocate Member, or higher).