This piece was reprinted by OpEdNews with permission or license. It may not be reproduced in any form without permission or license from the source.
From Smirking Chimp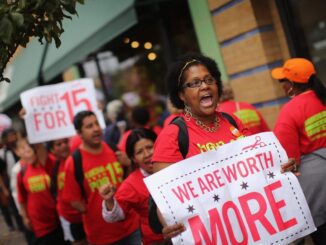 Union Protesters Outsmart Trump
(
Image
by
cinemontage.org
)
Details
DMCA
"The good wages that my father and grandfather fought to win are gone. I'm 20 years old, and I'm working at Waffle House, getting paid $2.35 an hour ... [W]e don't need empty promises about bringing back coal jobs. We need the jobs that actually exist in our towns to pay us wages high enough for us to afford basics we can live on." -- Nic Smith, Roanoke, Virginia
At Netroots Nation in 2014 I taped a conversation with economist Stephanie Kelton in which we discussed work in America. She made two interesting points about "bringing back manufacturing" to America.
"Junk Jobs" vs. "Junk Wages"
First, those manufacturing jobs aren't coming back, and they weren't great jobs (as jobs) to begin with. Imagine yourself working an auto assembly line all day. But they became good-paying jobs because of unions and union wages.
Second, there's a way for government to create a de facto living wage in the U.S. without reverting to the country as it existed in the 1950s -- make government the employer of last resort.
Click here to listen to the clip; start at about 5:30 for just this section. A short quote:
SK: If [FDR-style jobs programs] were created the right way, and you said, "Anybody who's ready, willing and able to work, or unable to find a job in the private sector -- or if you just don't like that job -- you can come and take this [government] job. We're going to create one for you at a living wage with these benefits ..."

You create a package for the worker that then becomes the minimum, [which] everyone else has to provide ... or they're not going to get workers. That becomes the de facto minimum. " We're not going to let you starve in America.
My comment to her, just to make sure I had it right (emphasis added):
GP: I don't want this to go by without people getting what was said. ... You're saying that you don't really need to define a minimum wage, because the government sets a floor. ... [Then] anybody who wants a better job than the junk job they've got, can work for the government. That forces the private employers to compete with the government for workers, and that's a good thing for workers.
Her answer was yes, I have it right. Note the reference to "junk jobs." What's the answer to junk jobs in the absence of better ones? A living wage -- an end to "junk wages."
Unfortunately, Kelton's means to that end -- a presidential administration that would implement her "government as employer as last resort" plan -- isn't available under Trump, and frankly, would not have been available under any Democrat with the possible exception of Sanders, for whom Kelton worked in the Senate.
But the plan is still right. And the means to execute that plan under Trump -- a rebellion against Trump himself by Trump voters whose lives are not getting better -- is definitely available.
The Rebellion of Trump Voters
(Note: You can view every article as one long page if you sign up as an Advocate Member, or higher).