Reprinted from Mike Malloy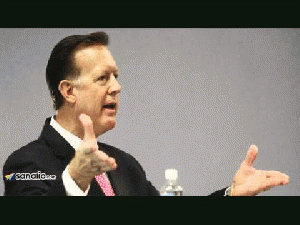 Hitler Hitler Hitler. Let's get it out of our systems, shall we? Hilter Hitler Hitler Hilter Hitler Hitler ... Reagan was Hitler Hilter Hitler Hitler .... Clinton was Hitler ... Bush the Father was Hilter Hitler Hitler ... Dim Son was Hitler ... Obama is Hitler Hilter Hitler Hitler!
There -- all better?
Grammatically-challenged Congressman from Texas-Rep. Randy Weber -- today apologized for comparing Obama to Hitler (he wasn't the first) in his oh-so snarky tweet that "Even Adolph [sic] Hitler thought it more important than Obama to get to Paris. (For all the wrong reasons.) Obama couldn't do it for right reasons." A cringe-worthy reference to Hitler's occupation of France.
Can't these Neocons find a different bad guy? Why is it always Hitler? Why not call the President "Stalin" or "Saddam" for a change. Don't they realize they're kind of upsetting their Jewish constituents with this kind of hysterical hyperbole?
There's a legitimate argument about the lack of appropriate US representation in Paris yesterday -- but this ain't it. Predictably, Weber apologized today for his ugly comment, as Huffington Post reports:
"I need to first apologize to all those offended by my tweet. It was not my intention to trivialize the Holocaust nor to compare the President to Adolf Hitler. The mention of Hitler was meant to represent the face of evil that still exists in the world today. I now realize that the use of Hitler invokes pain and emotional trauma for those affected by the atrocities of the Holocaust and victims of anti-Semitism and hate," Weber said in a statement issued by his office.

"The ultra-conservative congressman from Texas criticized the president for failing to travel to Paris on Sunday to attend a massive unity rally against terrorism, which was attended by dozens of world leaders."
Ah Randy, your mea culpa would ring with more sincerity if you hadn't previously prematurely hit the "post" button before considering the consequences of your inane tweets.
About this time last year, during the State of the Union address, our man Randy tweeted that "On floor of house waitin on "Kommandant-In-Chef..." the Socialistic dictator who's been feeding US a line, or is it "A-Lying?"
I get the reference to Kommandant, but Chef? And let's get it clear -- is the President a Socialist or a dictator? Weber's tweet last year would've garnered more attention, but he was overshadowed by Michael Grimm's televised threat to toss a reporter over a balcony.
These Neocons, they are nothing if not entertaining!