The brutal Paris attacks have been rightly condemned. Yet the tragedy has been exploited to undermine the very right it's become an emblem for -- freedom of expression -- while details contradicting the official narrative are suppressed. This article examines the wider agenda behind the selective defence of free speech in the aftermath, and how the French government's long-running crackdown on alternative spirituality violates the principle of liberty it claims to uphold.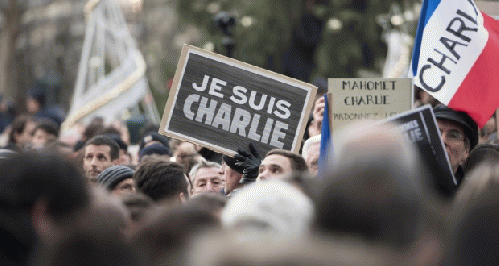 People march in Paris under the slogn 'Je Suis Charlie'

(

Image

by

Frederic Legrand - COMEO

)

Details DMCA




France is known as the land of liberty, equality and fraternity. The brutal murder of 12 people at the office of satirical newspaper Charlie Hebdo, and the killing of five more in related shootings, was viewed as a direct assault on the country's values. Charlie Hebdo is renowned for political satire, which has a proud history in France, with its cartoons frequently caricaturing politicians and religious figures, including Islam's prophet Muhammad.

Islam forbids its prophet being illustrated in any way, let alone ridiculed. In the attacks on Charlie Hebdo, the Parisian tradition of free speech and political satire apparently collided with Islamic extremism. The gunmen, who killed 10 people and 2 policemen before being hunted down and shot dead by law enforcement, reportedly shouted they had "avenged Muhammad" as they left the scene. The paper had depicted him naked in a pornographic pose.

In the West, the Charlie Hebdo attacks have become an emblem for the cause of free speech. The initial consensus was that freedom of expression is an unconditional right with no exceptions, and this freedom includes the right to offend. The slogan "Je suis Charlie" (I am Charlie) was adopted by free-speech supporters in the aftermath, with millions turning out for peaceful marches across France in defence of the right to offensive free speech. Charlie Hebdo responded to the attack by depicting Muhammad on its first edition after the massacre, which subsequently sold millions of extra copies in a show of solidarity for the free-speech cause.

But the media and political elite's supposed espousal of unconditional acceptance for offensive free speech in the aftermath of this tragedy has been very selective and hypocritical. A narrative has been spun to suit an agenda while obvious contradictions are ignored. While leaders and media pundits rally behind the banner of free speech, little attention is given to the fact that France has among the most restrictive laws on spiritual expression of any Western country, and the laws governing free expression are unequally applied. The cause of free speech comes with many caveats in the "republique de liberte", where the government is waging a little-known secular inquisition against modern heretics whose right to freely express their beliefs is suppressed.

Before we take a look at those restrictions, let's examine the background and context to the Charlie Hebdo attacks from which a free-speech narrative has arisen that is sweeping aside blatant contradictions as it's proliferated.

The Global Elite's Free-Speech Double Standards

An obvious indication the global elite's embracement of free speech was highly selective and duplicitous came in a staged photo-op in where they joined arms to march in Paris. World leaders did not actually lead a public march as some reports claimed, but marched separately away from the public. They included representatives of regimes that have terrible free-speech records. Examples include NATO allies Saudi Arabia, which beheads more people than ISIS and brutally punishes dissent, and the government of Egypt, which took power via a coup and is currently imprisoning foreign journalists.

A number of governments present in the march have moved to rush through increased internet surveillance measures in the tragedy's wake, with UK Prime Minister David Cameron even floating banning encryption. Mass surveillance is not conducive to free speech. Nor is punishing free speech that exposes state malfeasance, as the US government does to whistle-blowers. And while governments and intelligence agencies call for more powers to prevent such attacks, they cannot explain how spying on everyone will thwart individuals they already monitor. The perpetrators of this attack were well-known to intelligence services and already on a watch list. In the case of the FBI, many terror plots they thwart have been funded and organised by themselves.

Question Marks over the Official Story

The Charlie Hebdo gunmen had returned to France from fighting the Assad government in the Syrian civil war -- the same Syrian government that NATO members (including the government of France) wanted to bomb and overthrow two years ago. Support for direct intervention faltered, but the US government and its allies armed, trained and funded jihadist-linked "moderate rebels" to fight the Syrian government in a proxy war instead. In many instances these same trained militants and weapons have ended up in the ranks of ISIS, now calling itself the Islamic State, which is also fighting the Syrian government. Fighting the Islamic State has given NATO a rationale to directly intervene militarily in the region again with airstrikes to halt their advance. Yet even as ISIS is bombed in Iraq and Syria on the one hand, jihadist-linked militants continue to be trained by the US military on the other even while they continue to mass-defect to ISIS and Al Qaeda.

Questioning the foreign policy wisdom of arming jihadist-linked militants to fight proxy wars who later become terrorists enemies -- a precedent that goes back to the 70s when the US government backed the Mujahedeen in Afghanistan which spawned Al Qaeda -- has not been a major component of mainstream media coverage, even as the covert arming, training and funding of jihadist-linked militants continues. Instead, the same governments and intelligence agencies involved in these questionable covert machinations have called for further powers, restrictive laws, and funding to fight the terrorists their foreign policy supports.

Neither has there been much use of free speech in the media to question the official story of the Paris attacks, such as probing into how and why a police chief investigating them suddenly and inexplicably committed suicide while working on the report, or why the trained killers conveniently left identification in the back of a getaway car, or why the alleged perpetrators were simply able to return from a NATO proxy-warzone and carry out an attack on French soil while on a terrorist watch list. Other details are ignored too. A video that seems to show a policeman was not actually executed at close range by a shot to the head, as reported in the mainstream media, was censored by YouTube's "safety mode", while the French version was removed by Google completely.




The many anomalies have led some to suspect a wider agenda in these attacks, and posit the possibility it may have been a false-flag operation pinned on French-born militant "patsies" trained in the Syrian proxy war.

Whatever the case may be, what is clear is that the attack's narrative has been heavily controlled and exploited to serve an agenda while other facts and questionable government actions are ignored.

What's also clear is that the "free-speech" cause has been hijacked and manipulated by those who attack this principle themselves, or apply it very selectively. This is evident when you look at the flagrant double standards and restrictions that apply to free spiritual expression in France, which are amongst the harshest of Western countries.

(Note: You can view every article as one long page if you sign up as an Advocate Member, or higher).