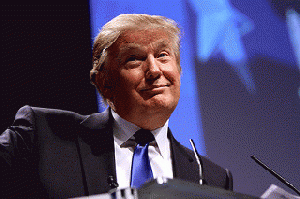 Donald Trump has Iranian's scratching their heads and asking, .Who is this guy?.
(
Image
by
Gage Skidmore
)
Details
DMCA
Iranian students claim lifting US-led sanctions is a mixed bag
Franklin Lamb
Tehran
The remaining 5 Republican candidates, winnowed from the original dozen, push to ingratiate themselves among South Carolina's Republican voters, who like a majority of their countrymen, are angry at Washington 'pay for play' politicians. The day before that state's February 27 primary, Iranian voters will have gone to the polls for their own crucial election on 2/26/2016.
Iranians will vote in twin elections for the Iranian parliament and to elect a more powerful separate body known as the Assembly of Experts. And yes, The Donald is now a factor in both Iranian elections. Before Trump involved himself, the Iranian election had already proven divisive because many relatively moderate candidates were rejected by hard-liners during the vetting phase. Many of these blocked candidates support President Hassan Rouhani, a key architect of the Iran nuclear deal.
For his part Rouhani has been traveling abroad to begin Iran's process of reintegratng global trade. His recent travels are viewed among many in Iran as part of an effort to shore up support in this month's elections, given that it is partly a referendum on his record and the nuclear agreement.
Hardliners in Iran and the US have joined the election campaign on the nuclear issue. Candidate Trump has referred to all supporters of the Joint Comprehensive Plan of Action (JCPOA) agreements on Iran's nuclear file as "stupid." During recent campaign interviews his approach, which is a melange of nativism, conservatism, and populism is being closely monitored in Tehran while at home no other current candidate is matching its breadth. The Donald insists that the Obama administration completely botched the negotiation with Iran, whereas being the master deal-maker, he would have obtained a much better outcome for America.
Trump assures voters that he would have spared America from having to pay to Iran what he wrongly claims are $150 billion. He would have easily done this by telling the Iranians:
"Look guys, we Americans owe $19 trillion in debt. We're a country that has no money. We can't give you the $150 billion dollars." The Iranians, claims Trump, would have said, "But we want it. It's ours!" And Trump says he would have responded, "We can't give it! We don't have it! We don't have it!" Trump assures audiences that he would have stood his ground and absolutely refused to pay the $150 billion. At that point, the meeting would have broken-up with no agreement. But then, two days later, the Iranians would have folded by calling Trump and saying, "Let's make a deal." Iran would then have agreed that America would not be required to pay the $150 billion.
What has many Iranians scratching their heads and asking American visitors "Who is this is guy?" is partly the fact that Trump seems not even to know that frozen Iranian funds were never part of the US budget and no one has ever seriously claimed that they don't belong to Iran. The US is obliged under JCPOA to return seized Iranian money being held in frozen accounts pending the resolution of the sanctions against Iran.
During an interview last week with CNN, Trump, ignorant about the facts of the deal, had no clue that this money always belonged to Iran. Yet this does not prevent him from lambasting the nuclear deal and pledging to tear it up as soon as he becomes president. He appears to have no idea what he is talking, and uses AIPAC 'fact sheets' which repeat Israel's PM Netanyahu's hysterical claims that Iran will be awash with up to $ 250 billion cash to fund more terrorism.
(Note: You can view every article as one long page if you sign up as an Advocate Member, or higher).